Hey guys, as per my previous post (
http://www.overclock.net/benchmarkin...appy-your.html
), I'm having great difficulty with my HIS HD5870 achieving normal benches.
Through my research, I've come to note that this problem is epidemic yet there has yet to be a single fix all solution. Thus, I'm creating this new post to catalauge my efforts in an organized fashion and, hopefully, find both a solution for myself and other in the meanwhile.
Benches:
3d Mark II vantage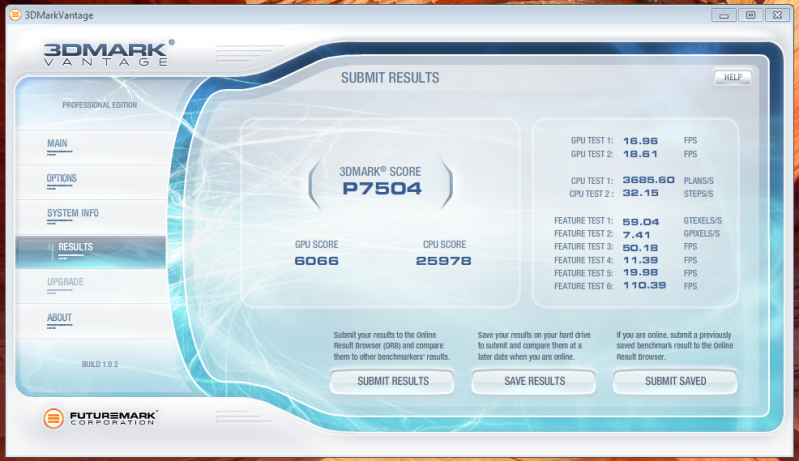 Just Cause 2
Averages aprox. 30fps, drops as low as 20 fps on more demanding scenes. Once you enter 2D menues, jumps to 200+ fps.
RAM
Theories
(1) 3D clock not working
-My FPS drops drastically when you leave from a game menu to the game.
-The card seems to function perfectly fine outside of 3D video game environments
-Others, from this forum and other forums, who have incurred this problem have also speculated a possible issue with the 3D GPU
(2) Driver problems
-My driver is currently CCC 10.5, the most up to date
-A person on another forum suggested that as soon as he degraded his driver from 10.5 to 8.3, the problem was solved
(3) Windows build
-Similar problems, on other forums, have been reported regarding my Windows 7 64 "Build 7600."
-Similar problems have been reported with WinXP 64-bit, solved by disabling Windows AUU High Definition Audio Driver
(4) Overclocking
-Possible something in overclocking procedure effected GPU negatively?
(5) Insufficient Power
(6) PCIE slot
Trouble Shooting
(1) Windows
-Preparing to install multiple different copies of Windows 7 64bit, hoping to find one other than build 7600.
-Windows 7 does not have the AUU High Definition Driver as specified as a solution in Windows xp
(2) Drivers
-While I am able to find CCC 8.3 64-bit for Vista, I am unable to get the video card drivers (much older ones) to work with my card
(3) OC/Solution posted on Toms Hardware:
1. Did a clean install of windows 7
2. Installed drivers that came w/ my card
3. Rebooted into bios menu and restored all defaults
4. Rebooted again and updated bios with latest update from evga site
5. Rebooted into bios once again and restored defaults again
6. Booted into window 7, and my FPS went back to normal
(4) ATI CCC 10.5(a) Hotfix
http://support.amd.com/us/kbarticles...st-Hotfix.aspx
(5) ATI CCC 9.5 Vista 64 Drivers
http://downloads.guru3d.com/ATI-Cata...load-2285.html
(6) PCIE
-Switch PCIE slot?
(6) Power
-Should determine if 750w is enough to support this system
(7) 10.5 BETA Drivers
http://www.megaupload.com/?d=WH2U3WZG
(8) Check PCIE setting in BIOS
-3 x PCIe 2.0 x16 (at x16/x8/x8 or x16/x16/x1 mode)
Edited by danforz - 6/10/10 at 9:25am
CPU
Motherboard
Graphics
RAM
i7 930 @ 4.2ghz (VCore 1.38)
ASUS P6X58D Premium
HIS HD5870 @ stock
G.Skill Trident 2000
Hard Drive
OS
Monitor
Keyboard
Wester Digital Caviar Black 1TB @ 7200
Windows 7 64bit
ASUS M5276HE 27"
Microsoft Natural Wireless
Power
Case
Mouse
Corsair 750TX
NZXT Evo Tempest
Logitec G500
View all
hide details
CPU
Motherboard
Graphics
RAM
i7 930 @ 4.2ghz (VCore 1.38)
ASUS P6X58D Premium
HIS HD5870 @ stock
G.Skill Trident 2000
Hard Drive
OS
Monitor
Keyboard
Wester Digital Caviar Black 1TB @ 7200
Windows 7 64bit
ASUS M5276HE 27"
Microsoft Natural Wireless
Power
Case
Mouse
Corsair 750TX
NZXT Evo Tempest
Logitec G500
View all
hide details