Quote:
COMET McNAUGHT: A fresh comet is swinging through the inner solar system, and it is brightening rapidly as it approaches the sun. Presenting, Comet McNaught (C/2009 R1):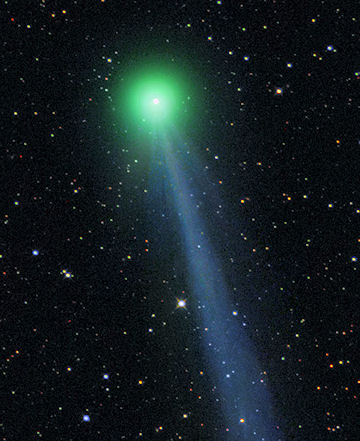 Quote:
Michael Jäger of Stixendorf, Austria, took the picture on June 6th using an 8-inch telescope. The comet's green atmosphere is larger than the planet Jupiter, while the long willowy ion tail stretches more than a million kilometers through space. These dimensions make the comet a fine target for backyard telescopes.
Quote:
It is brightening as it approaches Earth for a 1.13 AU close encounter on June 15th and 16th.
Source
CPU
Motherboard
Graphics
RAM
IN
B4
BAN
THE
Hard Drive
Optical Drive
Monitor
Keyboard
OCN
SUCK
BALLS
Saitek Eclipse II
Power
Case
Mouse
Mouse Pad
CAN
SUCK
Razer Abyssus
Razer Goliathus Speed
View all
hide details
CPU
Motherboard
Graphics
RAM
IN
B4
BAN
THE
Hard Drive
Optical Drive
Monitor
Keyboard
OCN
SUCK
BALLS
Saitek Eclipse II
Power
Case
Mouse
Mouse Pad
CAN
SUCK
Razer Abyssus
Razer Goliathus Speed
View all
hide details