Disclaimer:
Moding and flashing your bios is risky and could, potentially, brick your card. This method has been sucessfully tested using reference 5850s (though other reference 5xxx series cards should work). Flash at your own risk.
UPDATE:
This guide should work on all ATI cards (key word here is should). For editing a non-reference card, all the below steps apply except the voltage steps (editing the voltage of a non-reference card will most likely brick it since non-ref cards lack voltage control). For non 5xxx series cards, all the same steps apply! My edits to the below procedure will be
bolded
to encompass all cards.
Remember, I have not tested this. I am basing this my own research on RBE and ATI bios'.
I have noticed that many of you use MSI afterburner to OC your video cards and that works really well. However, after you find a stable OC, you have to save your profile to AB and run it at startup to get OC back. Rather than doing this, you could modify your cards bios to the core/mem/voltage that you OC'd to and eliminate the need for AB!
The first thing you should do is find a stable OC (obvious answer but extrememly necessary) because flashing to a bios with an unstable OC could potentially cause HW damage. Next you need to download the Radeon Bios Editor (or RBE) found here (no install required) (
RBE link
). After that, you can either get your current video card bios (using GPU-Z or the aquire/flash button in RBE) [
Using your bios aquired this way is strongly reccommended for non 5xxx series/non-ref cards
] or use one of the bios' in the link below (I used the ASUS 5850 for mine). I personally use the ASUS bios becuase I wanted to start with an unlocked bios.
Video BIOS page
Important:
Make sure you keep a copy of you stock BIOS in case the bios you mod fails and you need to flash back!!!!
The first thing I would suggest that you do is read over the
RBE Manual
in order to familiarize yourself with the tool. It should serve to answer some of your basic questions as well as make it easier to use in general.
It has really some steps on modifying non 5xxx series cards that may be good to review as well.
Now the fun begins. After starting RBE, you want to load you bios. After this, go to clock settings. We will first update the core/memclock. To do this, click the clock tuning wizard button and click next to get to your overclock settings (note: these are your 3d settings). From here enter your desired core/memclock only, DO NOT CHANGE VOLTAGE FROM HERE. Click next and it will show your 2d settings (you shouldn't need to change these), click next, then on the final page, click finish. Your new clocks should show up in the "Clock info 00" slot. Somthing to note here, if you are using an ASUS bios, then modding the core/memclock here is not really necessary because you can crank up those values in CCC. Feel free to mod these if you want to not have CCC active (I need to keep my CCC active for xfire).
Now, to change the voltage (if needed) you need to push "GPU Registers…" button. A pop up appears with 4 boxes with numbers. Above each box is a number (something like 0x15, 0x16, 0x17, 0x18). To find the number you want to change, match the box in the pop up to the voltage under the "Clock info 00" slot (for the ASUS 5850 bios, it's the 0x17 box). Enter the desired voltage and press "okay" (again DO NOT CHANGE THE VOLTAGE UNDER THE "clock info 00" slot). The number under your "clock info 00" slot will not change, but that is ok because voltage register is changed (and that is the important one).
Again, dont change the voltage for a non-reference card.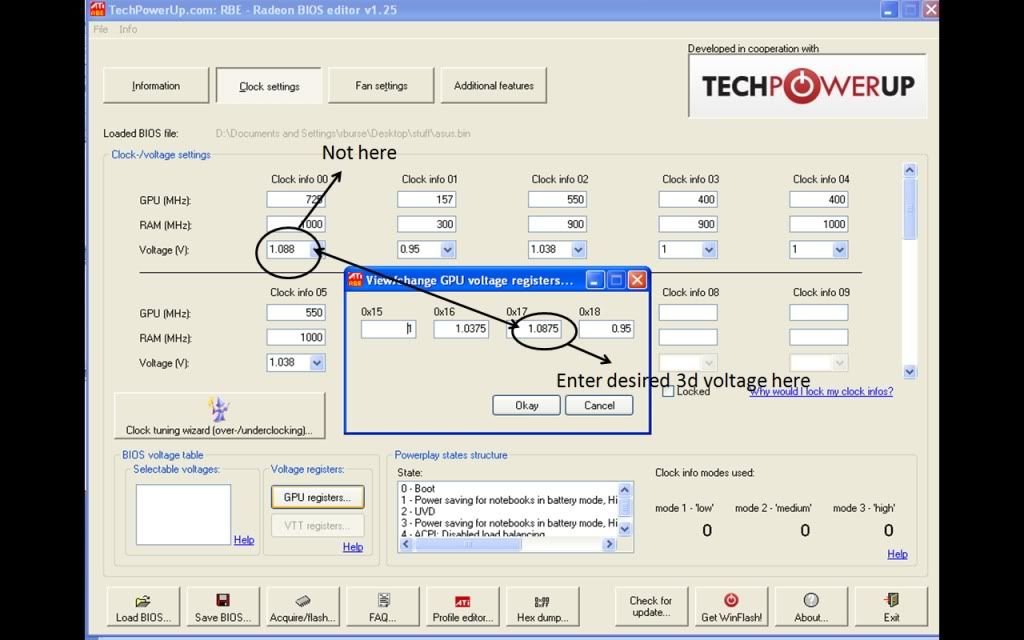 You are now finished changing your core/memclock/voltage!
Note: you can save your bios at anytime, but it is only a "save as" so recommend saving after all updates are made.
Edited by thebigrobbyrob - 8/6/10 at 11:53am