Quote:
Enter Sand, Man
We're pretty sure that most computer enthusiasts are aware that CPUs are made from silicon. Far fewer are likely to realize exactly how much work goes into making what is effectively a wonder of the modern world. Processors are made on a mind bogglingly small scale to withstand huge tolerances, with even the cheapest chips requiring hundreds of manufacturing stages to get from wafer to motherboard.

Manufacturers are also under pressure to improve production methods and reduce transistor size, with different companies approaching the problem in different ways. Intel helped us put this guide together, and as a result it focuses on its implementation of the 32nm High-K manufacturing process. Other manufacturers, such as Global Foundries or TSMC, use subtly different methods to produce its chips.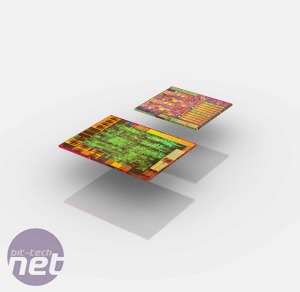 source
A great article! Not sure if this has been posted, but my searches didn't come up with anything.
CPU
Motherboard
Graphics
RAM
[i7 5960X @ 4.8GHz]
[Rampage V Extreme]
[Titan 1400MHz (1500MHz bench)]
[Various]
Hard Drive
Cooling
Cooling
Cooling
[250GB 840EVO +2x SpinpointF3 1TB RAID0]
[LD PC-V2 SS Phase Change]
[XSPC X2O 750 pump/res]
[Monsta 360 full copper + EK XT 360 + XT 240]
Monitor
Power
Case
Audio
[Crossover 27Q LED-P 1440p+ASUS 1200p+LG 1080p]
[Corsair AX1200]
[Dimastech Easy v3.0]
[Sennheiser HD558s]
View all
CPU
CPU
Motherboard
Graphics
FX 8320, FX 8350, Phenom II x2 555BE
i7 3930K, i7 860, i7 4770K, 68x Celeron D
CVF, commando, 2x RIVE, Z87X-OC
Asus 4870x2, Sapphire 4870
Graphics
Graphics
Graphics
Graphics
2x 5870, 5850, 5830, 5770
2x 3870x2, 3870
GTX Titan, GTX 480, GTX 590
GTX 285, GTX 260, 4x 9800GT, 8800GTX
RAM
Hard Drive
Cooling
Cooling
4x4GB vengeance, 2x4GB predatorX, 2x1GB OCZ DDR2
Intel X25-M 80GB
LD PC-V2 SS Phase Change
OCN Marksman
Cooling
Cooling
OS
Power
2x old tek slims (GPU)
Various watercooling stuff
win7, winxp
AX1200
Case
test bench / cardboard box
View all
hide details
CPU
Motherboard
Graphics
RAM
[i7 5960X @ 4.8GHz]
[Rampage V Extreme]
[Titan 1400MHz (1500MHz bench)]
[Various]
Hard Drive
Cooling
Cooling
Cooling
[250GB 840EVO +2x SpinpointF3 1TB RAID0]
[LD PC-V2 SS Phase Change]
[XSPC X2O 750 pump/res]
[Monsta 360 full copper + EK XT 360 + XT 240]
Monitor
Power
Case
Audio
[Crossover 27Q LED-P 1440p+ASUS 1200p+LG 1080p]
[Corsair AX1200]
[Dimastech Easy v3.0]
[Sennheiser HD558s]
View all
CPU
CPU
Motherboard
Graphics
FX 8320, FX 8350, Phenom II x2 555BE
i7 3930K, i7 860, i7 4770K, 68x Celeron D
CVF, commando, 2x RIVE, Z87X-OC
Asus 4870x2, Sapphire 4870
Graphics
Graphics
Graphics
Graphics
2x 5870, 5850, 5830, 5770
2x 3870x2, 3870
GTX Titan, GTX 480, GTX 590
GTX 285, GTX 260, 4x 9800GT, 8800GTX
RAM
Hard Drive
Cooling
Cooling
4x4GB vengeance, 2x4GB predatorX, 2x1GB OCZ DDR2
Intel X25-M 80GB
LD PC-V2 SS Phase Change
OCN Marksman
Cooling
Cooling
OS
Power
2x old tek slims (GPU)
Various watercooling stuff
win7, winxp
AX1200
Case
test bench / cardboard box
View all
hide details