Cbf updating first post every time so just go read
I'm relatively new to OCN but not to computers. I have my main rig but its far to large and annoying to take to peoples houses and lans.
So i have started a budget build thats small enough to take places. Its going to be Black and Green...
I dub thee...
Cpu: Intel Core 2 Duo E6300 1.86ghz
Mobo: Gigabyte GA-965GM-DS2
Ram: 4gb Kingston DDR2 800 [Ordered]
Gpu: XFX 8800GTS Alpha Dog 512MB
Psu: 500W Antec Basiq [Modded]
Hdd: 250gb 2.5" Hitachi 5400rpm
OS: Windows 7 Ultimate 64bit
Case: LEC Optima [Modded]
Cooler: CoolerMaster Hyper TX3 [Modded]
Wireless: D-Link DWL-G510
Optical: LG GH22NS50 DVD-RW
Mouse: Microsoft Sidewinder X8
Here it is last night with test mobo, ram and other misc bs.
Today i started to work on the case after ordering all the parts last night.
So far:
Interior paint
Front intake to a 120mm from 92mm
Power, speaker and activity LED sleeving
Workspace
After paint and rivet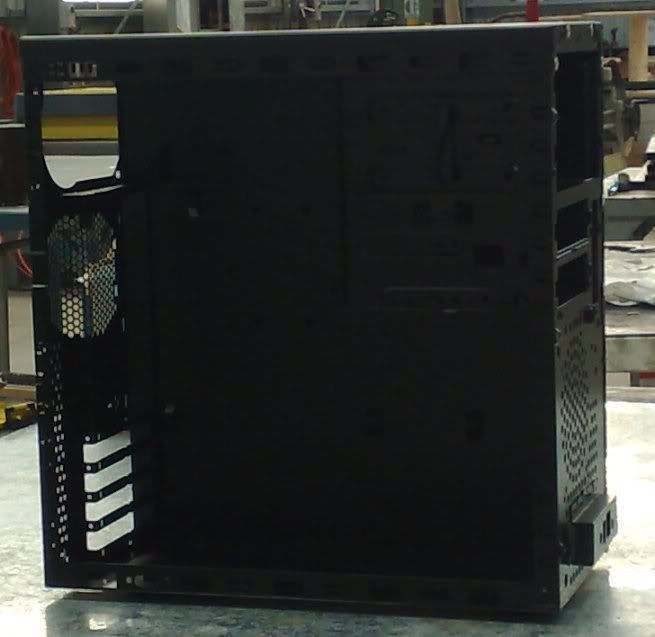 Fail sleeves

The front for now
EDIT: Just pulled out one of my spare fan controllers and fitted it into the 3.5" hdd bay.
The corsair fan was running a bit loud so i decided to stick a fan controller on it.
Current cable mess...
Things to do:
Side window [Complete]
Ventilate the front [Complete]
Rear fan [Complete]
Mod PSU [Complete]
Cost so far: $460
Edited by Ren-dog - 7/3/10 at 4:06pm
CPU
Motherboard
Graphics
RAM
i7-2600
Gigabyte Z68X-UD3R-B3
Gainward GeForce GTX 570 1280MB Dual Fan
4x2gb G.Skill Tridents DDR3
Hard Drive
Optical Drive
OS
Monitor
500GB WD Caviar Black, 2x 1TB Seagate Barracuda
DVD-RW
Windows 7 Ultimate 64bit
BenQ G2220HD, BenQ G2222HDH
Keyboard
Power
Case
Mouse
Logitech G15
Corsair AX-850
Bitfenix Colossus
Gigabyte M8000X
Mouse Pad
Razer Goliathus Fragged Extended Speed Edition
View all
hide details
CPU
Motherboard
Graphics
RAM
i7-2600
Gigabyte Z68X-UD3R-B3
Gainward GeForce GTX 570 1280MB Dual Fan
4x2gb G.Skill Tridents DDR3
Hard Drive
Optical Drive
OS
Monitor
500GB WD Caviar Black, 2x 1TB Seagate Barracuda
DVD-RW
Windows 7 Ultimate 64bit
BenQ G2220HD, BenQ G2222HDH
Keyboard
Power
Case
Mouse
Logitech G15
Corsair AX-850
Bitfenix Colossus
Gigabyte M8000X
Mouse Pad
Razer Goliathus Fragged Extended Speed Edition
View all
hide details