Hey guys.
So this will be my first techstation ever and never wanting to leave anything stock I decided to do some mods to it. I've never liked the look of clear acrylic so those would have to be painted asap. My theme is black and white because of its contrast and venture into the world of elegance and simplicity. Because I will be working in Montreal for the summer I only have 4 days to complete this mod. As such, there isn't too much being done but I still hope you enjoy it. Starting from the stock Banchetto 101 here is my build "HeyHiHello" (a great one man band).
My first task was to create a new power/reset stand. The stock buttons and mounting didn't click for me. So I cut out a little rectangle of white acrylic, bent it slightly, used holes saws for the buttons and finally placed in my mounting mechanism.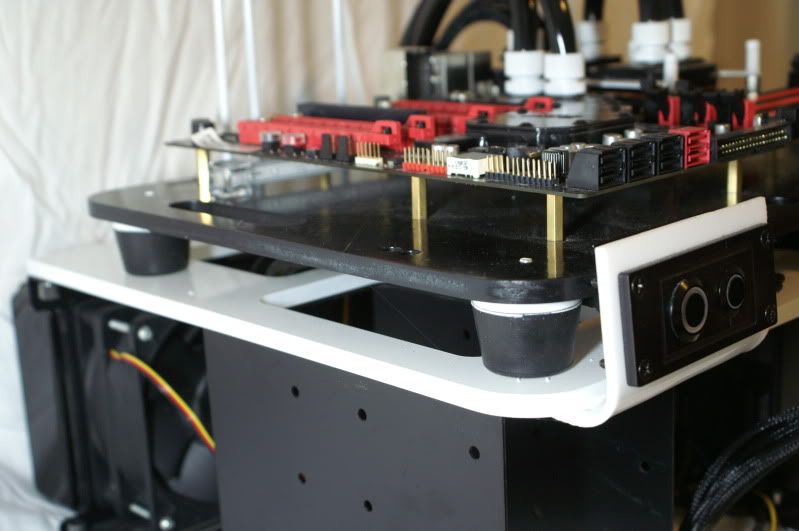 My second task was to showcase my new SSD's which I bought before some price cuts
. Keeping with the 'flowing' aspect I also chose to bend the mounting piece. Using thumbscrews on the back to secure the SSDs I slid the piece into the 5 1/4 bay drive section.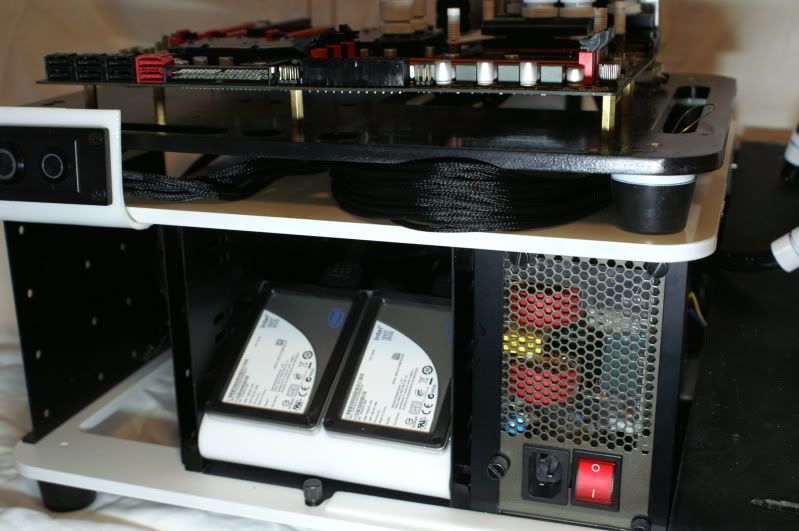 Moving on I couldn't decide where to mount my reservoir so I made a little add-on with some smoked acrylic from my last build and some white pieces.
You can still see a blemish near the bottom of the bent piece. I planned to either etch out a logo to place on top or have an aluminum badge but with time constraints I didn't have enough time to get to it.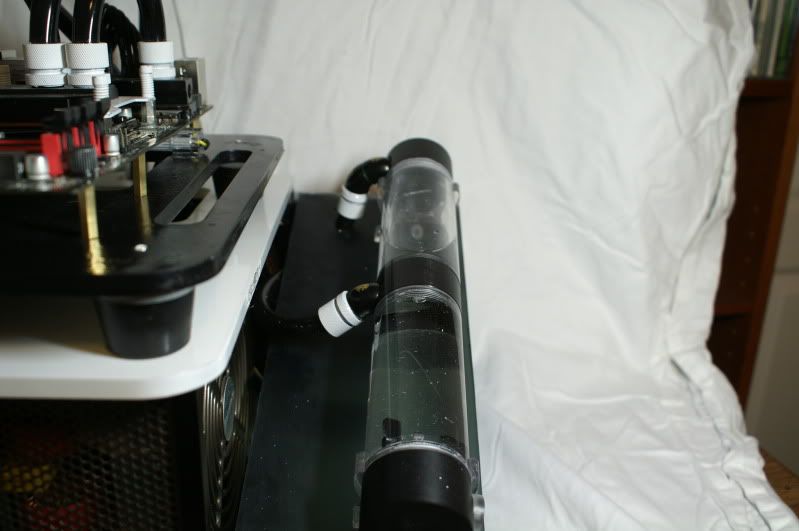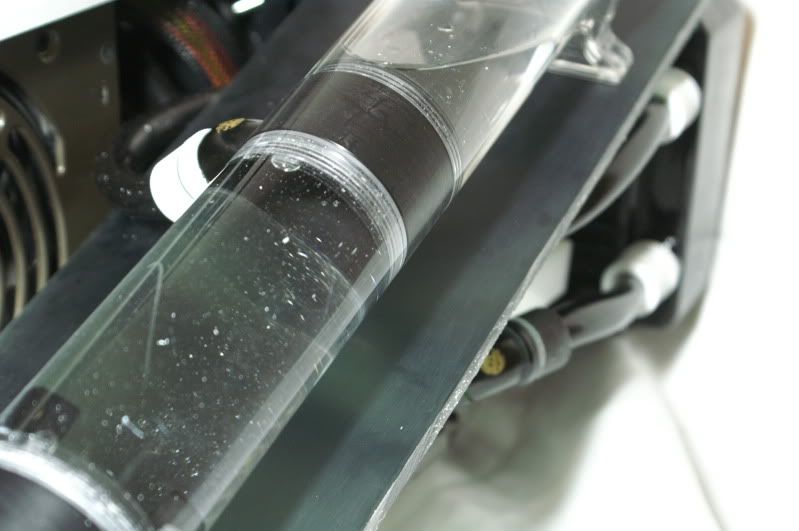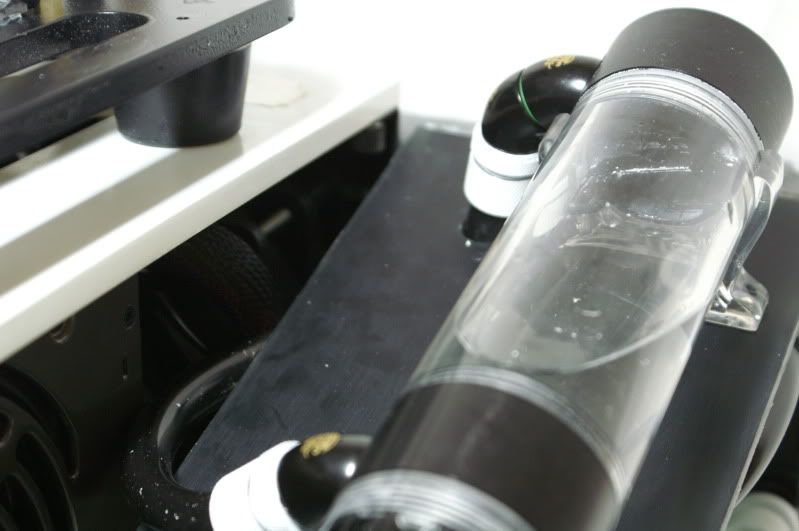 I also managed to sneak my pump under the res. You couldn't even begin to imagine how hard to was to route tubing down there. Thank god from my freakishly small hands.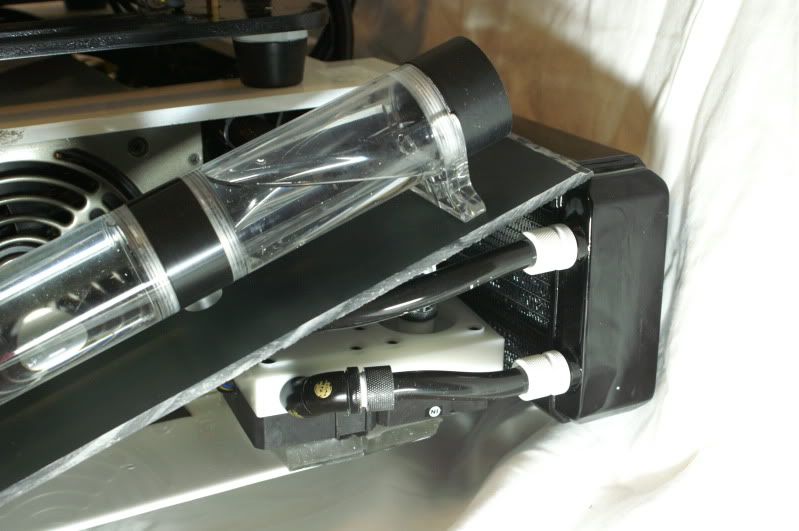 Now for some watercooling goodness.
Keeping with the black and white theme I painted the chrome koolance block black, the mounting for the HK white, and some compression fittings white.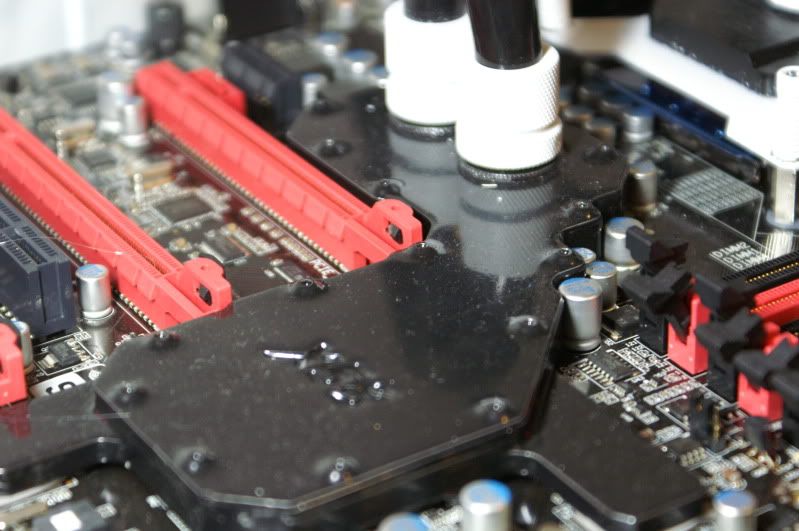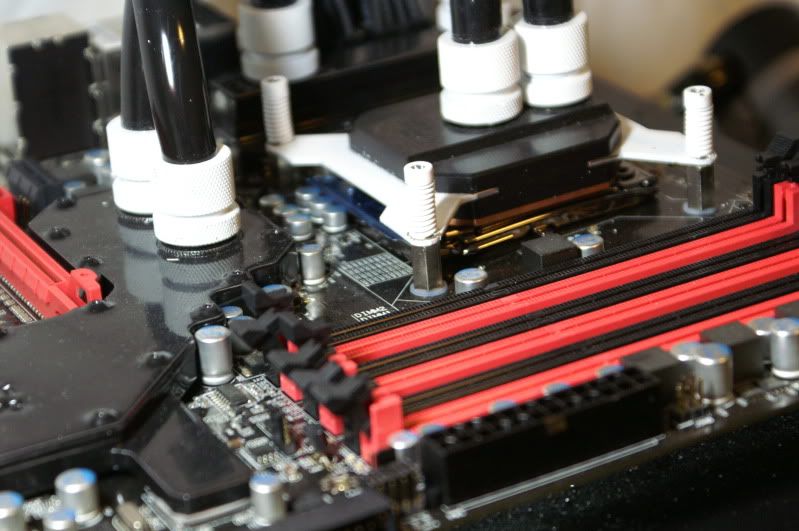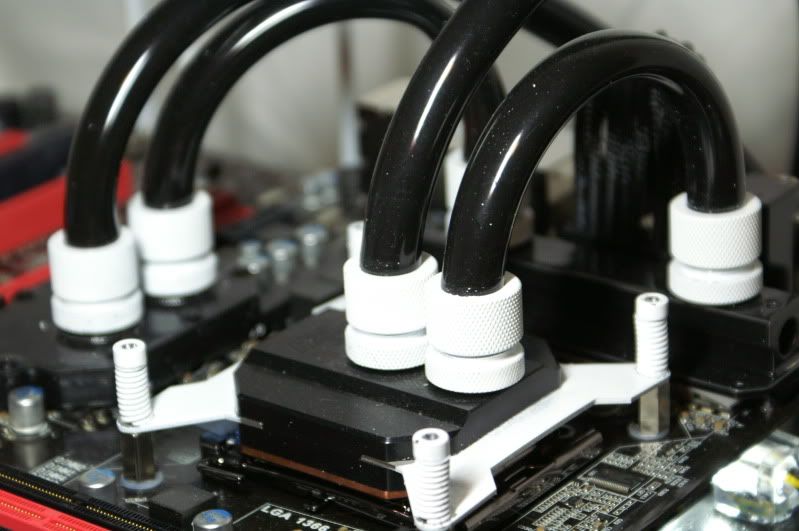 My original plan was to make a top shell for the station to prevent accidental dropping of various objects from a clumsy roommate but once I made it I found that it took away that grity techstation feel from the case. So I scraped that and took some huge 250mm fans to a fan mounting acrylic piece. The openness, I found, maintained that techstation feel to it.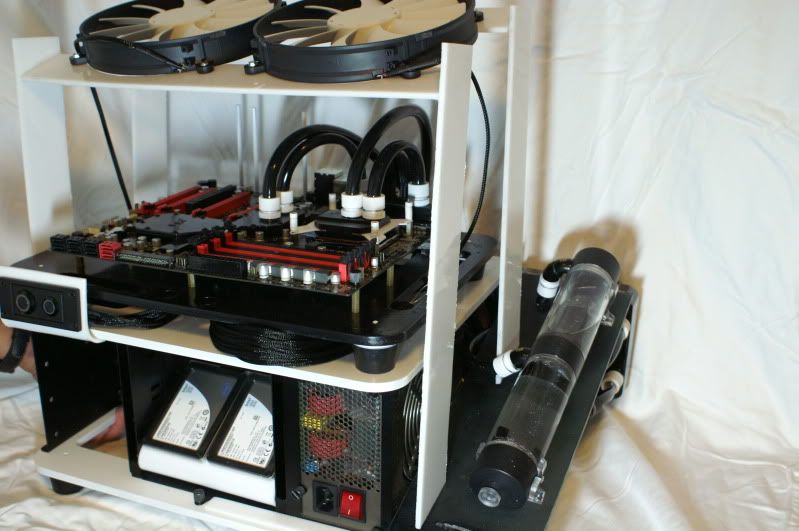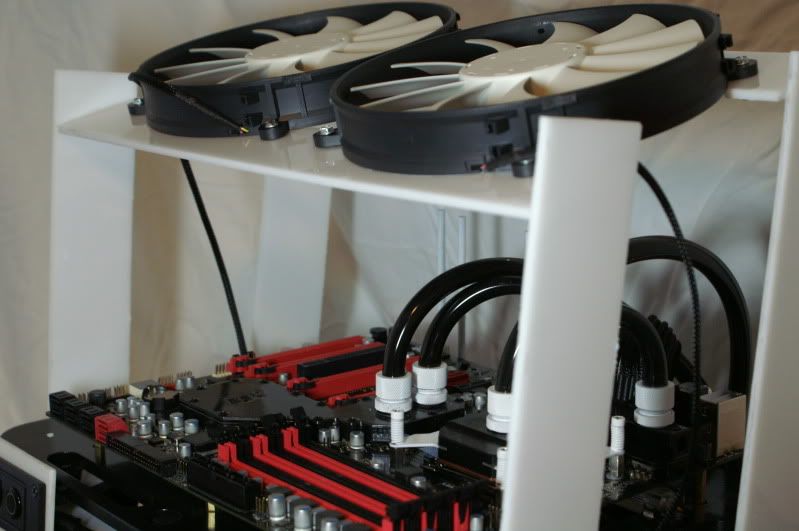 The next issue deals with lighting. Originally I planned to only light up my reservoir with white leds but the effect it created and the led cables running everywhere ruined the looks I had in my mind. I then tried shoving an LED strip under the motherboard and the ricer underglow achieved what I was aiming for. It was neither strong nor too subtle.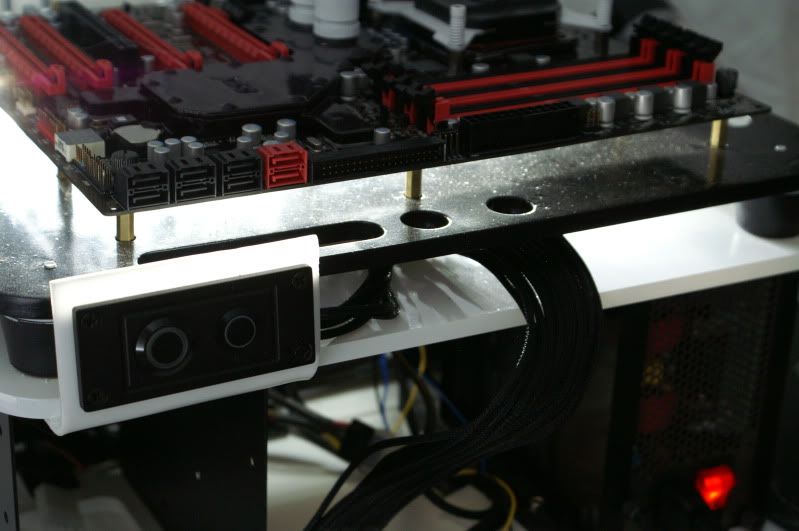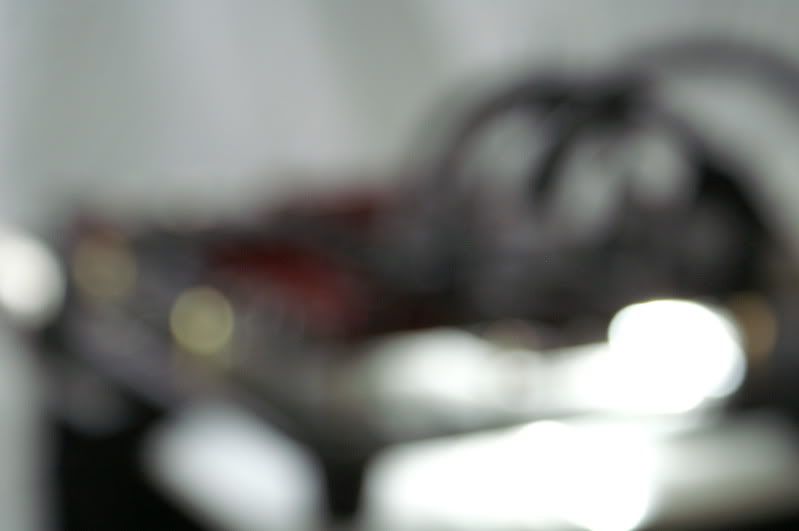 I hope you pardon my lame attempts at artistic shots.
A photographer I am not.
Since I'm not an ace photographer I tried my hand at some videos. Oh and the first one is pretty stupid. :[ I would have sped it up and added cool music but I have no idea how lol. Also like that big word 'malleable'? I try.
YouTube- IMG_0074.MOV
YouTube- IMG_0076.MOV
YouTube- IMG_0077.MOV
YouTube- IMG_0079.MOV
YouTube- IMG_0081.MOV
YouTube- IMG_0082.MOV
YouTube- IMG_0089.MOV
Anyways, I hoped you all enjoyed my humble attempt at modding. There are things that still bug me that I will come to fix once I come home from my summer job. Nonetheless, it was a fun mod and buying things online always is a plus.
Cheers,
Darrien
CPU
Motherboard
Graphics
RAM
Intel Core i7 920 D0 @ 4.1Ghz
Evga E760 Classified|Fully watercooled
MSI 570GTX
Kingston HyperX 3x2Gb + Mushkin 3x2Gb
Hard Drive
OS
Keyboard
Power
2x Intel X25M 80Gb|500GB WD
Vista 64 Home Premium
Razer Tarantula
Thermaltake 1200W Modular
Case
Mouse
Mouse Pad
Corsair 700D
G3
Razer Speed
View all
hide details
CPU
Motherboard
Graphics
RAM
Intel Core i7 920 D0 @ 4.1Ghz
Evga E760 Classified|Fully watercooled
MSI 570GTX
Kingston HyperX 3x2Gb + Mushkin 3x2Gb
Hard Drive
OS
Keyboard
Power
2x Intel X25M 80Gb|500GB WD
Vista 64 Home Premium
Razer Tarantula
Thermaltake 1200W Modular
Case
Mouse
Mouse Pad
Corsair 700D
G3
Razer Speed
View all
hide details