Quote:
Originally Posted by
-Muggz-
Well my score went down a tad, Its been 95-100* here in Dallas the past week, so I wasnt able to keep my 830/1080 GPU and 3.9 CPU overclocks. I had to back them down a bit, but it only changed by a couple hundred points. In the winter I imagine Ill get my scores up in the 22500 range.. Also Im running on DDR2 and an AM2+ mobo. Let me get this 955 on an AM3/DDR3 platform and I bet she shines!!
These are without Physix.
come on guys play fair!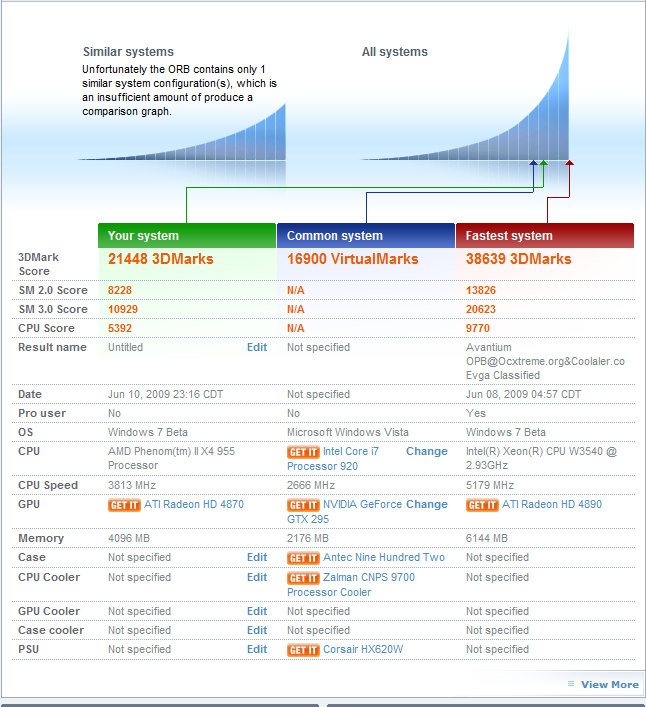 ram doesn't make any difference to FPS, just loading times. nice work all the same !
CPU
Motherboard
Graphics
RAM
Q9550 @ 3.8ghz, 1.44v
Asus p5q SE
Sapphire HD 5850 @ 980/1300
2x2gb ocz reaper ddr2 @ 1020, 5-5-5-15
Hard Drive
OS
Monitor
Power
samsung 750 storage + caviar black 640
W7 x64 Home Premium + x86 XP
benq 1080p 22''
Corsair HX620
Case
antec 300
View all
hide details
CPU
Motherboard
Graphics
RAM
Q9550 @ 3.8ghz, 1.44v
Asus p5q SE
Sapphire HD 5850 @ 980/1300
2x2gb ocz reaper ddr2 @ 1020, 5-5-5-15
Hard Drive
OS
Monitor
Power
samsung 750 storage + caviar black 640
W7 x64 Home Premium + x86 XP
benq 1080p 22''
Corsair HX620
Case
antec 300
View all
hide details