Straight Through Network Cable
Introduction
A straight through network cable acts as an extension enabling a device with a network interface card to be attached to a network. A common form of network media is the UTP Cat5 (Unshielded Twisted Pair Category 5) cable. In this assignment I will explain how to make a UTP Cat5 cable and what circumstances it is best used in as well as its capabilities. For example, the maximum effective length of the cable and its maximum transmission speed.
Making the Cable
Besides the cable itself and two RJ-45 connectors it is best to have the relevant tools for cutting the sleeving and crimping on the connectors. You will need a sharp stanley knife for trimming the sleeveing and a cable crimping tool to lock the connectors onto each end of the cable.
The cables should have their sleeving trimmed back at each end by approximately 13mm in order to expose the wires for sorting. The wires should then be flattened out and sorted into the following order from left to right; White/Orange, Orange, White/Green, Blue, White/Blue, Green, White/Brown, Brown.
Spread Wires
At this point it is best to make sure that the wires are the same length and trim them as necessary. It's a good idea to check the order of the wires before moving onto the next stage to make sure that orange and brown have not been mixed up as some white wires don't have their markings coloured clearly. Once the wires are confirmed to be in the correct order then it is time to attach the RJ-45 connectors. This is a simple case of pushing the wires in as far as they will go and then using a crimping tool to secure them into place.
Connected RJ-45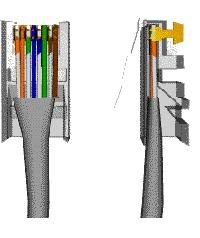 Once one end is done simply repeat the process for the second end, after that be sure to test the cable with an appropriate device before using it in your network. RJ-45 connectors are the most common form of connectors used on UTP Cat5 cables. The RJ simply means Registered Jack and the 45 designation specifies the pin numbering scheme. The cable itself contains 4 twisted pairs of wires making a total of 8 wires (Kerr, R, 1996).
Q&A
Why are the wires twisted?
The twisting of the wires is done to reduce electrical interference and crosstalk.
What is the maximum length we should have a (single run) cable and why?
100 metres is the maximum effective length for a single run cable as this type of cable cannot maintain a good signal for longer than that length. However it is possible to use UTP Cat5 cables to transmit data over 100 metres but this will require the use of devices known as repeaters which basically regenerate the signal strength (Mitchell, B, 2006).
What is the difference between Straight Through and Crossover cables?
A Crossover cable would be used when connecting a device like a PC to another PC rather than having to use a hub or switch. The wires in a Crossover Cable are attached to the RJ-45 connector in a different way as opposed to Straight Through cables.
CrossOver Cable Wire Configuratin

UTP Cat5 cables can carry data at up to 100mbps, how much data is this?
As 8 bits represent 1 byte, or one character, 100mbps is equivalent to 13,107,200 characters per second.
Why are higher data transfer rates required in today's network i.e. what tasks do users wish to perform that is driving rates upwards?
The operations that computers are required to perform nowadays require larger amounts of data to be processed than a few years ago, which in turn has meant that larger amounts of data need to be transferred across the modern network. This has forced the requirement for new technology to deal with the higher workload.
References
Kerr, R (1996), Wiring Tutorial for 10BaseT Unshielded Twisted Pair in
NetSpec.com
http://www.netspec.com/helpdesk/wiredoc.html
Accessed: 26/02/2006
Mitchell, B (2006), Wireless/Networking "repeaterâ€
About.com
http://compnetworking.about.com/cs/i...f_repeater.htm
Accessed: 06/03/2006
Casazza, T (2006), How to Make a Category 5 / Cat 5E Patch Cable in
LanShack.com
http://www.lanshack.com/make-cat5e.aspx
Accessed: 26/02/2006
The above is basically one of my early reports that I did on the CSN module of my BSc Foundation Computing course. I hope that it gives people an idea on how easy it is to make their own cable.