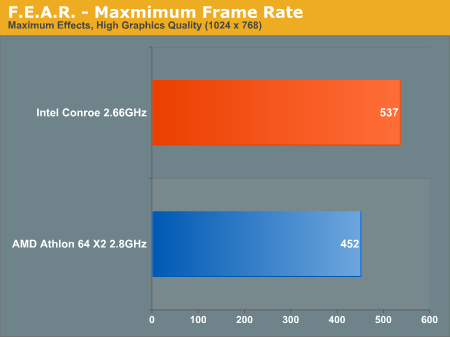 Quote:
While we're still comparing to Socket-939 and only using RD480, it does seem very unlikely that AMD would be able to make up this much of a deficit with Socket-AM2 and RD580. Especially looking at titles like F.E.A.R. where Conroe's performance advantage averages over 40%, it looks like Intel's confidence has been well placed.
The 2.66Ghz Conroe running at stock speeds smoked an overclock FX60 @2.8...
The stock mainstream Conroe averaged over 40% better than the overclocked FX60....
http://www.anandtech.com/tradeshows/...spx?i=2713&p=1
I am jumping with joy!
CPU
Motherboard
Graphics
RAM
Core i7 2500k
ASRock P67 Extreme4 Gen 3
AMD 7970
16GB DDR3
Hard Drive
Optical Drive
OS
Monitor
Intel 520 256GB
SATA DVD Burner
Windows 7 64 bit
Deal U2410
Keyboard
Power
Mouse
Adesso Mechanical
Silverstone OP650
Logitech G700
View all
hide details
CPU
Motherboard
Graphics
RAM
Core i7 2500k
ASRock P67 Extreme4 Gen 3
AMD 7970
16GB DDR3
Hard Drive
Optical Drive
OS
Monitor
Intel 520 256GB
SATA DVD Burner
Windows 7 64 bit
Deal U2410
Keyboard
Power
Mouse
Adesso Mechanical
Silverstone OP650
Logitech G700
View all
hide details