|Slappa's Slushbox|
http://slappablog.wordpress.com/revi...locked-in-ice/
Long story short. Today I got pretty bored. I've been wanting to put my 1090T under dry ice for quite some time now. However, my benchpartner has been busy with work so I could not obtain the dry ice pot.
So I was thinking of ways I could cool down my processor, in order to play around with my new 6 core. Since I own a Corsair H50 AIO Watercooling kit, I decided to have some fun.
I hung the radiator in an old lunch cooler and filled it to the brim with ice. I also threw a bit of water in for more cooling surface area. I figured this could get my processor 5°C or below. I was right. Yes, the slushbox idea is not a brand new innovative one, but I wanted to try my chip under something else then regular cooling for now.
So I pushed my processor to frequencies I only previously thought could be attained on dry ice (at least with my deneb's). It seems these new Thuban chips pack quite the punch when it comes to running up the frequency.
Anyways. Enough with the chit chat. I threw together another youtube short just like the good old days when I played with my denebs. So here you are:
Here are all the screenshot results and validations:
UPDATE: Session Three - Temperature Tuning 0-1C Idles
4.806GHz All 6 Cores @ 1.648Vcore, 1C idle -
Valid
4.902GHz Core #1 @ 1.648Vcore, 1C idle
UPDATE: Low Volt Overclocking
I wanted to see how far this thing would go without using insanely high volts.
[IMG]htt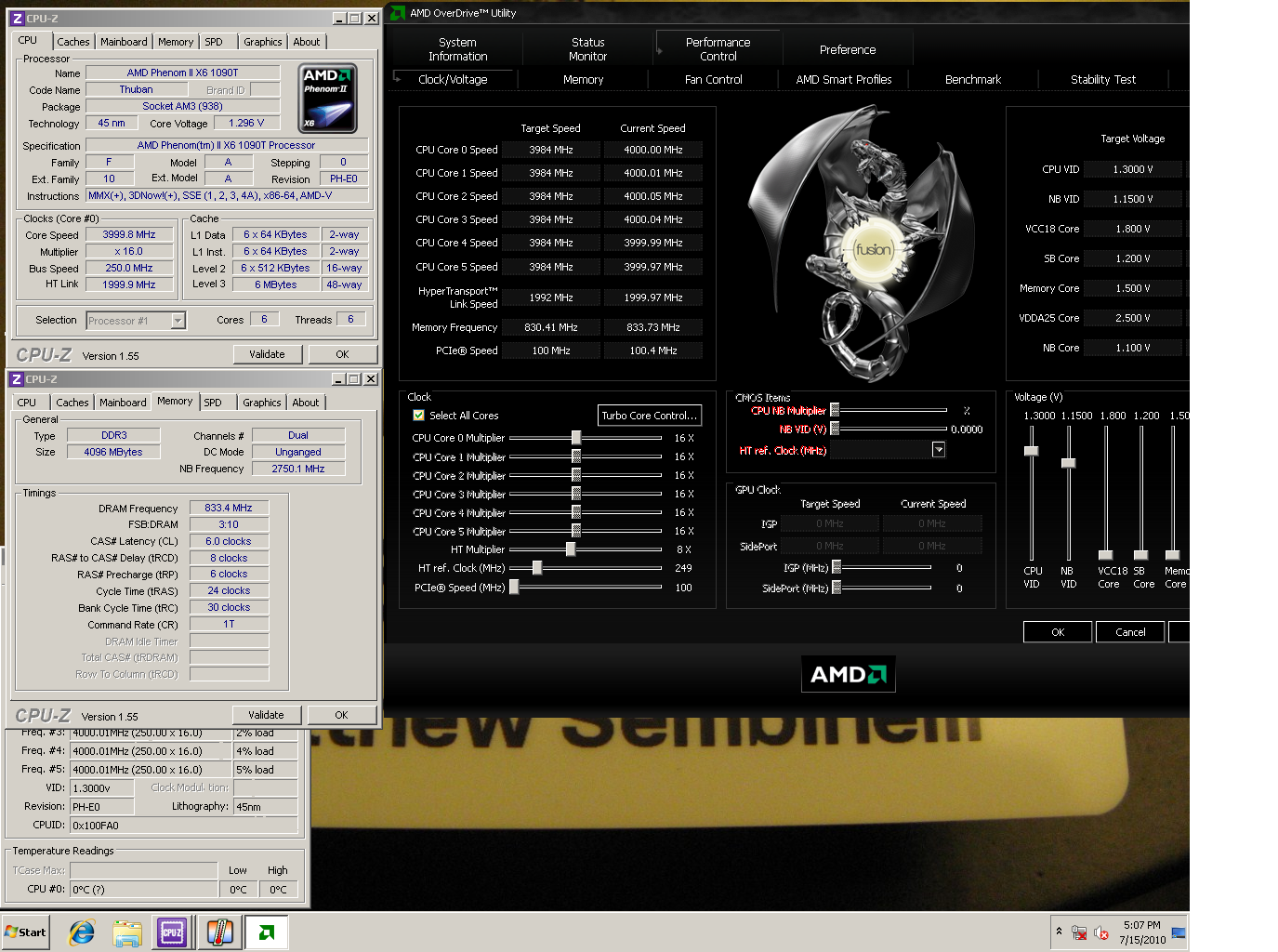 UPDATE: Session Two - More Tuning
Single Core Tuning - Max Frequency (Core #1, My Best Core) = 4844MHz
SuperPi 1M
SuperPi 32M
Original Run - First Session
4250MHz Prime 95 Stable 1 Hour
I wanted to see how the slushbox worked under a real stress and if the chip would stay stable. The slushbox doesn't deal with loads too well, but is still kept below 32C at all times. I believe if I had a good enough water setup, I could attain this stable speed no problem without any slushbox at all.
SuperPi 1m @ 4662MHz
SuperPi 32m @ 4500MHz
I could have sped up the ram a bit on this one, but I got lazy and left it as is. With some more tuning I believe I could get closer to 15 min flat.
Update: SuperPi 32m @ 4571MHz
wPrime 32m @ 4500MHz
wPrime 1024m @ 4250MHz
Update: wPrime 1024m @ 4409MHz
PiFast @ 4500MHz
Update: PiFast @ 4553MHz
Cinebench 11.5 @ 4250MHz
Update: Cinebench 11.5 @ 4427MHz
Update: 3DMark Vantage @ 4427MHz
Update: SiSoft Sandra @ 4427MHz
CPUZ SS @ 4730MHz - Validation
In the video I attained a speed of 4.75GHz, however it was not stable for validation nor screenshot. It was only a taken as a video clip. The cpu did not last very long at 4.75GHz and crashed soon after.
Edited by Slappa - 11/25/10 at 5:41pm
CPU
Motherboard
Graphics
RAM
A10-6800K
Gigabyte F2A85XN-WiFi ITX
AMD HD Radeon 8670D
8GB AMD Performance Series
Hard Drive
OS
Power
Case
1TB WD Blue
Windows 8 Pro x64
Seasonic 380 Watt
CoolerMaster Elite 120 Advanced
View all
CPU
Motherboard
Graphics
RAM
A6-3400m Llano APU 1.4GHz-3.4Ghz
HP A60M UMA Socket FS1
6520G
6GB 1333MHz 9-9-9-24
Hard Drive
Cooling
OS
Monitor
128GB Crucial M4 SSD
Stock
Windows 8 Pro x64 & Mint 16 Cinnamon
AUO 15.6" 1366x768 Matte High Gamut
Case
Audio
HP g6
IDT
View all
hide details
CPU
Motherboard
Graphics
RAM
A10-6800K
Gigabyte F2A85XN-WiFi ITX
AMD HD Radeon 8670D
8GB AMD Performance Series
Hard Drive
OS
Power
Case
1TB WD Blue
Windows 8 Pro x64
Seasonic 380 Watt
CoolerMaster Elite 120 Advanced
View all
CPU
Motherboard
Graphics
RAM
A6-3400m Llano APU 1.4GHz-3.4Ghz
HP A60M UMA Socket FS1
6520G
6GB 1333MHz 9-9-9-24
Hard Drive
Cooling
OS
Monitor
128GB Crucial M4 SSD
Stock
Windows 8 Pro x64 & Mint 16 Cinnamon
AUO 15.6" 1366x768 Matte High Gamut
Case
Audio
HP g6
IDT
View all
hide details