Just played probably my best TvsZ with drops and all:
I think I'll start doing battlereports with some of my replays. Some helps those who don't wanna watch the actual replay due to how fast you can scan them
Battlereport:
The game starts with the usual exchanges. My Z opponent decides to go for a 15 pool followed by a fast bane nest considering the map is Shakuras Plateau. He was likely worried about heavy marine pressure and thought that with a couple of banes, he'll at least be able to punish me if I try it.
I forgo pressure and decide to exp as fast as possible blocking my entrance with 3 rax incase of any bane busts.
My opponent scouting the 3 rax decides to exp as well and places slings+banes outside my base to determine when I move out. Since my exp was earlier than his, I have a slight eco lead shown by the supply difference.
Once my exp is set up and with the extra income, I start powering hardcore adding 2 more rax with a tech lab/reactor and 2 starports both with reactors.
In the meantime, my opponent is still making drones and taking his third base. His spire seems a bit late but it gave me the chance to reinforce my defenses with turrets incase of muta harass.
I decide that it's dropping time so I start loading medivacs with marines and try to double drop his 3rd as well as his main around the same time.
Dropping both at the same time, he's taken by surprise but manages to move his drones out of harm's way in his main ignoring his 3rd. I decide to take out some structures that will pose a problem later i.e. infestor pit and pool.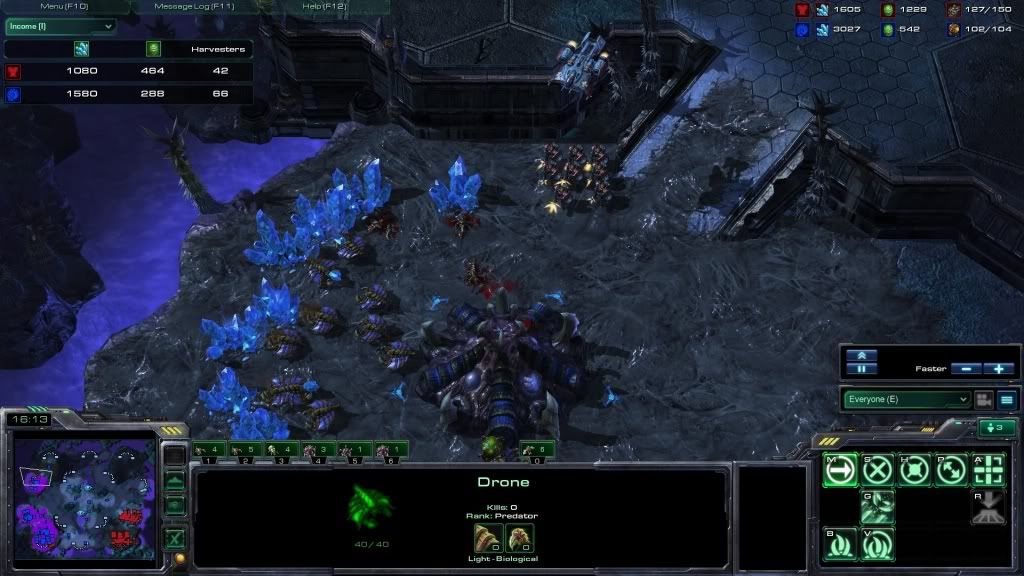 He tries to get a surround with some slings+drones+queen but microing back causes him to flee until roaches join his ranks at which point I decide to lift off but my other drop has accomplished its purpose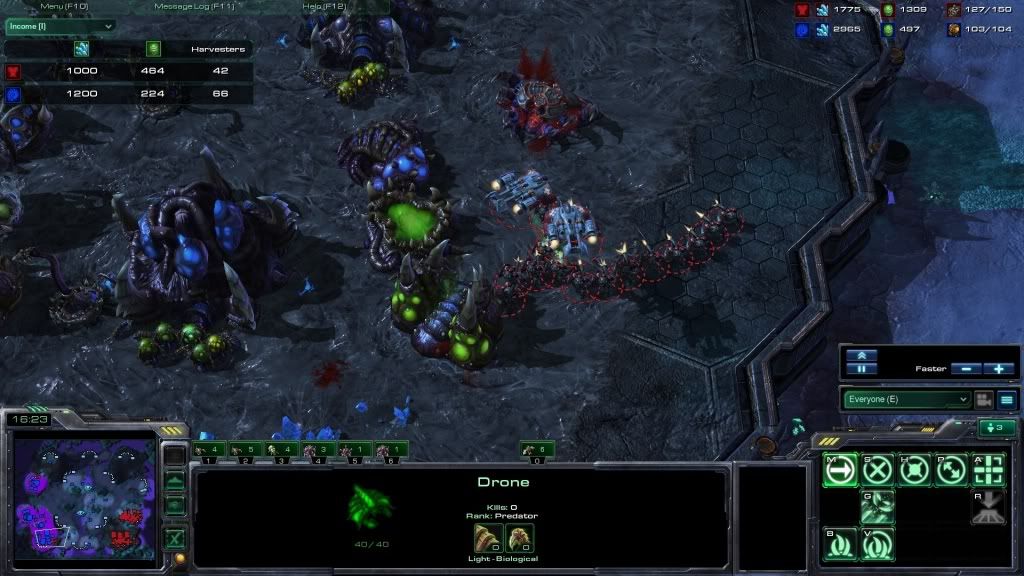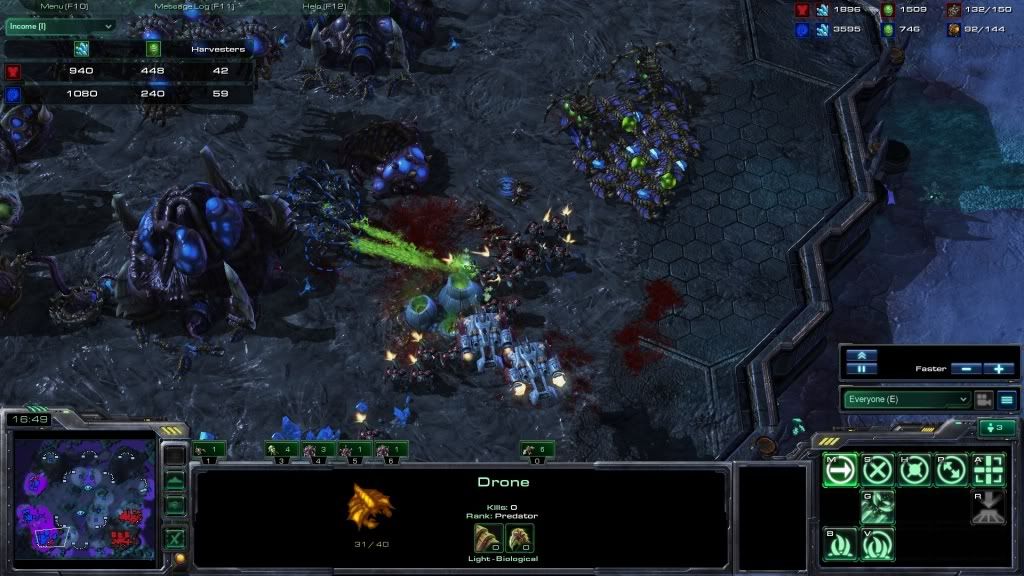 Less than 50 seconds later, I redrop, this time in his exp and main. He's quick to react losing only a couple of drones in the process. I decide to redrop his 3rd to clean up his extractors and meet some nice roaches who came to play
At this point, I think I've done enough damage, so, I decide to move out. My rax+scans help me scout what's ahead and I decide to siege sieging past the 2 towers and start leap frogging tanks as fast as possible to prevent him from reinforcing his existing army.
He scouts the push and starts preparing by splitting up his roaches a bit to get a surround.
We engage with me stimming forward and then back into the tank link and stutter stepping during the rest of the fight. My forces clean his up convincingly as can be seen: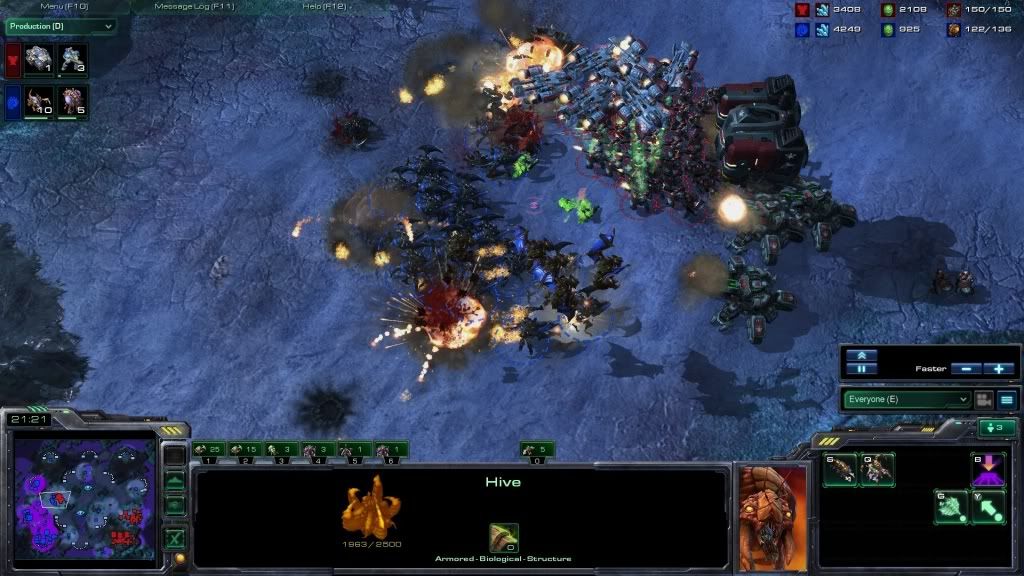 Moving into his exp, I'm meet with a very small army of slings+banes yet still lost a couple of marines.
I sieze the opportunity this opportunity of lack of defense units and attack his exp with only marines then I take out some drones and his rebuilt third exp.
Scouting his banes+BLs, I start moving back to his main to engage the rest of his army before the BLs are morphed. With a couple of stims and positioning, I'm able to deal with the banes and snipe his BLs before he's able to get a critical mass and with that, it's GG.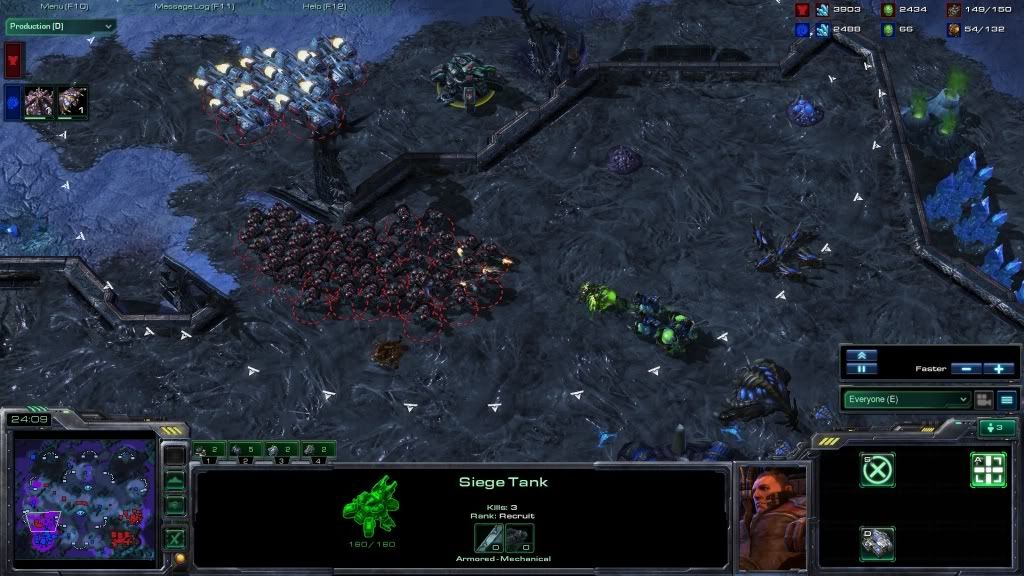 Lovely BM at the end
Edit: Maybe next time I'll cut down on the screenies
Edited by BigFan - 8/11/11 at 1:14pm
CPU
Motherboard
Graphics
RAM
Intel Q6600 2.40GHZ
Gigabyte GA-P35-DS3L
MSI GTX570 @ stock
Corsair 2GB DDR2 800MHz
Hard Drive
OS
Monitor
Power
Seagate Barracuda 250GB
Windows 7 Professional 64bit
Samsung SW2494 24"
Antec Earthpower 650W
Case
Apevia X-Plorer
View all
hide details
CPU
Motherboard
Graphics
RAM
Intel Q6600 2.40GHZ
Gigabyte GA-P35-DS3L
MSI GTX570 @ stock
Corsair 2GB DDR2 800MHz
Hard Drive
OS
Monitor
Power
Seagate Barracuda 250GB
Windows 7 Professional 64bit
Samsung SW2494 24"
Antec Earthpower 650W
Case
Apevia X-Plorer
View all
hide details