There has been a lot of talk about using a stripped down XP for better benching.
This guide is to show you how to create your own stripped XP. No pirating!
Get the latest version of nLite
here
.
We will not be going over every service and process.
If you would like a list of services and what they do, check out
Black Viper's guide
.
nLite Welcome screen:
Select your language and click next.
Next nLite will ask for your files. Put your XP disc in and direct nLite to your disc drive.
Immediately afterwards it ask were you want to save the files to. Point nLite to were you want them saved.
If this is not the first time you've ran nLite, you can just point nLite to the saved folder.
You do not have to upload the XP disc every time you use nLite.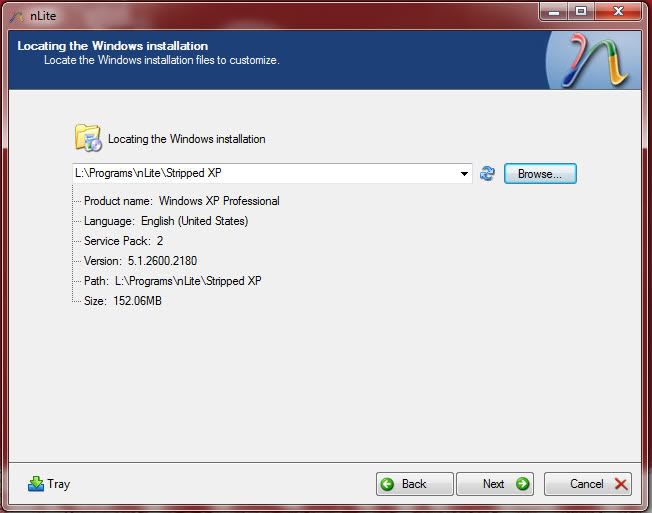 Presets:
If you have been working on a disc, you can select 'Last Session' and start off were you left off last time you used nLite.
Task Selection:
Here we will highlight the areas we will be using.
We don't want to add anything, so leave service Pack, Hotfixes, and Drivers un checked.
Check Components, Unattended, Options, Tweaks, and Bootable ISO.
Compatibility:
nLite has this built in to protect you from removing components that would prevent certain compatibility.
Prefetch functionality is the only thing we want to protect.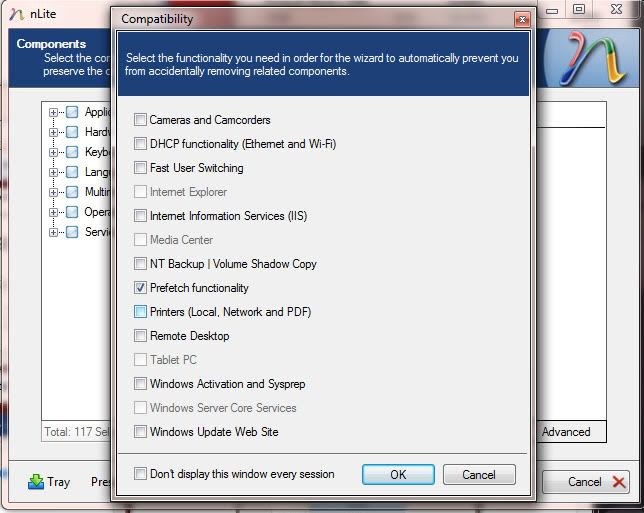 Components:
Here is were we are going to strip XP down to bare bones.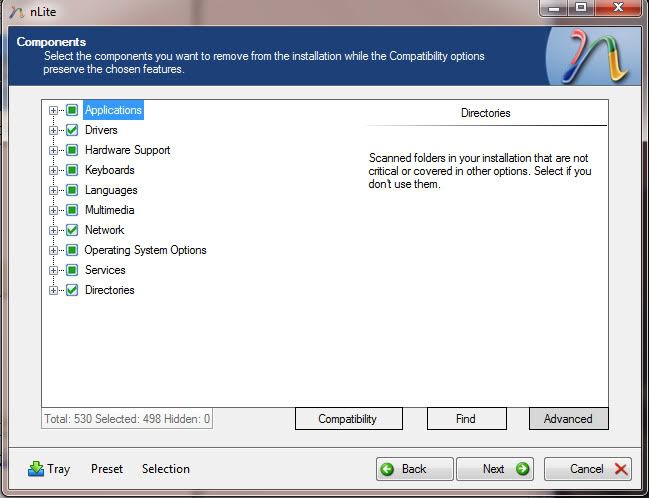 Here's the list of what I had left after removing everything else
Here's a list of what it looked like before. Click to view. It's really long.
click to view
(Click to show)

Unattended
: Here's were you enter your product key. You can skip this step if you want.
Also, you'll notice that if you browse through the tab that most options are grayed out now that most the components have been removed.
Options:
Not really any tweaking here.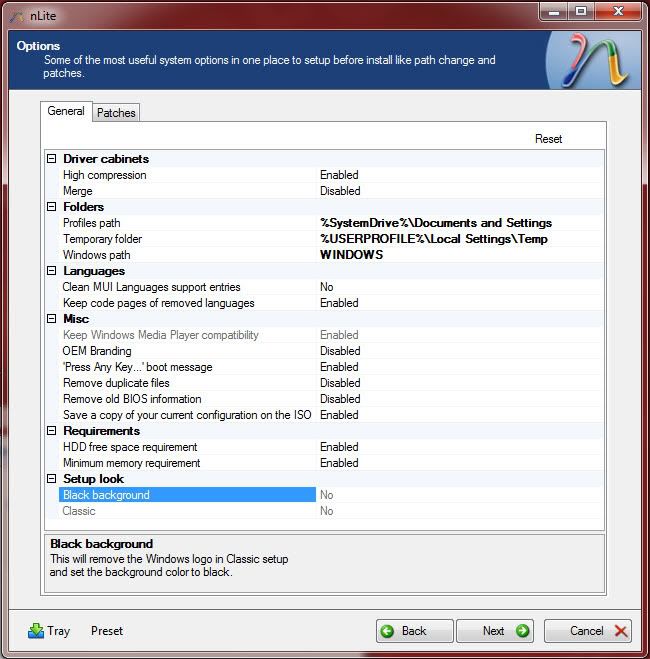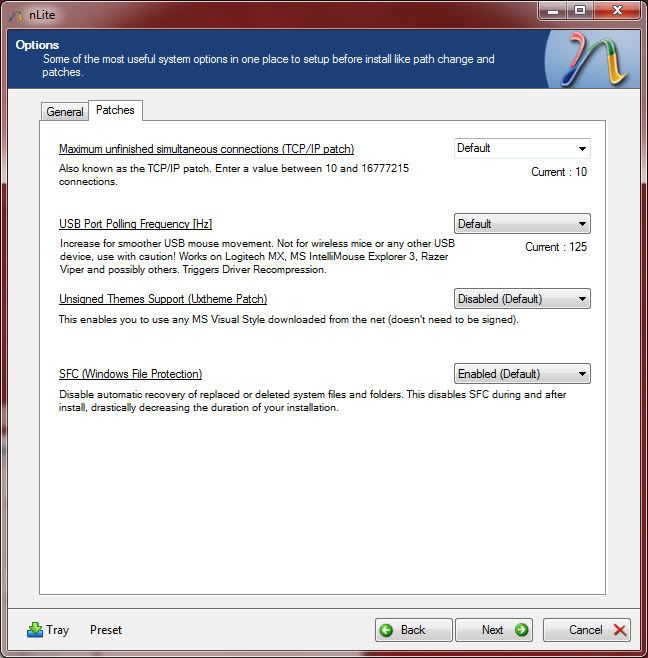 Tweaks:
In the general section you have some basic stuff.
Most of this is just personalization.
The two areas you will want to edit are 'Performance' and 'Visual Effects'
The services tab is pretty much already bare bones now after removing most the components from the OS.
You can give it a look over, but shouldn't need to make any changes.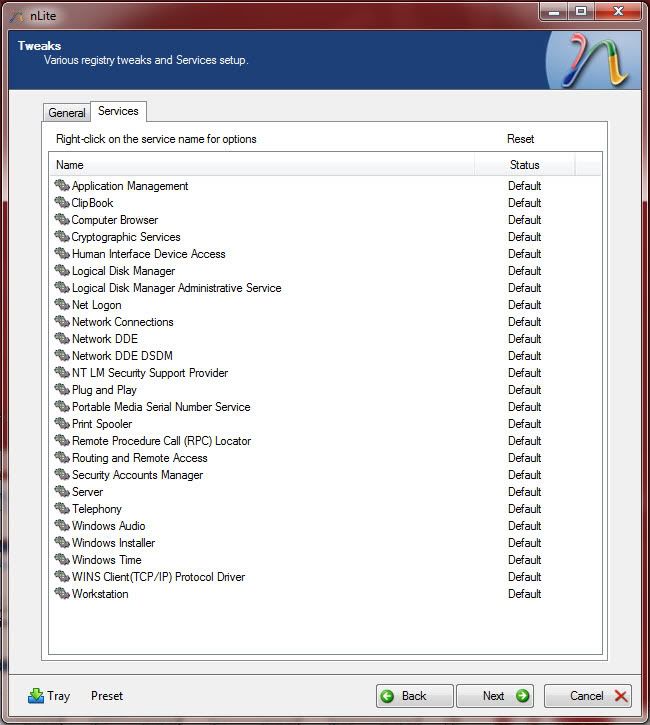 Click next and apply your changes.
Bootable ISO:
Now it's to create an ISO. Click the 'Make ISO' button.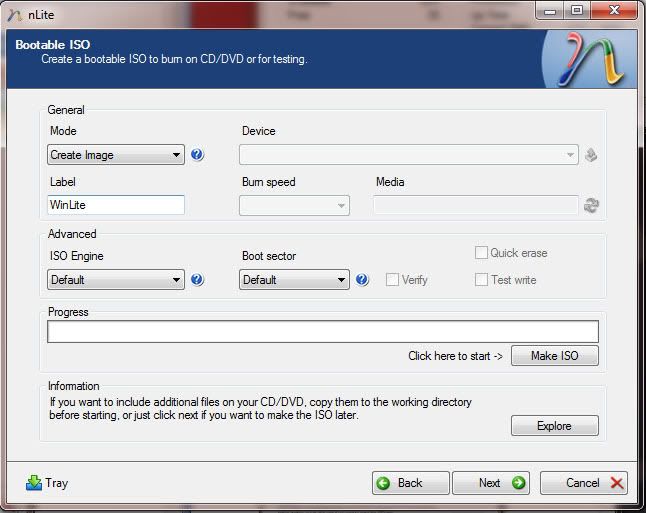 After the ISO is finished click on the drop down box and select 'Burn Image'
Before you burn your disc, select a slower speed of writing then Maximum.
Sometimes issues can be caused from burning and OS to fast to a disc.
You'll want to burn it at x2 or x4 speed to insure a clean image.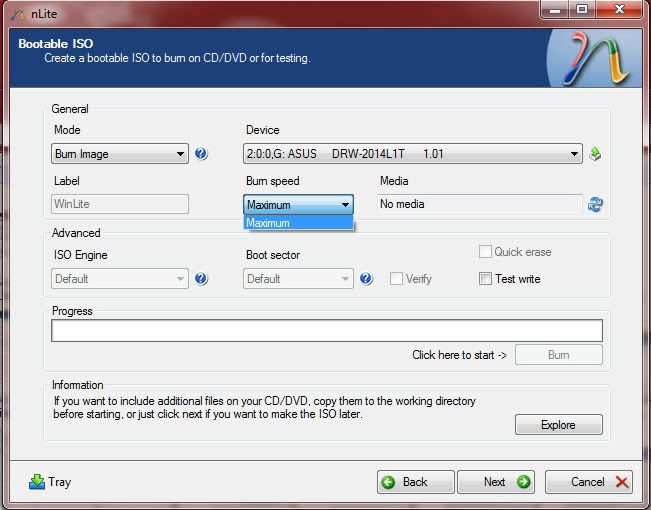 Burn disc and you're done. Reboot, install stripped XP, and start benching.
Also, you can use PowerISO or another disc image editting program and add your benchmark and utilities to your disc.
CPU
Motherboard
Graphics
RAM
E8400, E8600, 980BE
T2RS+, P5E3, TA890FXE
8800GTS's,GTX's,GS,Ultra's,9600GT
Lots of D9's and some crap DDR3
Hard Drive
Power
Case
Seagate 250GB + 80GB WD for benching
TT 875w, Corsair 650TX
Custom bench station
View all
hide details
CPU
Motherboard
Graphics
RAM
E8400, E8600, 980BE
T2RS+, P5E3, TA890FXE
8800GTS's,GTX's,GS,Ultra's,9600GT
Lots of D9's and some crap DDR3
Hard Drive
Power
Case
Seagate 250GB + 80GB WD for benching
TT 875w, Corsair 650TX
Custom bench station
View all
hide details