For the Canadians on this post!
NCIX has restocked the MSI 465 Twin Frozr II Gold! And a lot of them too!
Also read the note on the picture below. Pre-unlocked for me! Now that is service!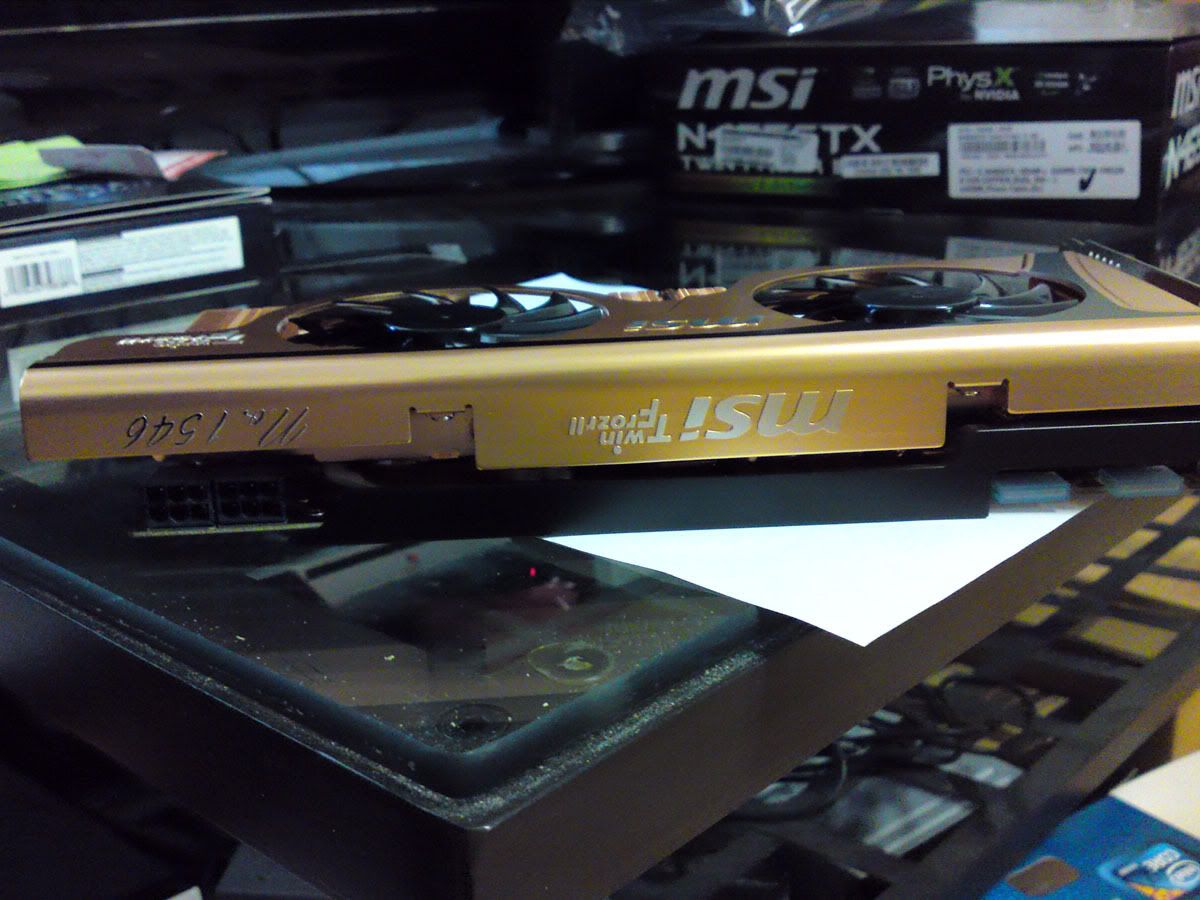 #1546
(I asked, Burnaby location does not have #1337)
Gonna plug it in now for a test drive!
CPU
Motherboard
Graphics
RAM
Intel i7 920 D0 @ 4.0 GHz 1.250V
ASUS Rampage III Formula
2 x MSI GTX-465 Twin Frozr II Gold Modded to 470
6GB (3x2GB) DDR3 1600
Hard Drive
Optical Drive
OS
Monitor
80GB Intel SSD & 5TB (3 x Seagate & 1 WD Green)
Pioneer DVD-RW
Windows 7 64-bit
3 x Samsung 2494HM 24IN 1080P
Keyboard
Power
Case
Mouse
Logitech G15 & G13
Antec High Current Pro 1200W
Coolermaster Storm Sniper Black Edition
Logitech G500
Mouse Pad
Razer Vespula
View all
hide details
CPU
Motherboard
Graphics
RAM
Intel i7 920 D0 @ 4.0 GHz 1.250V
ASUS Rampage III Formula
2 x MSI GTX-465 Twin Frozr II Gold Modded to 470
6GB (3x2GB) DDR3 1600
Hard Drive
Optical Drive
OS
Monitor
80GB Intel SSD & 5TB (3 x Seagate & 1 WD Green)
Pioneer DVD-RW
Windows 7 64-bit
3 x Samsung 2494HM 24IN 1080P
Keyboard
Power
Case
Mouse
Logitech G15 & G13
Antec High Current Pro 1200W
Coolermaster Storm Sniper Black Edition
Logitech G500
Mouse Pad
Razer Vespula
View all
hide details