Hey guys, so I bought an EVGA GTX 460 with the 20% coupon recently. I probably could have saved another 8$ if I just went with the stock clocked version, but alas, it was too late. I don't think these are cherry picked... but I'm not sure.
I had the gigabyte version last week, refer to:
http://www.overclock.net/nvidia/7873...-gigabyte.html
So lets start this shall we?
UNBOXING (Scroll down for thoughts/benchmarks)

Box was standard. Shipped with foam peanuts



There was slight damage to the box:



Contents:



Card:



PCB:



Angled:



Connectors/Exhaust:



Installed: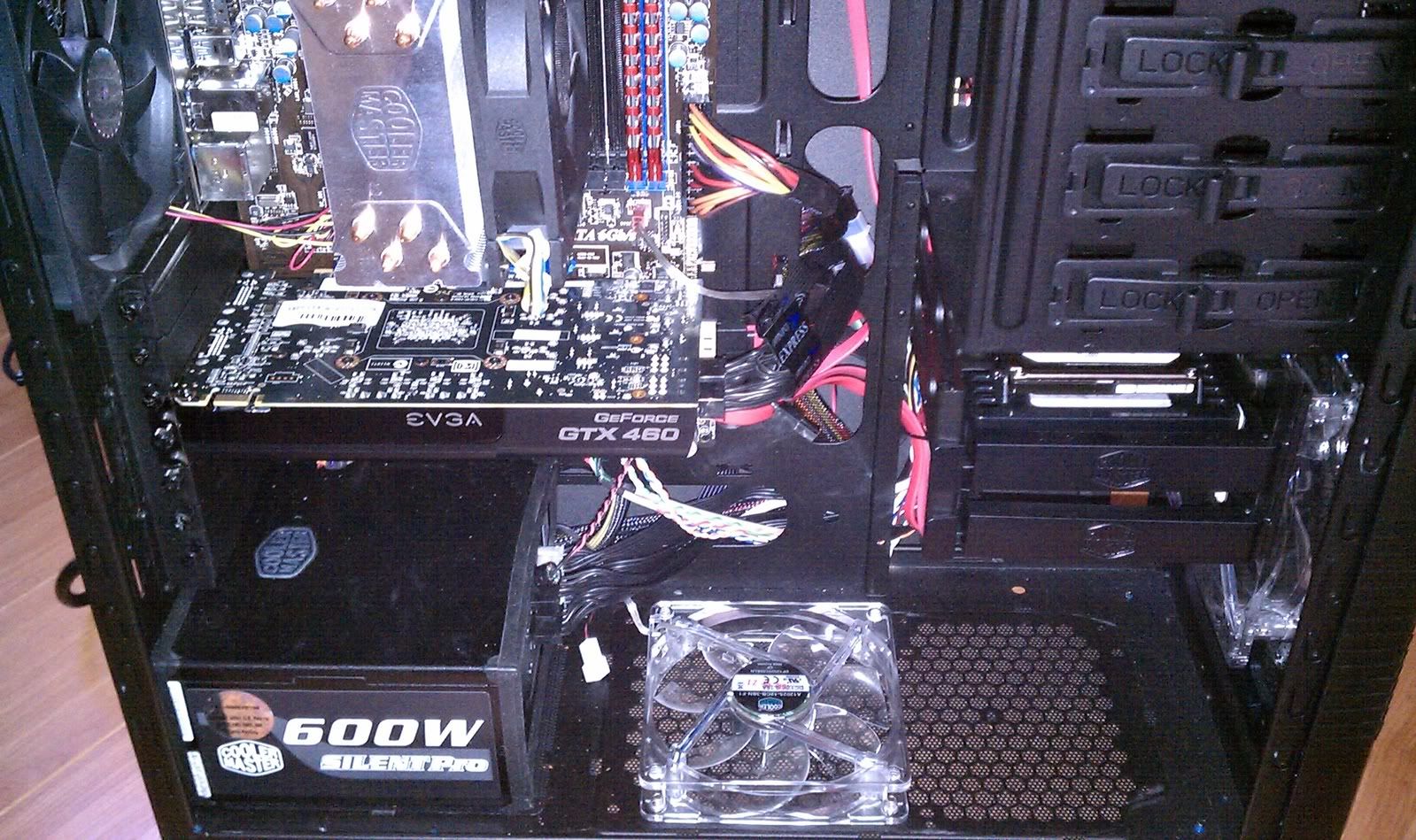 No Flash:



Good adapter from EVGA (aka uses a cable)



Fail adapters most others use (expands, not enough space) to fit:



END UNBOXING



Thoughts:

Looks:
It looks sleeker and more compact than open faced, reference coolers such as the MSI Cyclone and the Gigabyte dual fans. I won't say better or worse because i'm truly apathetic about this. The cyclone fan looks unique though, heh.
Fan and sound:
This is definitely louder than the gigabyte model. I tested a little differently, but the difference is still noticeable. Nothing scientific here, just using my ear. With the gigabyte version, my CPU fan (hyper 212+ fan) was set at 62.5%. It's my loudest component on my tower even at 62.5% (which is why I set it lower, my temps are great on my CPU anyway). I have 3x 120mm 3x 140mm fans all running 100%. Testing with MSI afterburner, I set the fan on the card at 100% to check how loud it was. Definitely noticeably louder than the hyper 212+. From there, I put the fan speed lower to check at what speed did I hear it over the hyper 212+. This happened at 65%. Card ranges from 20-100% fan speed.
With the EVGA card, it's a little harder to tell now since I was so used to my temporary card being so loud I can't exactly say the comparison... being a little lazy here. But right now, I can say can notice it at pretty much comparable to the CPU cooler at 62.5% and gpu at 40%. 45% it starts overtaking the cpu cooler. Card ranges from 40%-80% fan speed.
EDIT: After further thought, the EVGA card is pretty loud. It matches/is louder than my CPU fan at 62.5% while the EVGA card runs at 40%.
I'm used to fan noise now, so non issue for me. It doesn't spin up too high in games, actually stays at 40% for the most part. So, for people with silent computing or low noise (aka, minimal fans, low RPM, etc.) I'd suggest looking into another, more quieter card. This one doesn't cut it for your systems, although I wouldn't like the hot air being thrown into the case if you have minimal airflow with other reference coolers.
This is the case set up, except the side fan is now intake. The temps are from the gigabyte model idle on reference 675/1300/1800 clocks. EVGA was able to achieve this too, but from fresh out of sleep, so not fair. Still, it was 24C lowest, hovering at 27C idling.
Temperatures:
The nonreference external exhaust is inefficient compared to the open faced coolers. It's a little saddening, but these cards handle high temps... kind of.
This is the gigabyte running furmark. It topped at 81C after 7 minutes, dropped back to 80C for a while.
With the evga at same settings, I just tested, the temps were running high after a minute. When it reached 84C, the drivers crashed.
Good news though is that the EVGA overclocked was stabler.
More later, but that's the gist of it.
Overclocking:
Even though there were higher temperatures with the EVGA card, I was able to reach a higher overclock than the gigabyte model. Basically, the gigabyte could not run 3dmark vantage at 900/1800/1800. The EVGA runs it with no problems at all (900/1800/1900), topping out at 80C. That is, however, the highest OC I can achieve with no/minimal artifacting on 3DMark Vantage.
Computer specs:
Processor: AMD Phenom II X2 555 Black Edition OC'ed to 4100MHz (200x20.5)
RAM: G.Skill Ripjaw Series 2x2GB DDR3 RAM 1600MHz PC12800 running @ 1333MHz
Motherboard: MSI 870A-G54 AM3
Tower: Cooler Master 690 II Advanced with additional 120mm intake side fan, intake 120mm bottom fan, and top 140mm exhaust fan.
Video Card: EVGA GTX 460 1GB
Programs used/attempted:
MSI Afterburner
EVGA Precision
FurMark
MSI Kombustor
HWMonitor
GPU-Z
3DMark Vantage
MSI Afterburner was easier to manage than EVGA's precision. While the skin is nice on the precision, I didn't like the GUI, even though both are nearly identical, it's harder to find and tinker with things on EVGA. I might test more later with other EVGA software.
FurMark/Kombustor, stressing.
HWMonitor/GPU-Z monitors.
3DMark Vantage Benchmarks
I ran 3Dmark vantage on performance settings. Took me a couple hours of testing because I mixed results and decided to stay on performance settings (I set extreme).
Stock Clocks: 763/1526/1900 @ 950mV
Stable OC at stock voltage: 820/1640/1900 @ 950mV
Max stable OC: 900/1800/1900 @ 1087mV
As you can see, I did not bother with memory clocks. Also, I couldn't set it the memory any lower than 1900 (wanted to set it at reference 1800).
Stock Clocks 763/1526/1900 @ 950mV, max temps 66C:
Overclocked 820/1640/1900 @ 950mV, max temp 67C:
Overclocked at 900/1800/1900 @ 1087mV, max temp 80C:
Overclocked at 900/1800/1900 @ 1087mV, CPU third core unlocked, 4100MHz, max temp 80C:
Conclusion:
I don't really regret this purchase, which is saying something for someone with an extreme case of buyer's remorse. Actually, I think I could have saved myself 8$ and gone for a stock clocked version, but o well.
The nonreference external exhaust cooling is not as efficient as the open faced coolers that MSI and Gigabyte use (I refer to these because they are regarded as having the best coolers for the GTX 460) but it gets the job done. I initially was concerned about noise/cooling, which is why I went with a gigabyte first. After noticing how quite the gigabyte was and how good the temps were, I sold it to my friend and decided to get myself the EVGA.
The EVGA pros weighed heavily in its favor in this case. It was:
About 30$ cheaper (taxes, coupons)
It has a lifetime warranty and I assume better customer service, having dealt with gigabyte and MSI
90 day step up, but I don't think I'll use
(meh) custom software
An appropriate mini-hdmi to hdmi adapter
External Exhaust will be advantageous for SLI (future plans)
BUT
it does have its flaws as a single card because of the non reference cooling. The non reference cooler is just not as efficient as open faced reference coolers. It is both significantly louder and hotter than reference cards.
In my opinion, from what I've read and what I've tested, the best card to buy for purely the card itself (not the company), it would be the
MSI Cyclone
. It has the best cooling in the market for the GTX 460, it is quiet on top of that, and it has unlocked voltage to go past the 1087mV cap, at least out of the box. BIOS changes might allow for voltage tweaking, but amateur overclockers might not be comfortable with flashing vBIOS.
Which card is the best?
Best Single Card: MSI Cyclone.
The cooling on the MSI Cyclone is the best cooling out in the market right now for the GTX 460. It's quiet and cool. Nothing beats it. On top of that, it has voltage tweaking out of the box, so you can overclock even higher than normal cards.
Best SLI Card & Extras: EVGA External Exhaust
The EVGA card does not have the best cooling as a result of going non reference with a turbine External Exhaust. I believe the fan bearings are not great quality either, resulting loud cooling. Though because of the external exhaust system, this card is beneficial for both SLI setups and cases with minimal airflow. In addition, EVGA has the best adapters, lifetime warranty that will cover ANYTHING except physical damage (unlike other warranties, where overclock damage voids a warranty), and customer service backing up its card.
--------------------------------------------------------
So I hope I was helpful. It took me a couple of hours to do all of this, so thanks will be appreciated
Edited by Chango99 - 8/5/10 at 5:40am
CPU
Motherboard
Graphics
RAM
Intel i5-750 4.0GHz
Asus Maximus III Gene
EVGA GTX 460 1GB EE
G.Skill Ripjaw Series 2x2GB 1600MHz PC12800
Hard Drive
Optical Drive
OS
Monitor
Intel 80GB SSD X25M-G2
Asus DVDRW
Windows 7 Professional
Samsung Syncmaster 245bw 24" 1920x1200 LCD
Keyboard
Power
Case
Mouse
daskeyboard Professional Model S Silent
XFX 650w 80+ Bronze Modular
Cooler Master 690 II Advanced w/ Windowed Panel
Logitech G9x
Mouse Pad
Steelseries Cloth
View all
hide details
CPU
Motherboard
Graphics
RAM
Intel i5-750 4.0GHz
Asus Maximus III Gene
EVGA GTX 460 1GB EE
G.Skill Ripjaw Series 2x2GB 1600MHz PC12800
Hard Drive
Optical Drive
OS
Monitor
Intel 80GB SSD X25M-G2
Asus DVDRW
Windows 7 Professional
Samsung Syncmaster 245bw 24" 1920x1200 LCD
Keyboard
Power
Case
Mouse
daskeyboard Professional Model S Silent
XFX 650w 80+ Bronze Modular
Cooler Master 690 II Advanced w/ Windowed Panel
Logitech G9x
Mouse Pad
Steelseries Cloth
View all
hide details