This guide is to show you how to create your own stripped Windows. No pirating!
Get the latest version of RT7Lite
here
.
We will not be going over every service and process.
If you would like a list of services and what they do, check out
Black Viper's
guide.
WAIK for Windows 7
(Only needed if using Vista)
DOT NET Framework 3.5
(Only needed if using Vista)
A Virtual machine:
VirtualBox
(doesn't have to be VirtualBox)
optional
RT7Lite Welcome screen
: Click 'browse' and select either 'ISO' or 'OS Path'.
Use OS path if you want to open existing folder.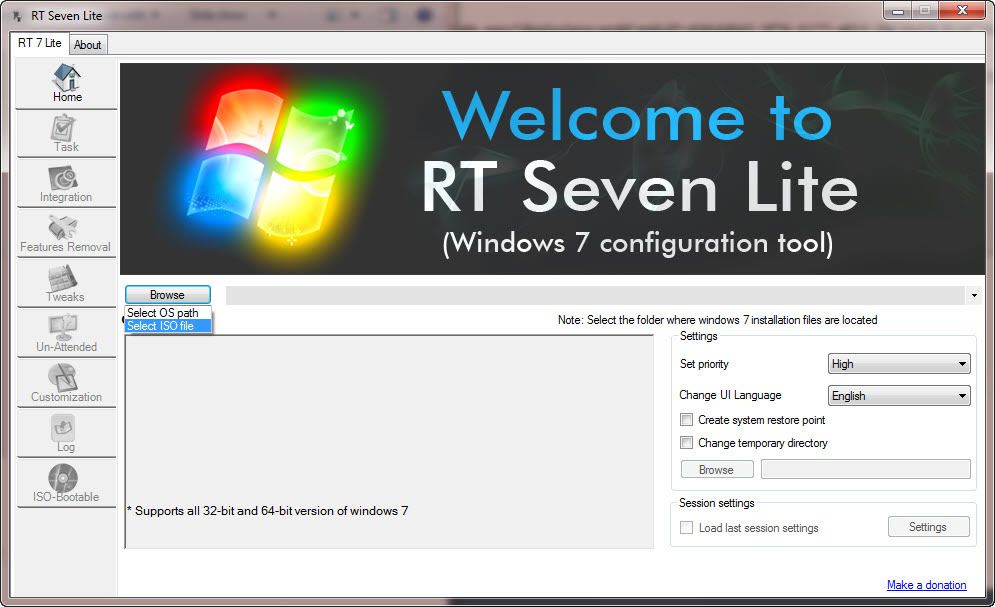 Next you'll need to browse to your ISO file and browse to the folder you want the ISO to be extracted to.
Note: It can be the disc or just an ISO file.
Once you have selected each, RT7Lite will start extracting the ISO. This will take a few mins.
Choose your flavor of W7.
We will be stripping from
Home Premium
as it's the lowest version with complete Aero.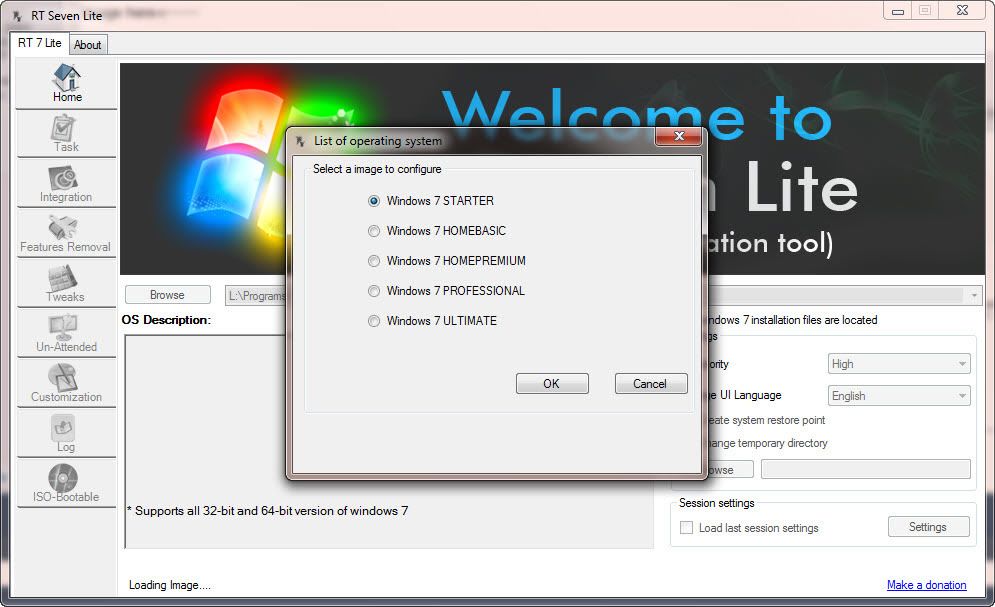 Once loaded the Home screen will be displaying your OS information.
Select 'Task'
.
You'll notice here there are some preset configs. You can play with them if you like, but I wasn't fond of them.
They were either not lite enough or missing Aero, which I wanted left working.
This guide is to walk you through to a quick W7 build so we are only going to be checking 'Components', 'Un-Attended', and 'ISO Bootable'.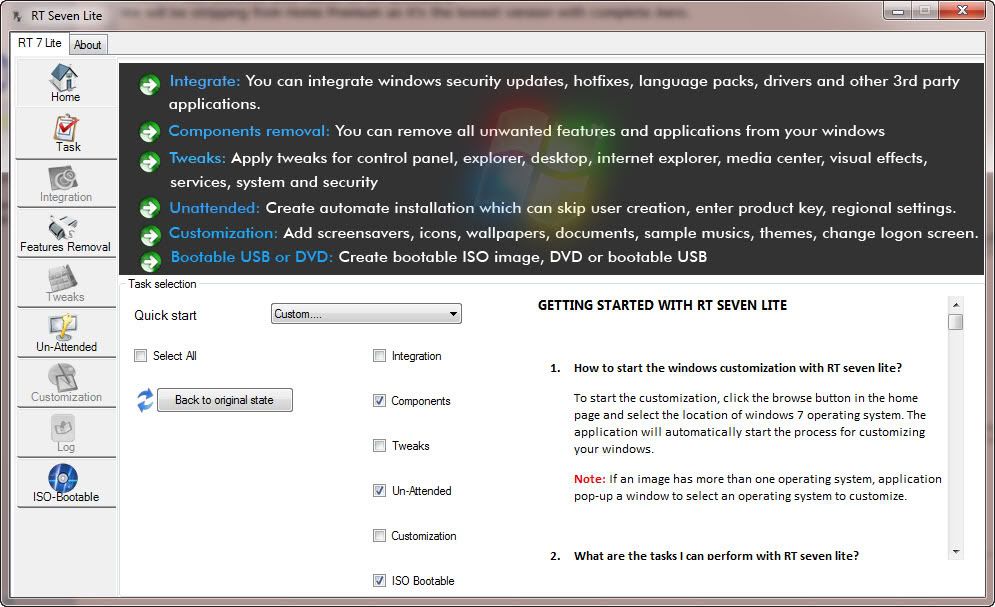 Select 'Features Removal'.
Here is where we will be stripping the bulk of the system and services.
In the right column uncheck:
Games, Internet Explorer, Media Features,
Print and Document Services, Remote Deferential Compression, Tablet PC Components, and Windows Sidebar & Gadget.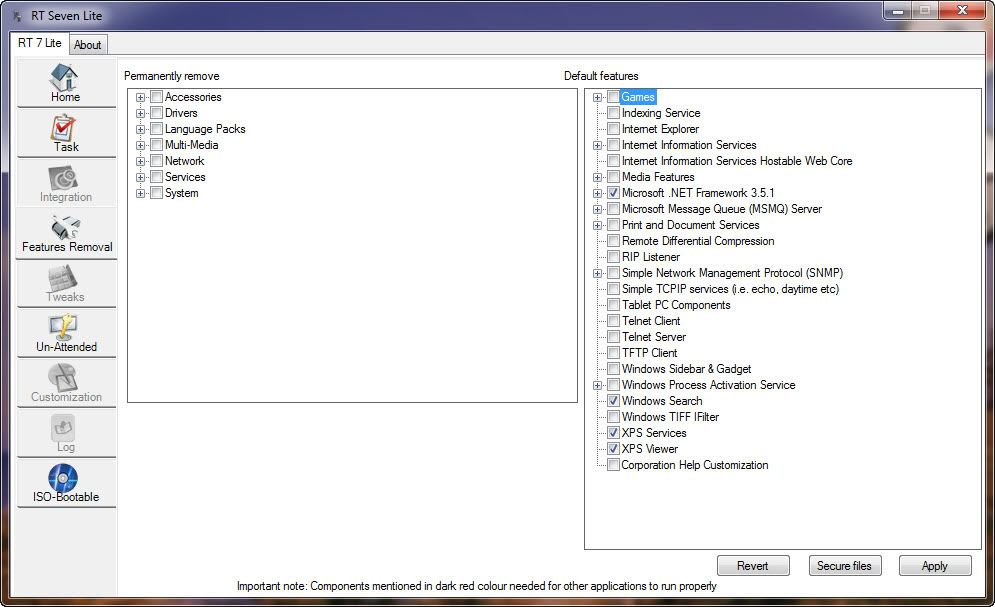 On the left side open the drop down boxes and remove these services and components.
Pizza's v3.5 Features Removal
:
Click to view!
Click here
(Click to show)
Don't click apply yet!
Click Un-Attended on the far left.
It's time to set your Un-Attended disc for a quick install.
Enter product key or check Skip product key. Check skip auto activation.
Enter name, computer name and skip user creation.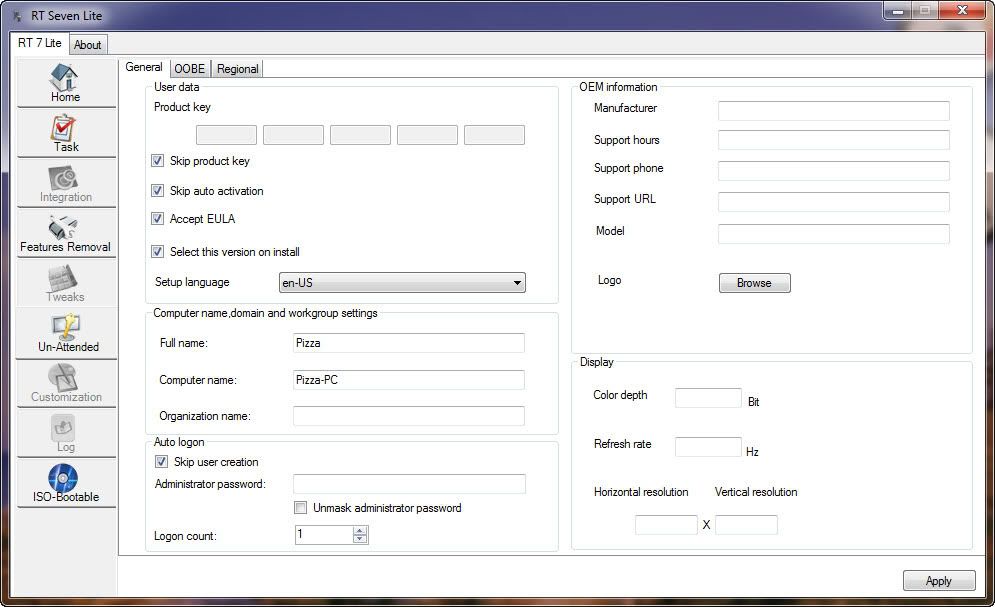 Select Regional Tab:
Specify your time zone.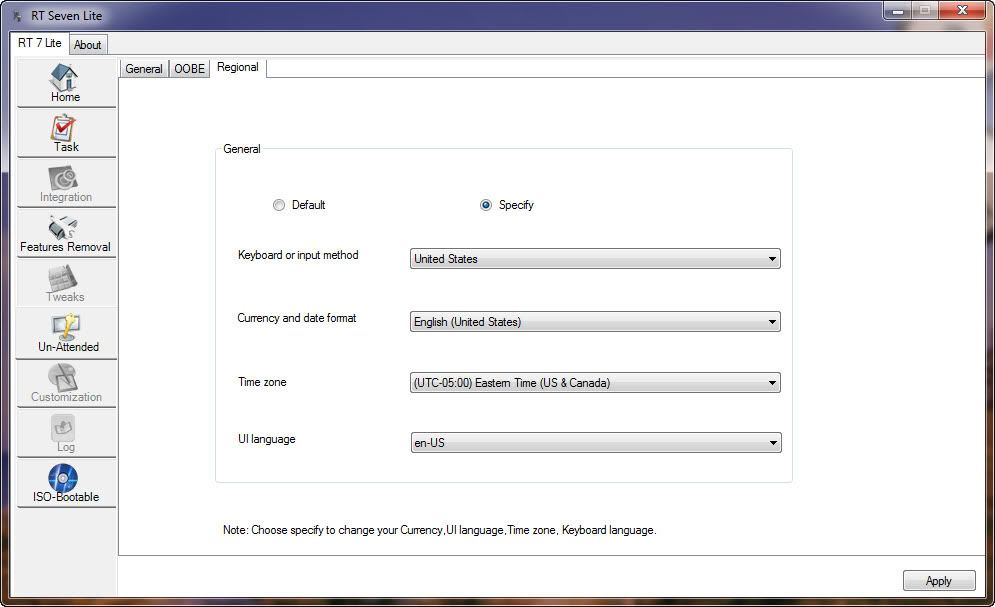 Click apply!!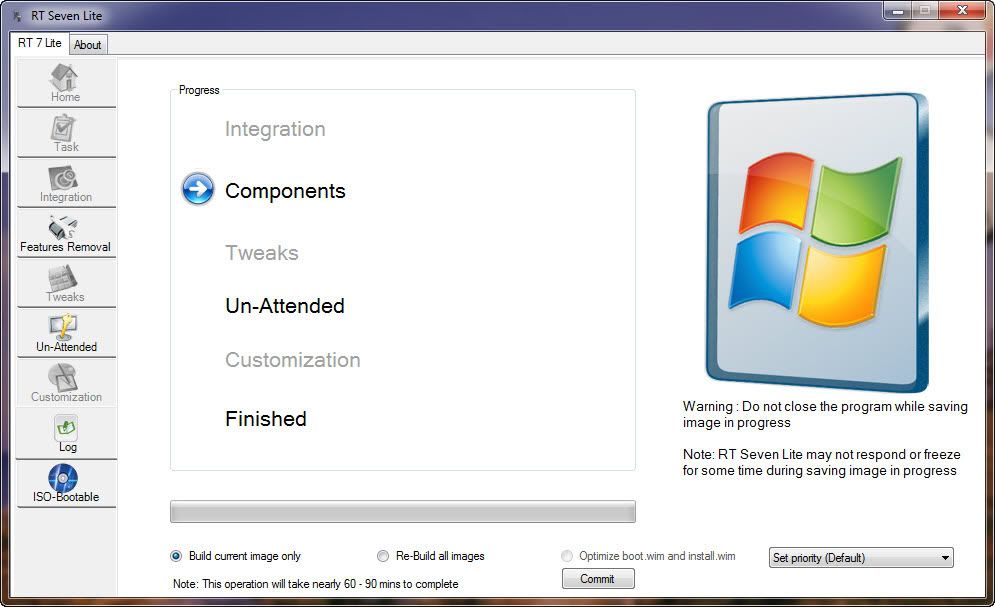 Then click 'Build current image only' and click 'Commit'
This will take up to an hour. The more cores and memory you have the faster it'll build your disc.
Once the build is complete, click 'ISO-Bootable' on the left if you are not prompted first to build an ISO.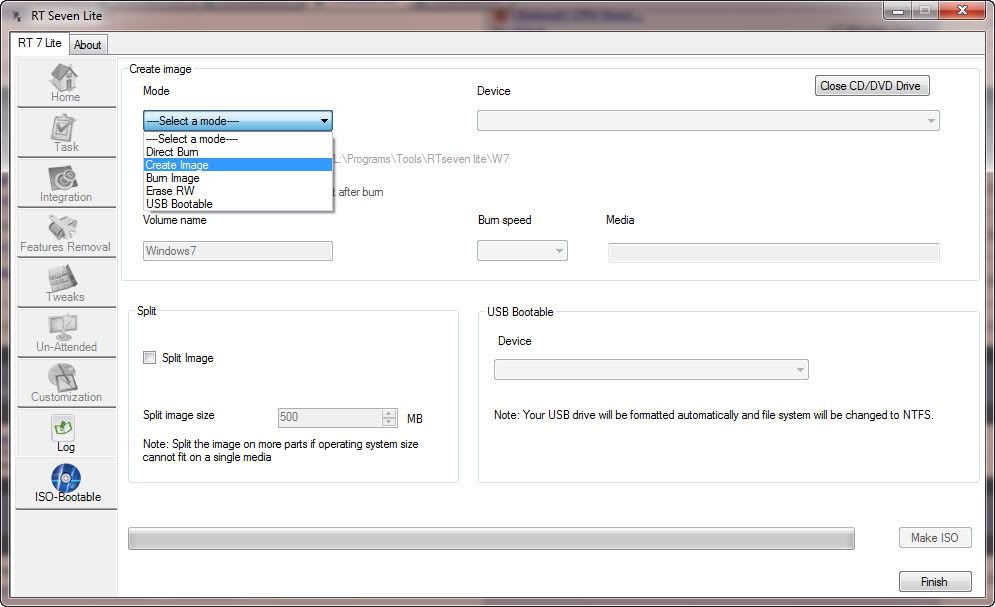 In the drop down box select 'Create image' and then click the 'Make ISO' button. Choose file path and disc name.
Once you have an ISO you can either click the drop down box again and select 'Burn image' or you can use your favorite image burning utility.
This is what you get. PF drops down to ~220MB.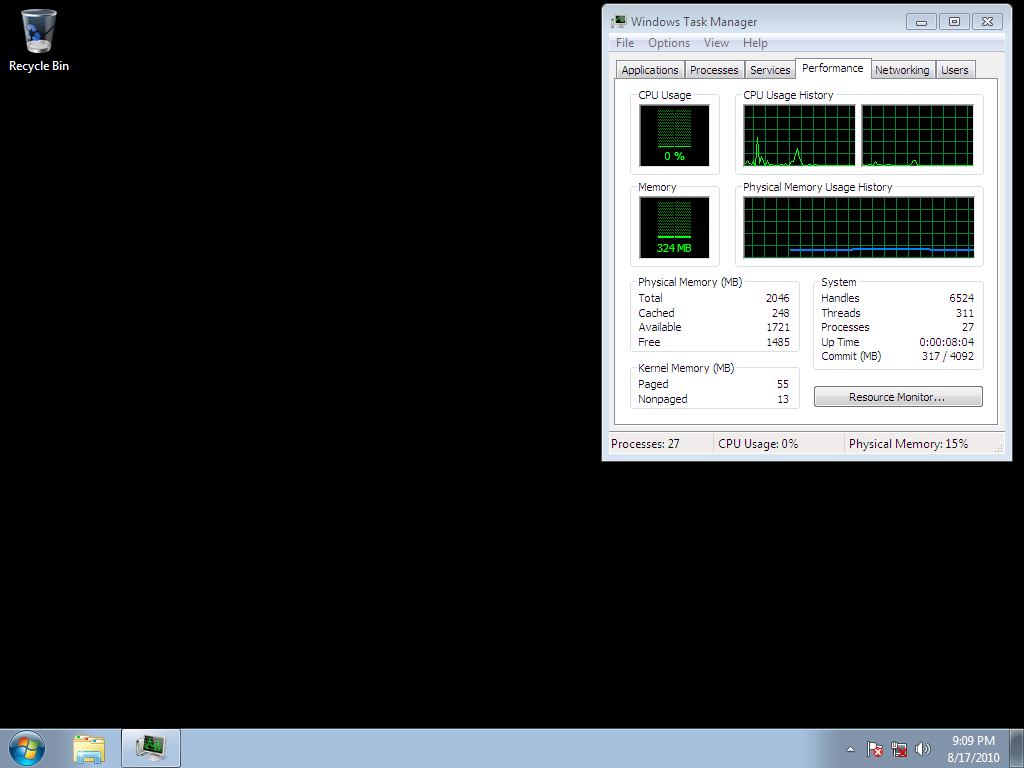 If you want to test the new features I recommend using a virtual machine to test out your OS.
NOTE: If you are planning on using integrated Intel graphics, it is suggested that you leave the default Intel installed in your ISO, as it appears the downloadable drivers from Intel are not a complete package and merely an upgrade to the existing default driver built into the original Windows ISO.
CPU
Motherboard
Graphics
RAM
E8400, E8600, 980BE
T2RS+, P5E3, TA890FXE
8800GTS's,GTX's,GS,Ultra's,9600GT
Lots of D9's and some crap DDR3
Hard Drive
Power
Case
Seagate 250GB + 80GB WD for benching
TT 875w, Corsair 650TX
Custom bench station
View all
hide details
CPU
Motherboard
Graphics
RAM
E8400, E8600, 980BE
T2RS+, P5E3, TA890FXE
8800GTS's,GTX's,GS,Ultra's,9600GT
Lots of D9's and some crap DDR3
Hard Drive
Power
Case
Seagate 250GB + 80GB WD for benching
TT 875w, Corsair 650TX
Custom bench station
View all
hide details