I built a system for my father starting on June 15th. Everything went together fairly well except when I went to run Prime95. It would fail Blend within minutes or sometimes seconds. I went through a massive troubleshooting session (Thread
#1
,
#2
,
#3
, and
#4
). Purchase price of the ram was $169.99 Shipped
In the course of troubleshooting and proving it was the ram, I found that I was very easy to RMA the ram through OCZ, but it was excessively slow (1 week to respond). I dealt with it, because they seemed nice and genuinely were working to really nail it down to only the ram. When I was able to borrow a single stick of a friends ram to test and it passed, they immediately gave an RMA #. Shipping cost was $8, but also note that since I RMAd the first set I was unable to use the $30 MIR (Kind of screwy that if your ram is defective you lose money).
When I recieved the new ram, it looked brand new...but it had the exact same problem. I began thinking it couldn't be the ram twice. I opened up thread #3 and again began troubleshooting. I finally broke down and bought a set of set of patriot 6gb 1600mhz cas 8 (Thread #4) for $125. The computer immediately worked. I quickly overclocked it, and I sent it back to my father after 8 weeks of having it sit waiting for RMAs to go through. With again the conclusive evidence that another set of ram worked, I RMAd the second set of ram. The speed this second time was much better: 24 hours to ask for my adress and another 24hrs to issue an RMA#. Another $8 to ship it out.
Upon recieving the second RMA package today (The third set I've had), I became very angry. The new set wasn't new...in fact it had been previously returned via RMA. Someone had been kind enough to place a sticker at the top that reads "EU92829." What's even funnier is that below that it says "102628" next to the EU marking again...This ram hasn't just been RMA'd once...It was RMA'd twice and then sent to a customer, who was on his third set already.
(I knew that the EU92829 marking is an RMA# because mine were EU118103 and EU121722)
There was also a random note that I don't know the meaning taped to the package.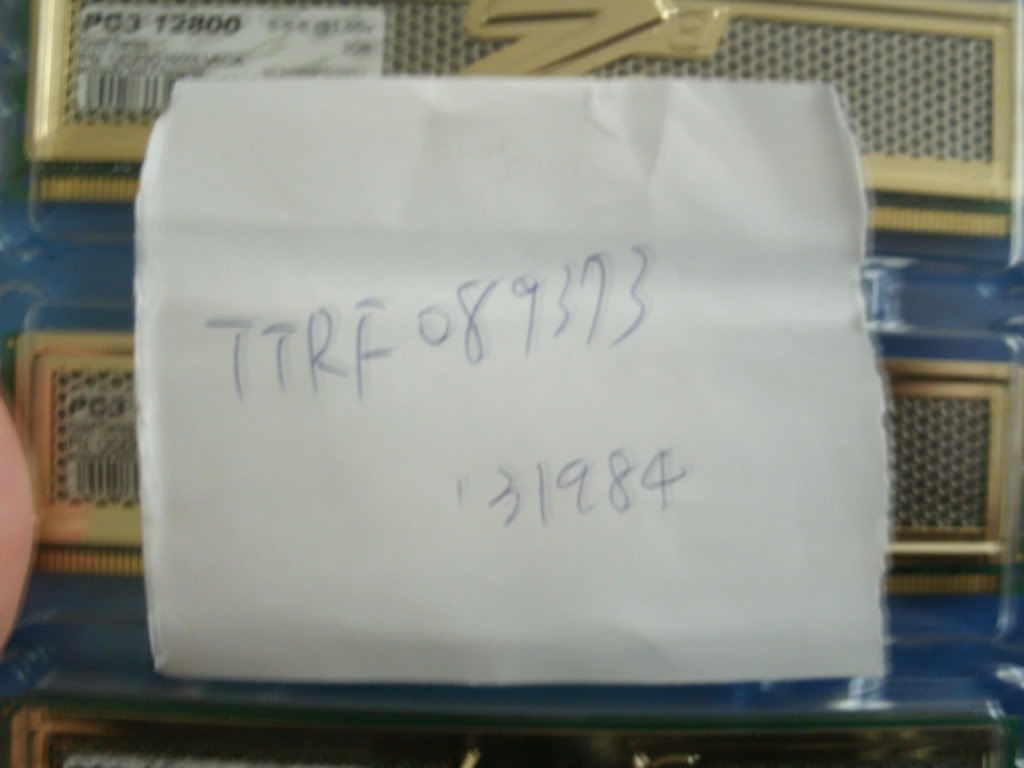 Needless to say I was upset. I called up OCZ and talked to a fine gentleman named Eric. He was very disturbed to find out that I had recieved used ram from an RMA and worse yet that it had been previously RMA'd. I tried to be as polite as possible, but I feel I may have been a little strong. He advised me to put all of the information into a trouble ticket on the site and to include my shipping address. I did so, but stressed that I did not want another set but simply a refund. I've lost $169.99+$16 return shipping and will pay another $8 for more return shipping. I've also been forced to buy another set of ram for $125 and waste 8 weeks. Just as a poke in the eye, I couldn't send in the $30 MIR.
This is simply disrespectful. Sending ram that has been RMA'd at least once if not twice to a customer that has sent back two bad batches of ram already.
Out of three sets of ram I have recieved, none have been acceptable. My RMA experience has been abysmal with this new set of ram. OCZ has done nothing but waste my money, my time, and my patience. I will never reccomend OCZ products to anyone again, and I have reccomended OCZ ram to hundreds of people in the past.
Patriot ram was purchased and fixed the problem. I am not looking for other ram suggestions.
Edited by ChickenInferno - 8/21/10 at 6:53am