Hi all, I recently put together a Mountain Mods Ascenion so I thought I'd share some pics and thoughts.
I built this around MSI's Big Bang Marshal, Intels 2600K CPU, Mushkins 2 x 4GB Blackline 1866mhz 1.65v dual channel memory, 2x Sapphire HD6970 GPU's, Corsair AX850 PSU and Corsair AX1200 PSU.
The case is MM's Ascension with the XL-ATX motherboard tray, mirror black finish, big windows on the side panels (smoked grey for the acrylic finish), half window for the top, trinity front panel and 10 pCI for the back panel. I ended up getting a triple 120mm aluminum for one of the front 5.25" bays.
The cooling is almost exclusively EK!
*EK Supreme HF CPU Waterblock
*EK HD6970 Nickel/clear acetal Waterblock x2
*EK HD6970 Nickel RAM Backplate
*EK 13/19mm compression and 45 Degree angled fittings - Nickel and Black
*EK Res. 2 Cylinder Reservoir tube 140mm x2
*EK Black Acetal Dual Reservoir/Pump Block
*EK Triple Parallel SLI Waterblock (excellent system, it will connect up to three cards and when handled, it is very solid. The cards won't twist or come loose. Again, very solid!)
*Swiftech MCP655-B Pump x2
*XSPC RX360 Radiator x4
*Primochill 3/4" OD UV Green Tubing
*Coolermaster 120mm Green Led Case Fans x14 (Super Quiet)
*Lamptron FC-6 4 channel Fan Controller x2
The packaging on the case itself was quite impressive. They double boxed the case. Here's some thoughts on the Ascension:
Pros:
*Their is a lot of room in the case to work with.
*The airflow is amazing!
*Everything has a nice finish to it.
*Fits all of my watercooling parts
Cons:
*Very Expensive $$$$$
*MM's gets a little skimpy with the lights. Mine and a friend of mine came with a 3 pin connector that had been broke into two. Not a bad idea I guess but they didn't even clean up the splintered edges.
*The design has 1 flaw that I could see. You can't use thumbscrews in all of the pci slots. The opening in the back has a backplate for the motherboard tray to attach to. It is held together by 6-32 screws. Problem is, they put 3 of the threaded inserts right in line with the pci slots. This leaves no room for the mountain mod thumbscrews. You have to use a 6-32 screw or a narrower thumbscrew to attach a pci device. Even the slender thumbscrews will rub as you twist them in. I'll post a pic showing what I am talkin about.
*The Motherboard tray has a cutout for access to the cpu cooling mount. 1 problem, it's an XL-ATX mb tray but the cpu hole is off by 3/4 - 1" to the left. I had to mod the hole to accomodate the mounting hardware from EK. The 115 socket comes with a mounting plate and rubber gasket. Add those 2 together and it's thicker than the standoffs are tall. Your only choice is to cut the hole a little wider and taller.
Here's some pics:
[IMG]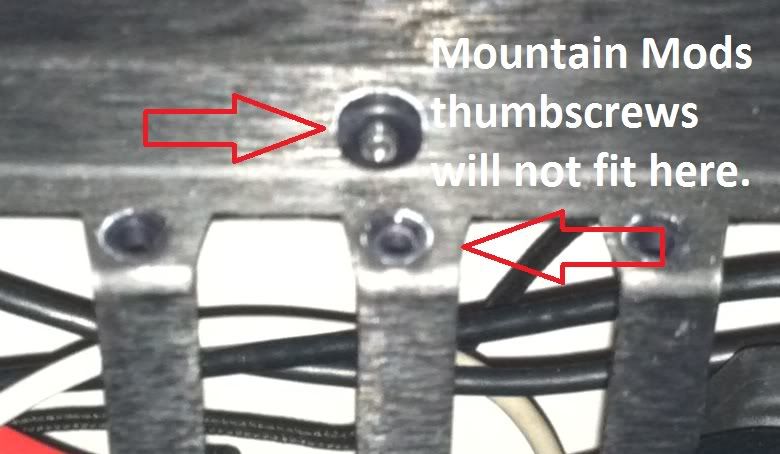 This first pic is of the insert next to the pci slot. They could actually make the opening bigger in the back that would allow room for a thumbscrew.
The front view. Lamptron switches and MM's chrome bezel leds. The only complaint is the bezels come with blue lights. I put a couple green leds in that I had extra of but they were way too bright. I ordered a couple bezels with green leds from MM's but they are more of a neon green so they don't match.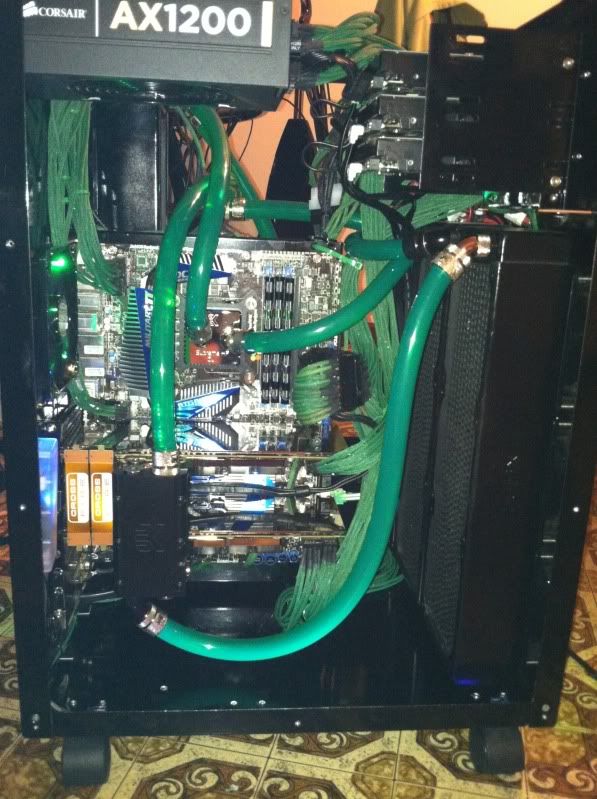 Here's the business side. 2 Sapphire HD6970's in crossfire, EK waterblocks (all Nickel) and the EK Triple Parallel SLI Waterblock. This works out great when you have to take it apart. I had originally had the Danger Den cross/sli fittings in a serial connection. This works but if you have to take things apart without emptying the water, you really have to be careful that you don't pull them apart. They are only held together by friction.
Here we have the EK Reservoirs in the EK Dual Top. I originally had 2 XSPC 5.25" bay reservoirs but didn't care for the length of the runs. The pumps directly in line with the reservoirs has definitely increased the flow and it is much easier to initially fill up without getting airlocks.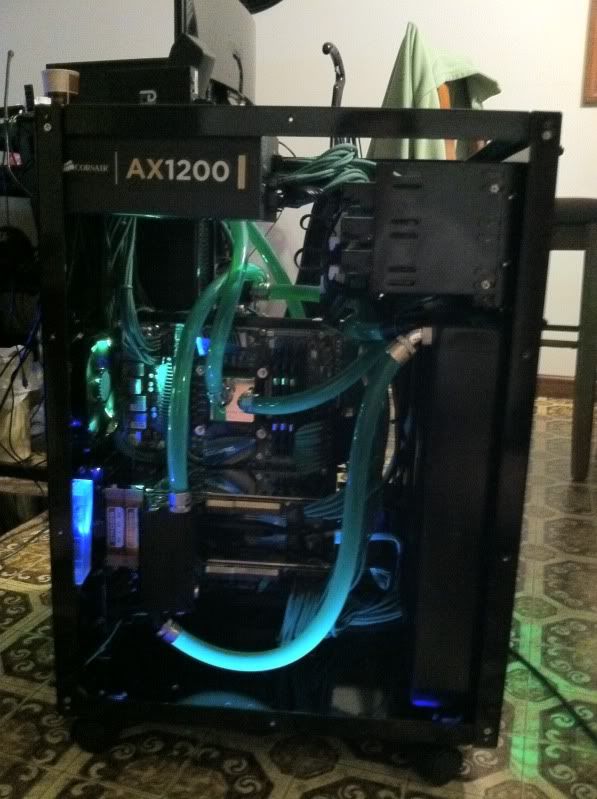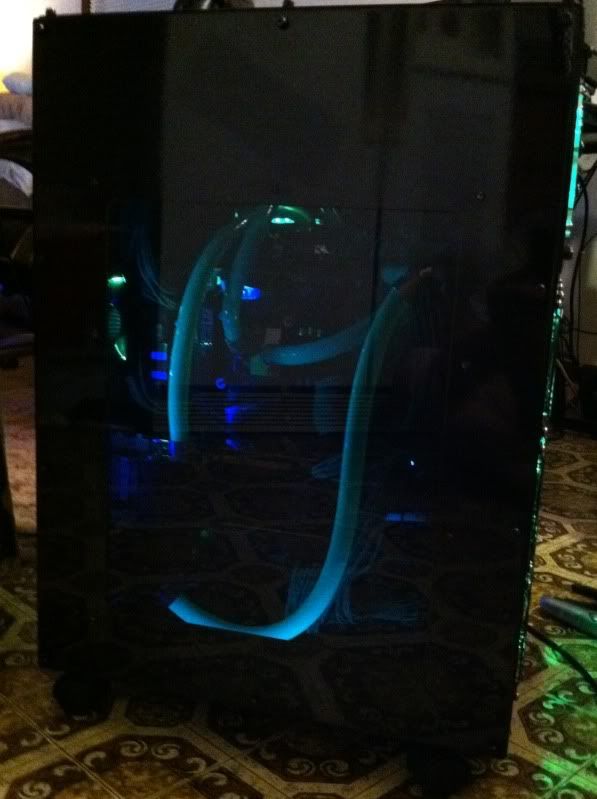 Some final thoughts. Mountain Mods is a great case especially if you are gonna watercool. Some things could be thought out a little better but it's nothing that can't be dealt with. Given the investment though some of the bigger things should be taken care of ahead of time. I had switched back and forth trying to decide if I wanted to go with acrylic panels or just the big windows. In the end, I went with the big windows but as soon as I seen the acrylic I had wished I would've went with the acrylic. As they say, hindsight is 20/20. One thing I wanted to mention since I hadn't seen it anywhere else. If you decide to water cool and are going with two power supplies. If you dedicate 1 to control the motherboard and 1 for accessories (pumps, hard drives, optical drives, lights etc.) and you use the 24 pin y adaptor, you can turn off both power supplies but when you just turn the auxillary PSU on it will kick on without having to disconnect and jump pins. This works out great 4 filling and bleeding your loops.
Anyway thanks for reading. If anyone has any questions, let me know
Woodman