So I packed my U2-UFO Horizon Case with a diamond top away about 2 years ago. It has been sitting in my basement while I used a Antec 902 for my computer because I got tired of the lack of wire management and that diamond top with 4 80mm fans is near impossible to take off and still have decent wire management. Also having no fan filters that case pretty much sucked up everything and spit it all over the components(Pittsburgh is really terrible for dust I clean my PC out every 2 weeks and its always covered in dust by then).
Well I have finally outgrown the Antec 902 and was deciding on a new case that would have the option to watercool since I have yet to learn that but still have good air cooling until I grow into a full blown watercooling setup. I really hate the diamond top and would need to replace that along with buy a bigger motherboard tray since I want something larger than ATX. Do you guys think it would be better to keep my current Mountain Mods Case, go with another brand, or buy a different Mountain Mods Case? Price really is not a factor up until you get to the $750 range.
A few included pictures of said case just so I can be added to the club.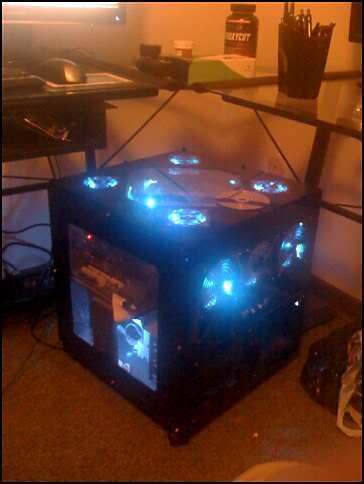 At night: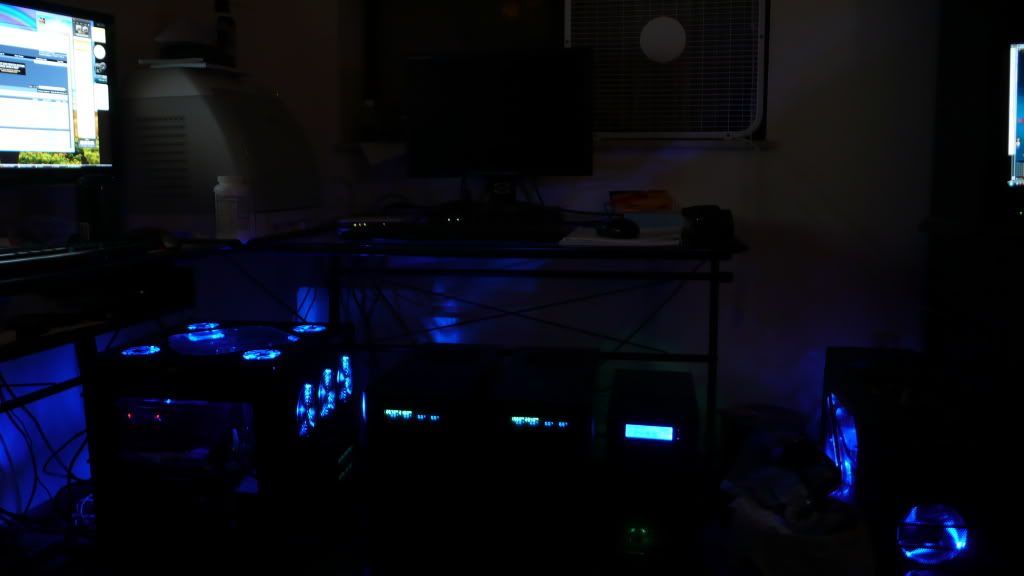 CPU
Motherboard
Graphics
RAM
Core i7 970 @ 4Ghz
EVGA FTW3
GTX 480 SLI 850Mhz
24GB Muskin Redline DDR3 1600
Hard Drive
Cooling
OS
Monitor
OCZ Vertex 3 128GB x2 + Corsair P128 + 3 1TB W...
Corsair H100
Windows 7 Ultimate 64
Samsung 2493HM x 2
Keyboard
Power
Case
Mouse
Logitech G19
Corsair AX1200
Corsair 650D
Razer Mamba
View all
hide details
CPU
Motherboard
Graphics
RAM
Core i7 970 @ 4Ghz
EVGA FTW3
GTX 480 SLI 850Mhz
24GB Muskin Redline DDR3 1600
Hard Drive
Cooling
OS
Monitor
OCZ Vertex 3 128GB x2 + Corsair P128 + 3 1TB W...
Corsair H100
Windows 7 Ultimate 64
Samsung 2493HM x 2
Keyboard
Power
Case
Mouse
Logitech G19
Corsair AX1200
Corsair 650D
Razer Mamba
View all
hide details