Quote:
Originally Posted by CesarNYC;13697454 
I don't like any 200mm/180mm fans I have tried. I have some 200m NZXTs and they do a good job, but they are louder then I would like. The 200mm rad is a good use of space and probably the best bang for the buck, but the fan selection is crippling.
Yeah, I didn't like the big fans either, so I built a custom plenum to mount two 120mm fans on the 200mm radiator.
The final build has Akasa Viper fans on it in pull.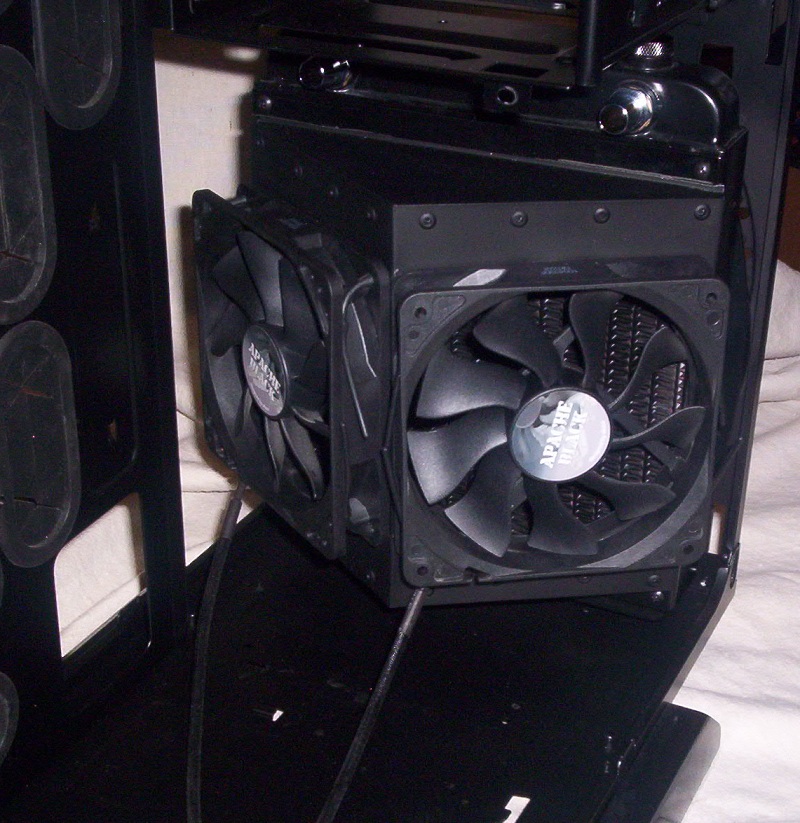 CPU
Motherboard
Graphics
RAM
Phenom x4 9650
Cheap MSI board
EVGA GTX580 SC
Junk PC-800 DDR2
Hard Drive
Optical Drive
Cooling
OS
WD Blue
Generic DVD
Cuplex Kryos HF CPU block, Swiftech MCW82 GPU b...
Windows 7 Home Premium
Power
Case
Antec True Power 650W
>10 year old Antec something or other.
View all
hide details
CPU
Motherboard
Graphics
RAM
Phenom x4 9650
Cheap MSI board
EVGA GTX580 SC
Junk PC-800 DDR2
Hard Drive
Optical Drive
Cooling
OS
WD Blue
Generic DVD
Cuplex Kryos HF CPU block, Swiftech MCW82 GPU b...
Windows 7 Home Premium
Power
Case
Antec True Power 650W
>10 year old Antec something or other.
View all
hide details