Figured I would start this now, its slow at work, and I figure this 1st post will take some time. I am building my best friends gaming rig for him (he has had incredibly horrendous luck with PCs in the past).
Anyways, this is a gamer/movie rig. No encoding or anything like that. I tried to convince him of i5 or an 1156 based rig, but he wouldn't have it. He builds a new rig every 3-4 years.
hes upgrading from an athlon x2 3800, epox mf570 SLi, 4gb of ram an an 8800GT
This is what is going in his new rig:
Intel Core i7 950
Gigabyte GA-X58A-UD5
3x2GB Corsair Dominator GT
SLI EVGA GTX460 SC EEs
2x1tb Samsung F3s in Raid + 1tb Storage
Asus Xonar DX 7.1 Sound Card
Antec TPQ1000 PSU
Plextor Blu Ray Drive/DVD Burner
Some Wireless Card TBD
Windows 7 Pro 64Bit
Scythe Kaze Master Fan Controller
Corsair 700D
Monitor is a Samsung 27" TOC 1080p with 2ms Response and 70,000:1 Contrast Ratio
For Cooling:
Heatkiller 3.0
XSPC RX360
XSPC X2O 750 Res/pump combo
EK High Flow Fittings 1/2 ID
Tygon 5/8" ID Tubing
3x Gentle Typhoon AP12? (1150 RPM)
3x 120x25mm Shrouds from Gutted Fans
This is the only picture this Far, but all of his hardware is here, none of the cooling has arrived yet.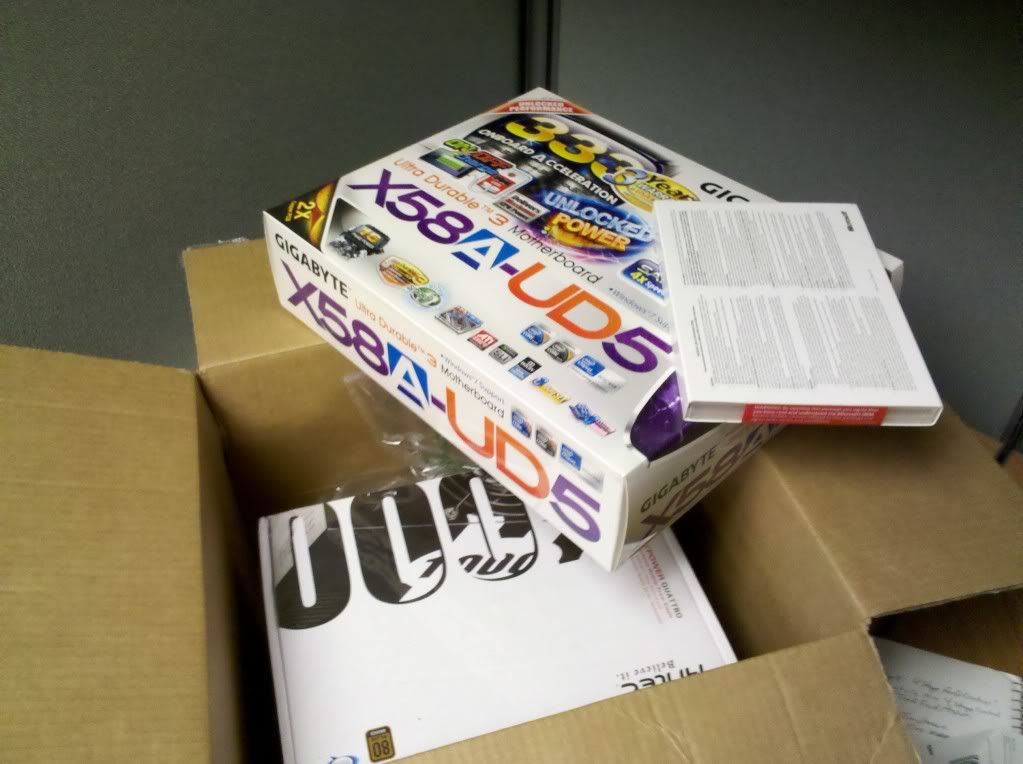 I am already second guessing the 2x1tb in raid, I think an SSD while more money wise, would have been better. Also not sure about the 460s in SLi or a single 480.
All of which can be returned to Microcenter if we change our mind.
let me know what you think!
Edited by identitycrisis - 9/30/10 at 12:49pm
CPU
Graphics
RAM
Hard Drive
Intel 3630QM
GTX 680m SLi
16gb ddr3 1866mhz
256gb Samsung SSD
Hard Drive
Hard Drive
Optical Drive
Cooling
256gb Samsung SSD
750gb WD Black
DVD/RW/BluRay
notepal U3
OS
Monitor
Power
Case
Windows 7 Ultimate 64 bit
18.4" 1080p
330watt power Brick
Alienware M18x-R2 Chassis Black
Mouse
Logitech G500
View all
CPU
Motherboard
Graphics
RAM
i&-2720QM
HP GM67
Quadro 1000M
Generic
Hard Drive
Optical Drive
Cooling
OS
7200RPM
CD/DVD-RW
Stock
Win 7 Professional X64
Monitor
Case
15.6" 1920x1080 & 22" Dell External 1680x1050
HP Elitebook
View all
hide details
CPU
Graphics
RAM
Hard Drive
Intel 3630QM
GTX 680m SLi
16gb ddr3 1866mhz
256gb Samsung SSD
Hard Drive
Hard Drive
Optical Drive
Cooling
256gb Samsung SSD
750gb WD Black
DVD/RW/BluRay
notepal U3
OS
Monitor
Power
Case
Windows 7 Ultimate 64 bit
18.4" 1080p
330watt power Brick
Alienware M18x-R2 Chassis Black
Mouse
Logitech G500
View all
CPU
Motherboard
Graphics
RAM
i&-2720QM
HP GM67
Quadro 1000M
Generic
Hard Drive
Optical Drive
Cooling
OS
7200RPM
CD/DVD-RW
Stock
Win 7 Professional X64
Monitor
Case
15.6" 1920x1080 & 22" Dell External 1680x1050
HP Elitebook
View all
hide details