So, over the past few weeks, I discovered that I'd be getting my tax refund back and then started putting in some extra hours at the office...One thing led to another...Hello new PC.
The PC:
Evga X58 Classified3 ~ $369.99
Intel Core I7 950 ~ $299.99
12gb Gskill Trident+ Turbulence II DDR3 1600 ~ $399.99
EVGA 480SSC ~ (Have already)
Ultra X4 1050 PSU (Have already)
Intel 80gb SSD ~ (Have already)
WD 300gb Raptor ~ (Have already)
WD Caviar Black 1tb ~ (Have already)
Case:
Haf 932 ~ (Have already)
Powdered Black/Black w/side window
The Water:
EK Supreme Rev 2 Nickel CPU block ~ $88.95
EK Nickel//Acetal 480 block ~ $110.95
XSPC 360 Rev 2 Rad ~ $84.95
XSPC Front Bay Res w/Pump ~ (Have already)
Swiftech 655 Var ~ (Have Already)
4x Bitspower 45* 3/8s black compression fittings ~ (Have already)
4x Bitspower 3/8s black compression fittings ~ $67.80
Total cost is @$2000 once I include shipping and taxes and the tubing etc etc etc.
Also having my cables re-done so...yeah.
~~~~~
I know the motherboard has been having some issues with SLI and EVGA is still formulating a plan so, I hope that by December, there will be a solid "answer" for those that purchased the C3...It's still a sick motherboard in terms of stock cooling, etc so, a good purchase IMO.
In terms of theme, I'm going for black/red, going to airbrush and get a little crazy with the inside of the case, re-do the outside and potentially put something on the outside panel...I wanted a black edition but, my company ordered 20+ 932's at about 120 each, so it was free...or 160$+
I'm switching over to the EK camp because their recent high flows have had absolutely awesome results in flow and pressure so, I figure even in 2x sli, I can still keep this under 1 loop...Again, hopefully...But, that's something to be tackled at a later day.
Will update as I change//acquire things but, I doubt the build will be changing at all.
So, I was impatient and my tax return showed up so...Low and behold, new PC!
I have another 480 otw, arrives today and EK's high flow SLI bridge otw as well.
Will put up some new pics as things get here
Pictars!: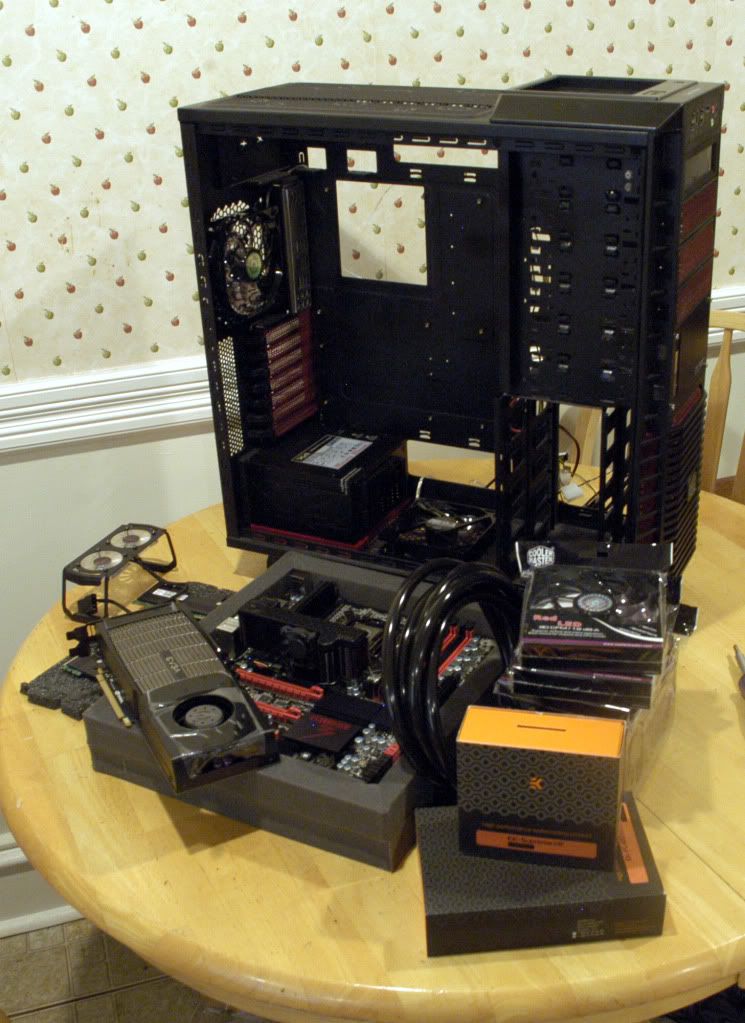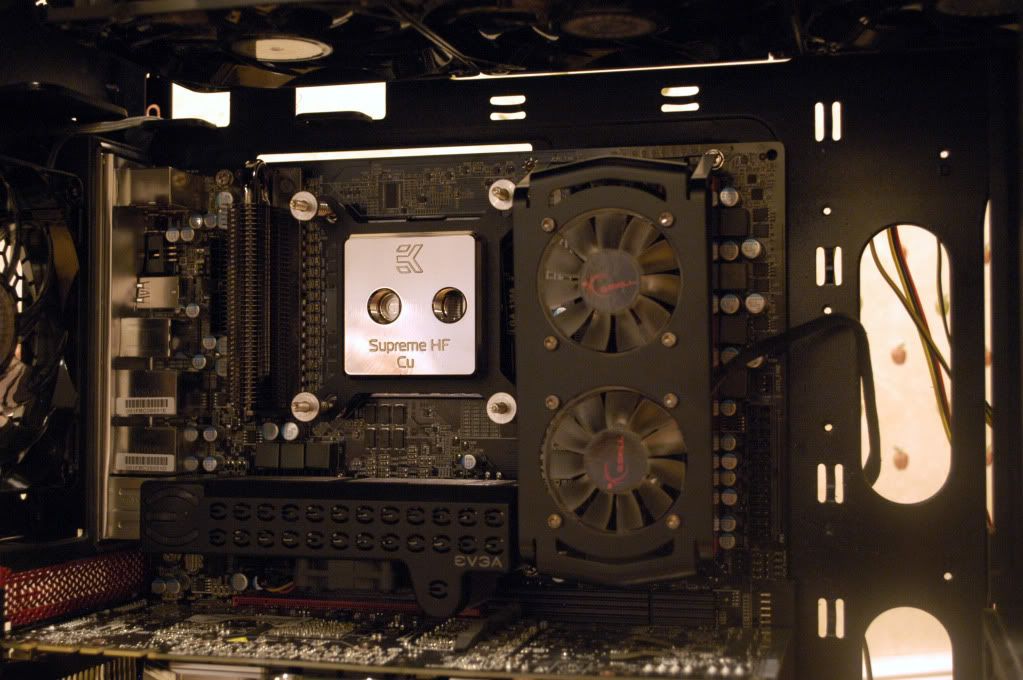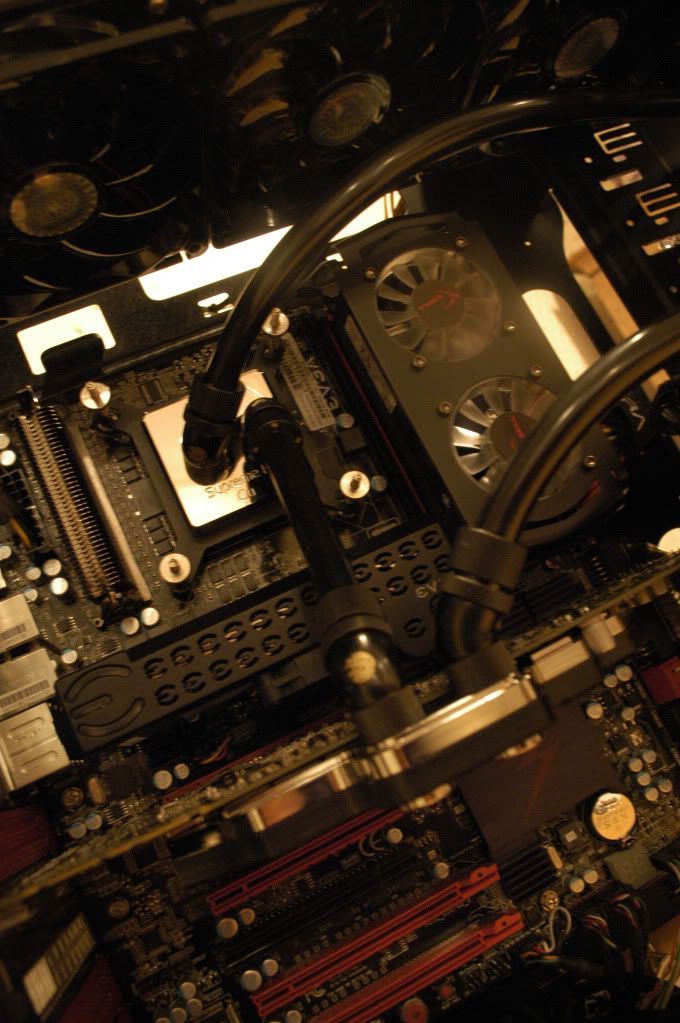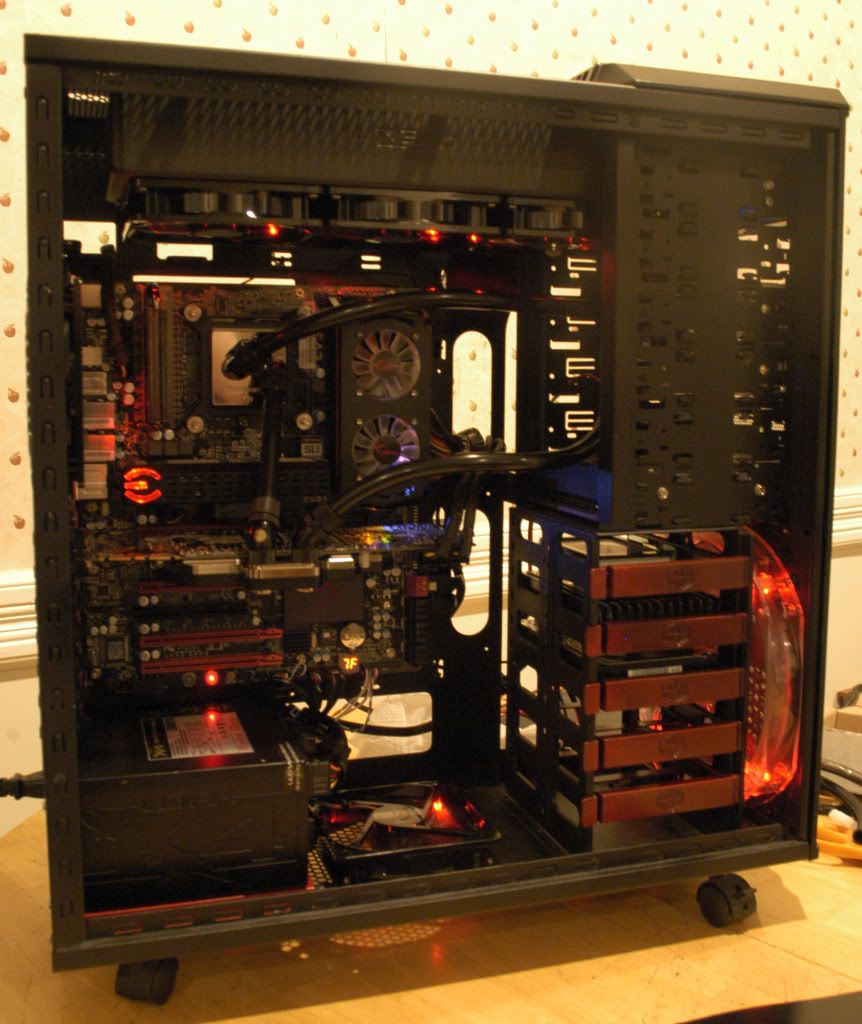 Edited by Masked - 10/20/10 at 5:59am