Quote:
Originally Posted by
EVILNOK
My motto on weapon use is if its effective use it. If people whine about it, too bad.If there are 3-4 enemies holed up in that middle floor on Sienne Crossing I'm either going to toss a nade in there, fire a rocket in there or fill it up with USAS frag rounds. Why? Because it clears them out effectively.
That being said I understand it sucks when it seems like that is all that happens for an entire match. But the only times it seems to happen for an entire match is on Metro tbh. And if you're joining a Metro conquest match ( barring the far and few between no explosive servers) you pretty much know going in how its going to be. It really is a different feeling playing Metro on 1 of the no explosives servers. Its so quiet.
Nicely stated. That USAS 12 was like my 3rd best for a bit when I got bored and went trolling for a while with it. The death animations were good for some serious laughs...the boo-hooing from the "pros" I lit up with it (while they spammed their M320's and tubes) was good for even more laughs. Regardless of how a player feels about the wep itself, have to admit, it's suppression affect--even at distance--is awesome when tossing FRAGs.
I've kinda gravitated towards the LMG, ext MAGS, foregrip, SQD Suppression. I'm happy to lay down the law with my MG36, getting peoples' heads down, while my team moves up or flanks. And rolling with crash you'll never want for ammo. Wish DICE would make a "toe popper" anti-personnel mine, though as claymores can be pretty obvious in the open areas.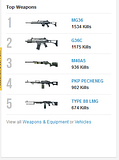 Edit: @ Fr0sty, Nice score. You and TerraByte get some seriously crazy scores sometimes. You two must have the reflexes of a cat or something...
Edited by crashdummy35 - 3/9/12 at 12:30pm