Elloquin's Guide To Insulating Hardware For TEC'ing At Sub Zero/Ambient Temps
If you are planning on running the block be that a Direct Die Design or a normal water block on a chiller 24x7 you will need to carefully grease the socket. It's better safe than sorry. I have never had to be it LN2,DICE, Phase, TEC or any other form of subambient cooling. I have also not run these cooling types for more than 12 hours straight. This is easier with AMD as you can just work the grease (be it dielectric available at any auto parts store or vaseline) carefully into the pin holes as opposed to Intel where you really need to be careful not to bend a pin IN the socket. So yes all the pin holes should be greased. If you don't you may experience what has become known as "pin rot" where the pins condensate, freeze, thaw, and then eventually corrode. The following is applied to both sides of the motherboard. I strongly suggest you use a backplate with your chosen CPU cooler as it will help with insulation the back of the motherboard.
Condensation Barrier Level One-Board Preparation:
There are some that don't use grease at all but that is really a personal preference. You can use a hairdryer on low heat to warm the grease up after you apply it to get it to flow into the nooks and crannies. After that you can do any number of things depending on how thorough you wish to be.
Neatest and easiest but may void any RMA of the board is to clear nail polish the board around the socket area (just the board not the caps
) as well as the back of the board give or take 2 inches in either direction away from the socket. This increases the colder you plan on getting from 2 inches to about 4. You'll have to use your own judgment. In my personal opinion it's not necessary for TEC's but that is my opinion only.
Next you will need to add some form of condensation barrier (wait till the polish is completely dry...hair dryer comes in handy here again...). You can also just use grease here instead of nail polish but it can be messy and a pain to get out of all the little places it can flow when it gets warm.
There are a few options here for you to choose from and I have tried all of them and have my favorite way but again it's a choice you will have to make for yourself. On the big scale TEC's don't get all that cold compared to other extreme methods of cooling so it is really a decision to be made based on how comfortable you are in what you are attempting. I just skip to layer two.
Condensation Barrier Level Two:

My favorite way to do this is to use Kneadable Art Eraser which is available pretty much world wide. Some have also used modeling clay. In the states just hit an art supply store and ask otherwise even Staples carries it in the drafting supplies section for Architect supplies.
You can also use Neoprene foam rubber here as well. Just cut a big square and carefully make a hole in the middle to go around whatever you are trying to mount. I wouldn't use this method for more than 2 or 3 hours thought. You will also need some way to have the foam compress downward to seal off ambient air. That can be done by the design of whatever you are mounting (LN2 pots/Dice pots are often designed with this in mind be it by the way they are mounted to the board via holding mechanism). If it doesn't you will need to come up with something to accomplish this. It is also a major reason I feel it is just easeier to go the eraser route.

Condensation Barrier Level Three:
I actually use both for personal satisfaction knowing nothing is going to go wrong and send me into RMA hell. If you do you won't need to have the foam compress that much so the mounting hardware on what you are mounting will do the trick. You can use the eraser all the way up to the edges of the IHS on the CPU but you will be covering the releasing/locking mechanism on the socket and if you have a boo boo moment you'll need to remove some eraser to remove the CPU.
Instead I use just go to the edges of the socket retention mechanism and either grease the nooks and crannies of the socket retention mechanism or I use small pieces of foam and work them into the nooks with a small screwdriver VERY gently.
Lately I have become a fan of grease for this since you won't use much and it's quick. If the motherboard has a built in back plate for the retention hardware for the CPU (most nowadays do) you will need to put art eraser in the hole in the middle of the bracket on the back of the motherboard if you have chosen to not use the nail polish method.
At this point regardless of what method you have chosen be it art eraser or nail polish it is now that you need some sort of absorption layer be it over the polish or over the eraser and in between the foam. Any local home store will have what is called shop towels which are just heavy duty paper towels. They are usually blue. Again you can just cut a big square preferably the size of the piece of foam you have made and use a marker after applying it to the socket area over the bolts/screw/what have you (coolers mounting hardware) and trace the outline of the CPU's IHS. Then cut the little square out of the middle.
It helps to mark each layer "top" so when you pull this mount and reapply it it all goes back together again the same way and makes re-installation a snap. This layer helps absorb any stray condensate that might form when the rig is shut off while the cooling method is still cold.
At this point depending on what you have chosen to do you need to add a foam layer over the shop towel (see above).
Follow the same process sans the cutting of holes for the CPU on the back and you are all set. You are now prepped for the joys of sub zero/ambient cooling. It seems like a lot of prep but in the end I consider it time well spent to not have a dead Mobo/CPU.
Here are some pics to get you started: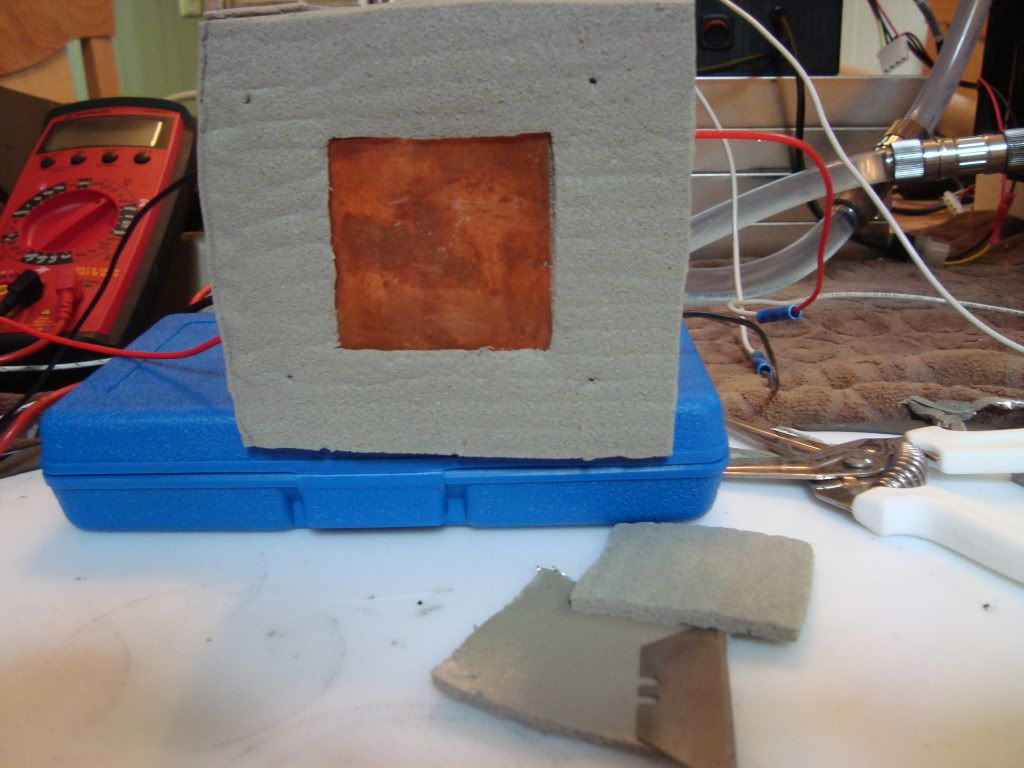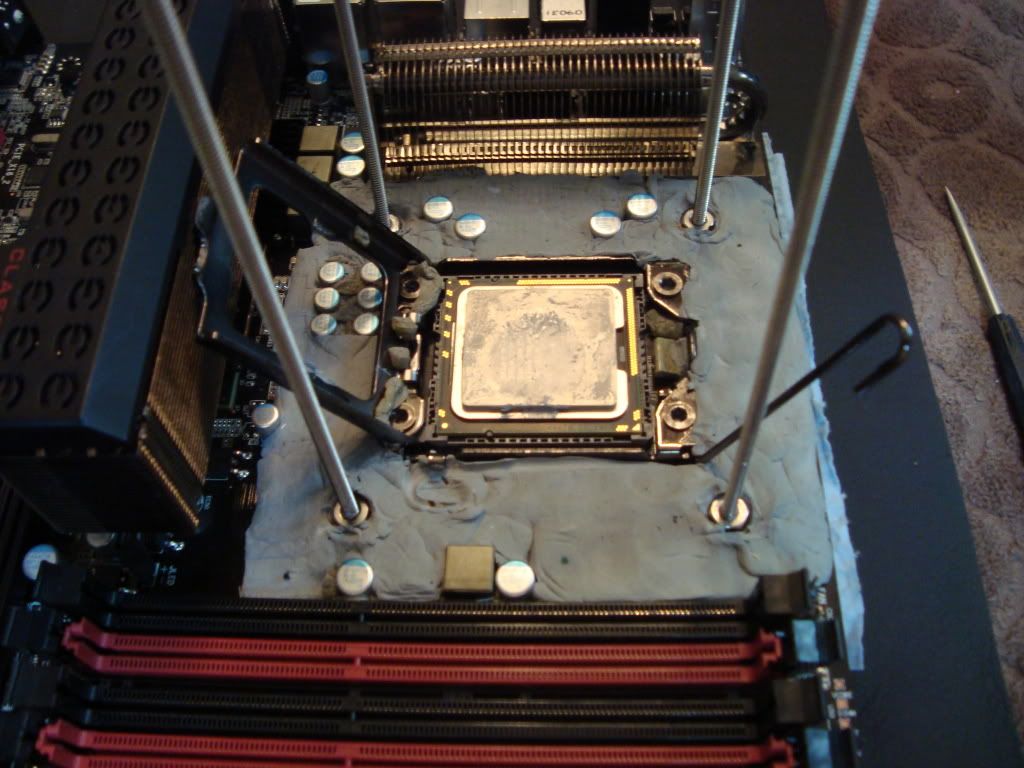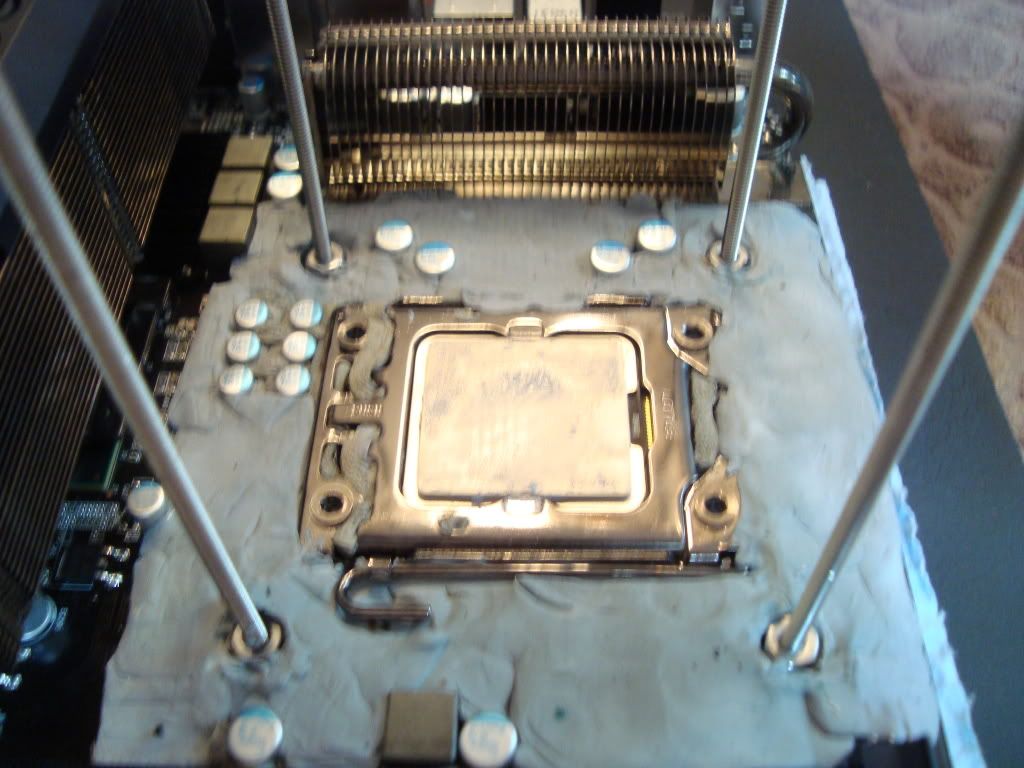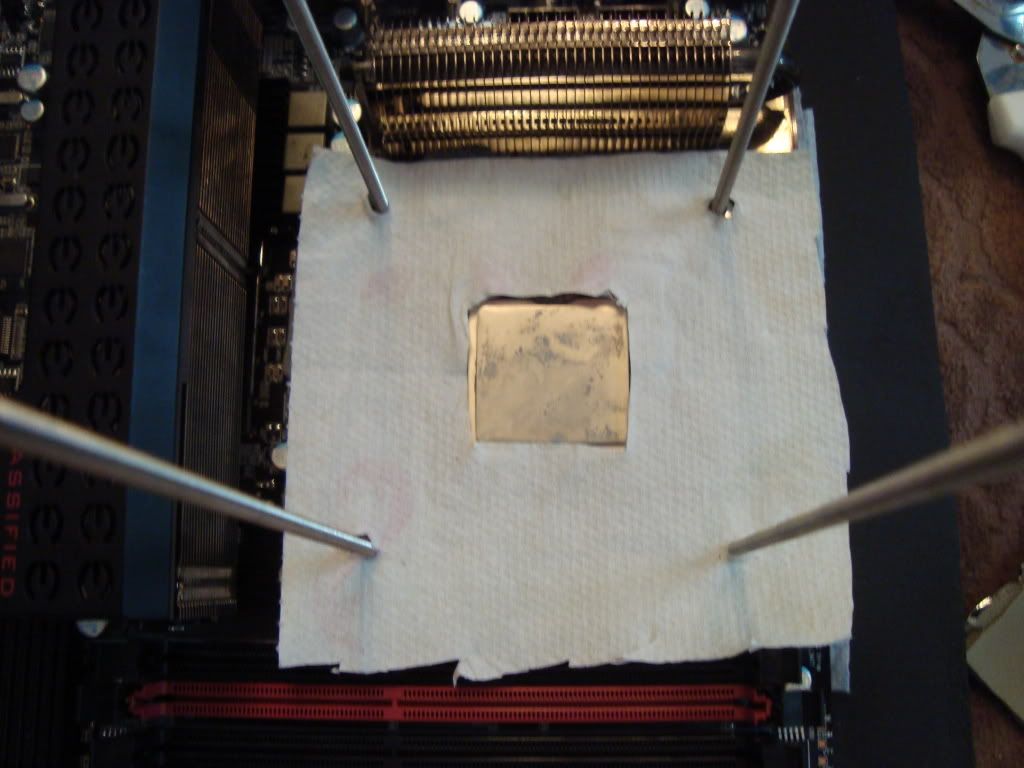 *NOTE* I wouldn't use the eraser method on GPU's (graphics cards) because the eraser doesn't stop the cold from moving and spreading across the PCB. It stops the air from getting in and condensing. As the cold spreads across the GPU's PCB it can make the ram chips too cold and cause destabilization of you overclock. Maybe that's stuff for another guide *wink*
Regards,
Elloquin
Edited by Elloquin - 10/24/10 at 10:32am