I'm wondering if I can update my motherboard's bios, I'm only doing this beacue I suspect my CPU temp Sensor is messed up.. Bios Temp and ATI Tray Tool temps are completely different...also MBM and Aida32 tells me my CPU doesn't even have a temp monitor : (
I have know idea if updating would fix this..but I heard it helped some people after Googling for a while.
I'd apprecite it if someone could point me in the right direction... feel free to tell me if this is a waste of time or not... I have no idea.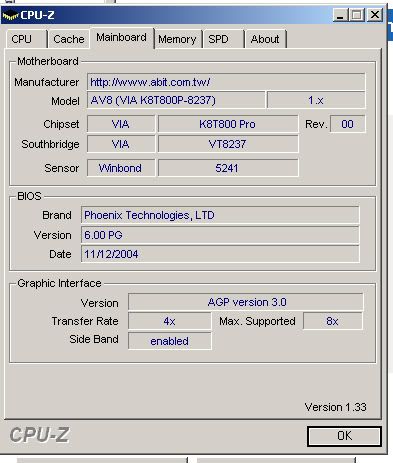 CPU
Motherboard
Graphics
RAM
Newcastle AMDAth64 3800+
NVIDA 6150BK8MC
radeon x1600 pro 128
CENTON Dual Chan 1024mb
Hard Drive
OS
Monitor
Keyboard
WD 160G
Windows XP home
Liquid Video 17'
Junky non-usb one
Power
Case
Mouse
I don't know..400w?
Not sure..?
Borrowin it from a friend
View all
hide details
CPU
Motherboard
Graphics
RAM
Newcastle AMDAth64 3800+
NVIDA 6150BK8MC
radeon x1600 pro 128
CENTON Dual Chan 1024mb
Hard Drive
OS
Monitor
Keyboard
WD 160G
Windows XP home
Liquid Video 17'
Junky non-usb one
Power
Case
Mouse
I don't know..400w?
Not sure..?
Borrowin it from a friend
View all
hide details