Quote:
Originally Posted by
mybadomen;14780702
She's getting sexier by the day. The wife's getting jealous .
Omg I only got 2 wires sleeved on my power supply! It takes forever getting the pins out. Any Tricks? Please. I still have like 40 more wires to sleeve.
STAPLES!!! Read Here:
http://www.xtremesystems.org/forums/showthread.php?202639-Cable-Sleeving-Guide
I used that guide to do mine. Don't get frustrated, I did at first too, you'll get used to it. It took me three days (working on and off).
Here's what mine looks like (not done yet, waiting on RAM from Newegg)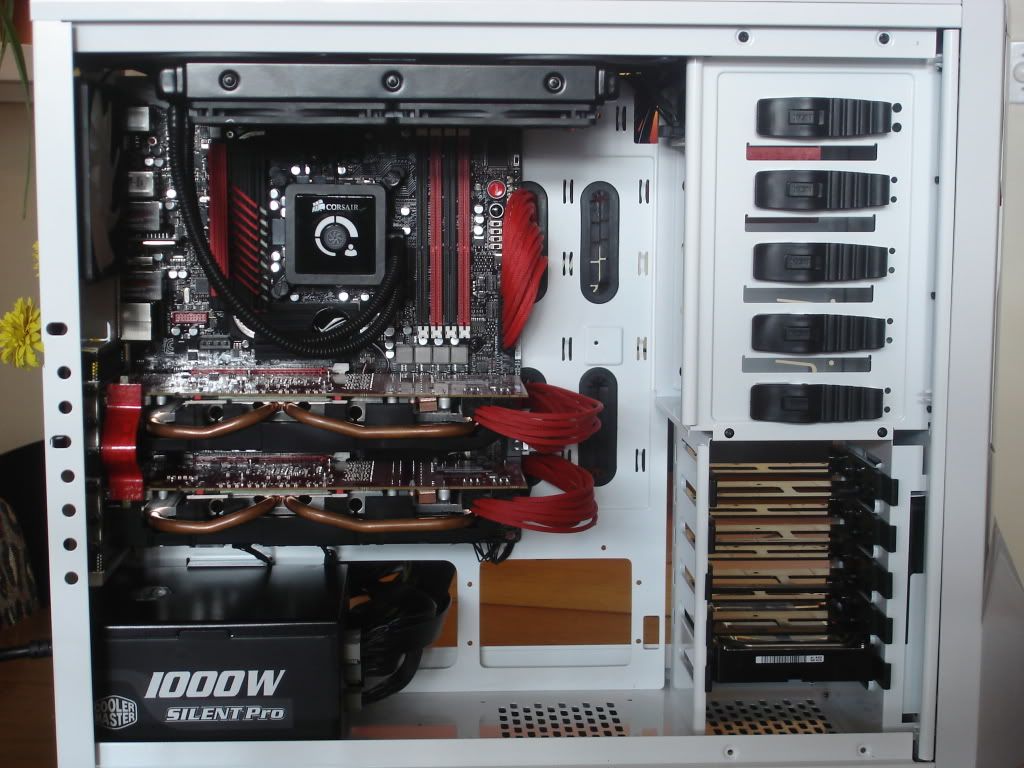 CPU
Motherboard
Graphics
RAM
i7 2600K @ 4.7GHz
ASUS Maximus IV Extreme-Z
Radeon HD6950 X2 CrossFireX
8GB DDR3 Corsair Vengence
Hard Drive
OS
Power
Case
Crucial M4 - 128GB
Windows 7 64bit Premium
CoolerMaster 1000w SilentPro
Phantom - White and Red
View all
CPU
Motherboard
Graphics
RAM
i5 3570K Delidded @ 5.0Ghz
Gigabyte Z77-HD3
HD 6950
Kingston Hyper X - 8Gb
Hard Drive
Hard Drive
Cooling
OS
SSD - 120GB Samsung 840
HDD - 1T Caviar Black
Corsair H100i
Windows 7 64bit Premium
Power
Case
Thermaltake 630w
Coller Master HAF 922
View all
hide details
CPU
Motherboard
Graphics
RAM
i7 2600K @ 4.7GHz
ASUS Maximus IV Extreme-Z
Radeon HD6950 X2 CrossFireX
8GB DDR3 Corsair Vengence
Hard Drive
OS
Power
Case
Crucial M4 - 128GB
Windows 7 64bit Premium
CoolerMaster 1000w SilentPro
Phantom - White and Red
View all
CPU
Motherboard
Graphics
RAM
i5 3570K Delidded @ 5.0Ghz
Gigabyte Z77-HD3
HD 6950
Kingston Hyper X - 8Gb
Hard Drive
Hard Drive
Cooling
OS
SSD - 120GB Samsung 840
HDD - 1T Caviar Black
Corsair H100i
Windows 7 64bit Premium
Power
Case
Thermaltake 630w
Coller Master HAF 922
View all
hide details