Reserving this space. My parts just arrived now to serve as a nice upgrade from my current rig.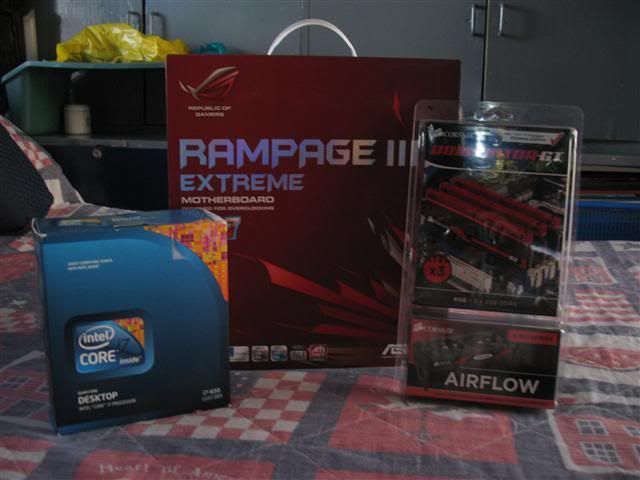 I'll post pics after I'm done. On to assembly!
EDIT:
Here we go!
Had to wait for these to arrive before I could start. Local retailer just got their stocks in.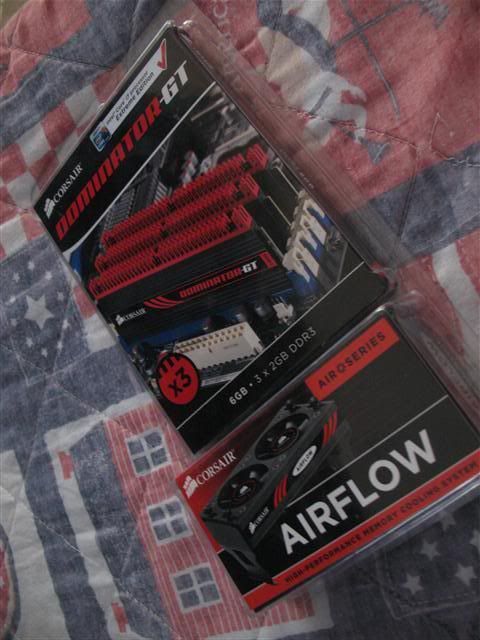 Taking everything apart.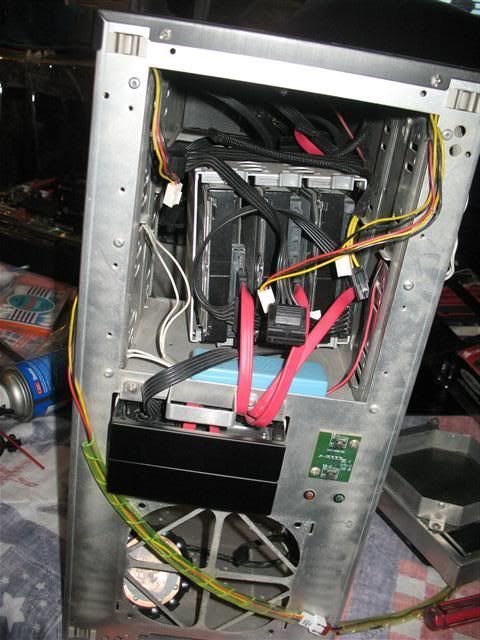 Everything else, waiting for their new home.
The old and the new.
Assembling the R3E.
Ran into a bit of a problem while test-fitting the 5970 on the R3E. It's a bit difficult to get at the lock of the first PCI-E slot with the optional chipset fan in place. As a result, the card was stuck for quite some time before I was able to poke the lock with a screwdriver to free it.
I was surprised it actually fit in my mid-tower PC-G7 with zero clearance issues. I was pleased to find out that the R3E has the same screw layout as a regular ATX mobo.
Hit another snag. If you'll notice on this pic, the 5970 is actually being warped due to clearance issues because of the bottom HDD and the H50's tubing being stuck in between. Wouldn't boot like this, and I noticed a bit late and it was quite a shock when I noticed the card's cooler dipping as far as in line with the second PCI-E slot.
Front panel wire management is awesome with this case, and almost makes up for the lack of holes on the mobo tray itself. That's a total of 5 HDD's there. Semi-ghetto modded the bottom HDD rack to fit into my free bays, to accommodate the 5970.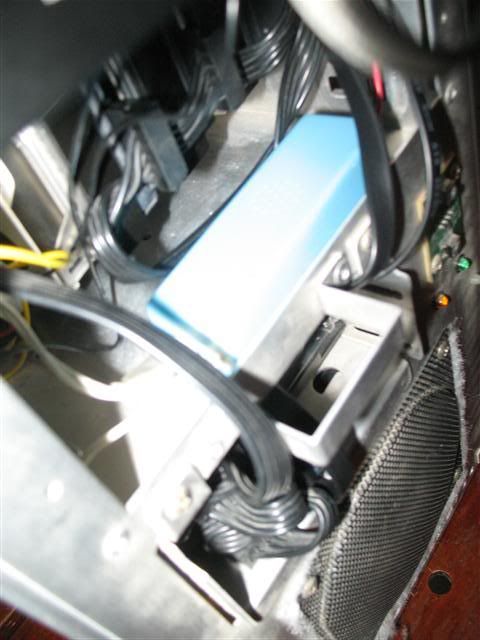 And..it's alive!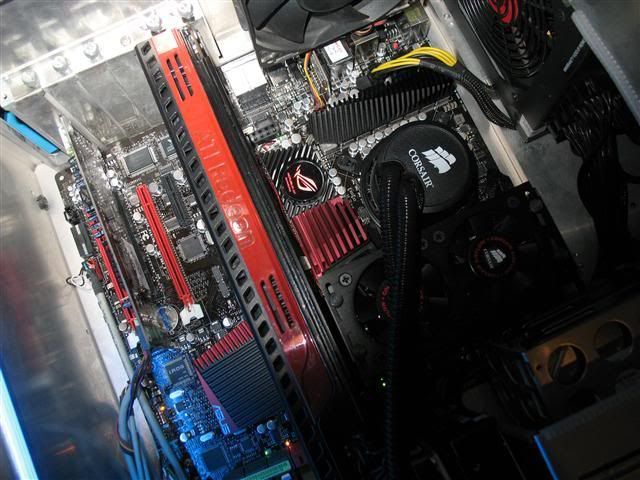 Updated Bios to 1005 immediately, and tested my games at stock.
WOW. I can't believe how much a stock 930 outperforms a Q6600 at 3.6ghz. First time I've ever seen my 5970 hit 99% on both cores. It's just that amazing.
OC'ed to 4ghz this morning without a hitch (quick and dirty method), and games just literally fly now. No exception. Spending the whole day today optimizing my OC. So far at 1.25v it's perfectly stable at 4ghz.
Thanks all for viewing!
Edited by ArcticZero - 11/30/10 at 12:53am
CPU
Motherboard
Graphics
RAM
i7 930 @ 4.0ghz (200x20) HT On, 1.2825
Asus Rampage III Extreme (Bios 1005)
Radeon HD6990
12GB Corsair Dominator GT 1600mhz CAS7
Hard Drive
Optical Drive
OS
Monitor
2TB of 7200.11 Seagates + 1x WD5000AAKS 500gb
Lite-On DVD-RW SATA
Windows 7 Ultimate x64
Samsung T260HD 26" 1920x1200
Keyboard
Power
Case
Mouse
Logitech G15 v2
Corsair 620HX
Silverstone Raven RV01B-W
Logitech G500
Mouse Pad
Steelseries QcK
View all
hide details
CPU
Motherboard
Graphics
RAM
i7 930 @ 4.0ghz (200x20) HT On, 1.2825
Asus Rampage III Extreme (Bios 1005)
Radeon HD6990
12GB Corsair Dominator GT 1600mhz CAS7
Hard Drive
Optical Drive
OS
Monitor
2TB of 7200.11 Seagates + 1x WD5000AAKS 500gb
Lite-On DVD-RW SATA
Windows 7 Ultimate x64
Samsung T260HD 26" 1920x1200
Keyboard
Power
Case
Mouse
Logitech G15 v2
Corsair 620HX
Silverstone Raven RV01B-W
Logitech G500
Mouse Pad
Steelseries QcK
View all
hide details