Here is a very interesting article the goes into the architecture of the Core and K8 processors. There are no benchmarks here, just a well written in-depth contrast between the two architectures.
Quote:
Compared to the excellent AMD K8/Hammer architecture, the Core CPU is simply a wider, more efficient and more out of order CPU.
Quote:
Memory disambiguation should push the current limits of ILP in integer loads a lot higher, and the massive bandwidth that the L1 and L2 can deliver should help Core to come close to the execution utilization percentages of the current P-M. 33% more execution potential could thus come very close to 33% more performance, clock-for-clock.
Quote:
So is it game over for AMD? Well, if you read the previous pages, it is pretty clear that there are some obvious improvements that should happen in AMD's next generation. However, there is no reason at all to assume that the current K8 architecture is at the end of its life. One obvious upgrade possibility is to enhance the SSE/SIMD power by increasing the wideness of each unit or by simply implementing more of them in the out of order FP pipeline.
Note the memory bandwidth: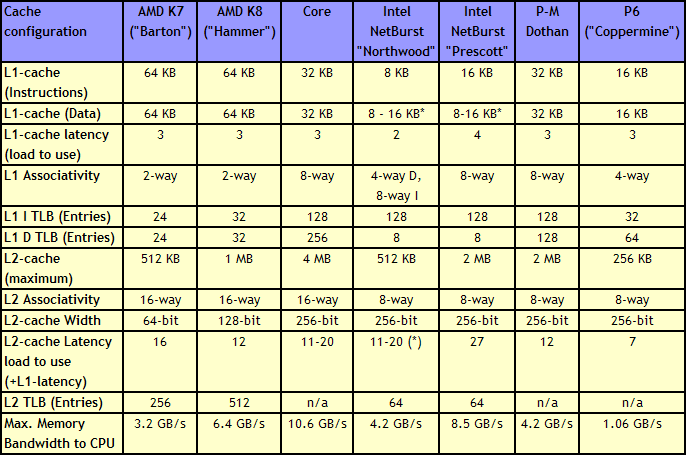 http://www.anandtech.com/cpuchipsets...oc.aspx?i=2748
CPU
Motherboard
Graphics
RAM
Core i7 2500k
ASRock P67 Extreme4 Gen 3
AMD 7970
16GB DDR3
Hard Drive
Optical Drive
OS
Monitor
Intel 520 256GB
SATA DVD Burner
Windows 7 64 bit
Deal U2410
Keyboard
Power
Mouse
Adesso Mechanical
Silverstone OP650
Logitech G700
View all
hide details
CPU
Motherboard
Graphics
RAM
Core i7 2500k
ASRock P67 Extreme4 Gen 3
AMD 7970
16GB DDR3
Hard Drive
Optical Drive
OS
Monitor
Intel 520 256GB
SATA DVD Burner
Windows 7 64 bit
Deal U2410
Keyboard
Power
Mouse
Adesso Mechanical
Silverstone OP650
Logitech G700
View all
hide details