Quote:
Originally Posted by
stingerjg
GPU wont matter, it will have ek blocks on it. Ram will most likely be g.skill black pi ram, either in dual channel or triple.
for mobo, it all depends on what chipset i go with. the mobo doesnt have to be mAtx as long as the gpu lanes are in slot 1 and 3. I could also make it work in 1 and 2.
Most of the 1155 mobo's are slot 2 and 4. The only 1155 mobo that will work for my build is the ASUS P8P67-M PRO.
b4 the release of Sandy Bridge i was going to get either the ASUS Rampage III Gene or the ASUS Maximus III GENE. Im still leaning towards the 1366 mobo. Its been out the longest and it still has potential. But considering that ill be on all water, the 1155( w/ its low power consumption and heat) looks more desireable. just waiting on a suitable mobo to be released.
I want to finish doing case mods b4 i get any hardware. that wont be for a few months. so hopefully asus releases a nice red and black mobo.
Her is the current interior pic as of yesterday. (the psu will change to a corsair AX850)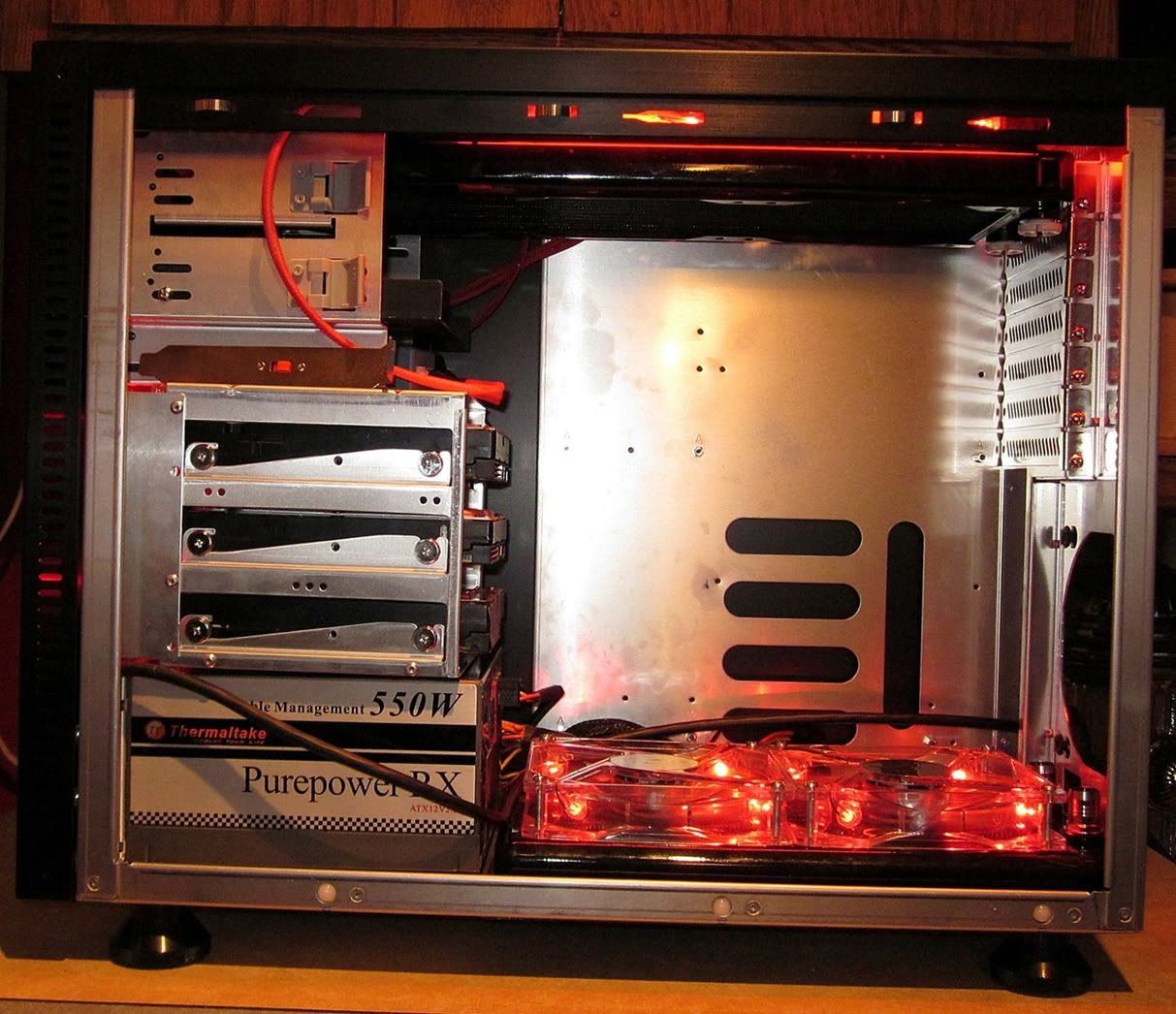 well it would look good if you got the genes
for that switch thing are you going to put it black in slot 5?
if the wires dont poke out THAT much you can put it in 7 and run in behind the radiator and freeing up 5.
also if you are running dual slots with gpu blocks, cant you just find one of those single slot pci things? or cut it in half?
CPU
Motherboard
Graphics
Graphics
i7 970
Asus Rampage III Formula
EVGA GTX 460 1gb SSC+ SLI
EVGA GTX 460 1gb SSC+ SLI
RAM
Hard Drive
Hard Drive
Optical Drive
Dominators GT Red 3x2gb 7-7-7-20
G.Skill Pheonix Pro 120gb
WD1002FAEX 1tb
ASUS
Cooling
OS
Monitor
Keyboard
Thermaltake Venomous X Black
Windows 7 Professional
Dell U2311H
Filco 104 Brown
Power
Case
Mouse
Mouse Pad
Seasonic X750
Lian Li A05NB Powdercoated/Modded
Logitech G500
Razer Sphex
View all
hide details
CPU
Motherboard
Graphics
Graphics
i7 970
Asus Rampage III Formula
EVGA GTX 460 1gb SSC+ SLI
EVGA GTX 460 1gb SSC+ SLI
RAM
Hard Drive
Hard Drive
Optical Drive
Dominators GT Red 3x2gb 7-7-7-20
G.Skill Pheonix Pro 120gb
WD1002FAEX 1tb
ASUS
Cooling
OS
Monitor
Keyboard
Thermaltake Venomous X Black
Windows 7 Professional
Dell U2311H
Filco 104 Brown
Power
Case
Mouse
Mouse Pad
Seasonic X750
Lian Li A05NB Powdercoated/Modded
Logitech G500
Razer Sphex
View all
hide details