I've got a Fujitsu FKB4700 - Fujitsu Peerless switches.
It took between 16 and 18 nickels to register as a keystroke, depending on how gentle I was stacking the nickels.
I'm cleaning all the keys right now so I took one of the keycaps and put it back on at the least-sloped part of the keyboard.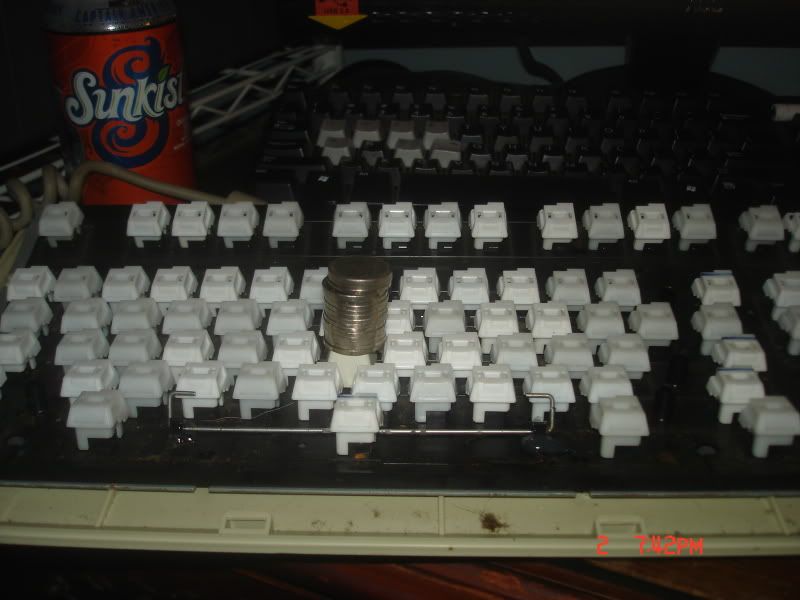 Edited by Tohru Rokuno - 9/2/11 at 10:34pm
CPU
Motherboard
Graphics
RAM
Intel i5-3210M CPU @ 2.50GHz
Asus K55A
Intel HD Graphics 4000
Elpida 4GB DDR3
Hard Drive
Optical Drive
Cooling
OS
Seagate Momentus 500GB
Matshita DVD-RAM UJ8C0
Stock CPU Fan
Win7 Home Premium 64bit
Monitor
Power
Case
Audio
1366x768 15" Glossy Laptop Screen
Stock battery and wall adapter
Asus K55A chassis
Factory Altec-Lansing speakers
View all
CPU
Motherboard
Graphics
RAM
Atom N270
Asus 1005HAB
Intel Integrated
2GB DDR2
Hard Drive
Optical Drive
Cooling
OS
OCZ Agility Series OCZSSD2-1AGT30G 30GB SATA II...
Stand-alone external USB
Stock
Windows 7 32bit
Monitor
Keyboard
Power
Case
10.1" 1024x600 Integrated LCD Panel
Built-in keyboard
6-cell Li-Ion battery, Wall Charger
Stock EeePC chassis
Mouse
Multi-touch Trackpad
View all
hide details
CPU
Motherboard
Graphics
RAM
Intel i5-3210M CPU @ 2.50GHz
Asus K55A
Intel HD Graphics 4000
Elpida 4GB DDR3
Hard Drive
Optical Drive
Cooling
OS
Seagate Momentus 500GB
Matshita DVD-RAM UJ8C0
Stock CPU Fan
Win7 Home Premium 64bit
Monitor
Power
Case
Audio
1366x768 15" Glossy Laptop Screen
Stock battery and wall adapter
Asus K55A chassis
Factory Altec-Lansing speakers
View all
CPU
Motherboard
Graphics
RAM
Atom N270
Asus 1005HAB
Intel Integrated
2GB DDR2
Hard Drive
Optical Drive
Cooling
OS
OCZ Agility Series OCZSSD2-1AGT30G 30GB SATA II...
Stand-alone external USB
Stock
Windows 7 32bit
Monitor
Keyboard
Power
Case
10.1" 1024x600 Integrated LCD Panel
Built-in keyboard
6-cell Li-Ion battery, Wall Charger
Stock EeePC chassis
Mouse
Multi-touch Trackpad
View all
hide details