Razer Blackwidow Ultimate Review
- Manyak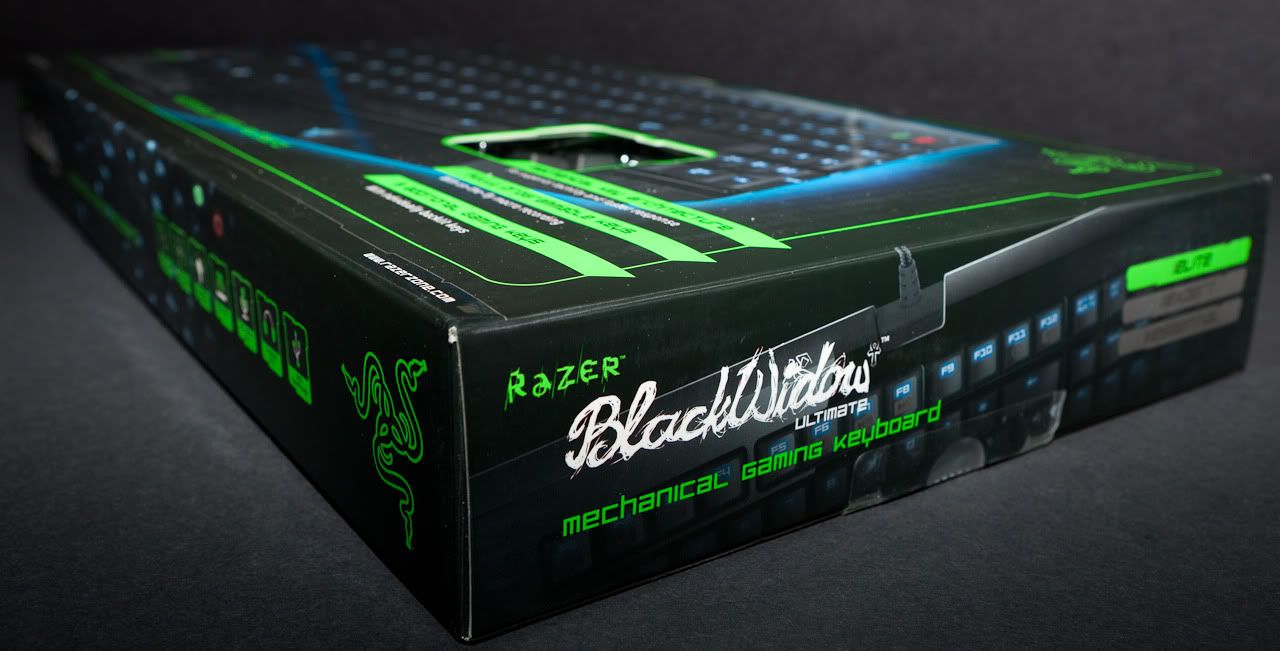 When the PC was first introduced in 1981, there were two kinds of keyboards - the mechanical ones that you could type on, and the "other" ones that you hated so much they might as well have murdered your mother. Ask anyone who's ever typed on a
membrane
or
foam-n-foil
board and they'll tell you. It wasn't until the late '80s or early '90s, when there was a big rush among manufacturers to make PC-compatible computers as cheap as possible, that rubber dome keyboards were introduced. Finally! Manufacturers had viable alternative to mechanical switches - something that was cheap to make, yet also "good enough" to keep their reputation intact. Over the next few years, millions of people bought the first computer and first keyboard that they had ever used, and those keyboards would be all that they knew for the next two decades. During this time only a small group of people would even
remember
that mechanical keyboards existed. Only a small handful of mech keyboards would still be manufactured, and they would be hidden so well you'd never have known about them if you hadn't gone looking for them. But over the past few years they've gained lots of attention. They are no longer seen as "old, ugly, and loud", and a few retailers have begun to stock them again. But most importantly, for the first time in
ages
, they've caught the eye of a major peripheral manufacturer - one with enough resources and marketing prowess to bring mechanical boards mainstream again.
This whole fiasco left us today with two schools of thought when it comes to keyboards. The first is that keyboards are all generally the same, and it's only worth paying more for flashing lights and other gimmicks. The other is that keyboards are one of the three major ways that you interface with your computer, and so the keyboard should be made to very high standards to provide the best possible experience out there - anything less is unacceptable. And mechanical keyboards were always made to appeal to that second group.
Now, Razer has traditionally been the complete opposite - they differentiated their keyboards through 1000Hz polling, backlighting, macros, and other gimmicks - nothing that really improved the computing experience. But now they've introduced the Blackwidow - a mechanical keyboard with all the trappings of a mainstream board. A "hybrid" of the two schools of thought. And those of us who look for nothing but quality are left wondering: can this board still hold up to the standards set by manufacturers over 20 years ago?
First Impressions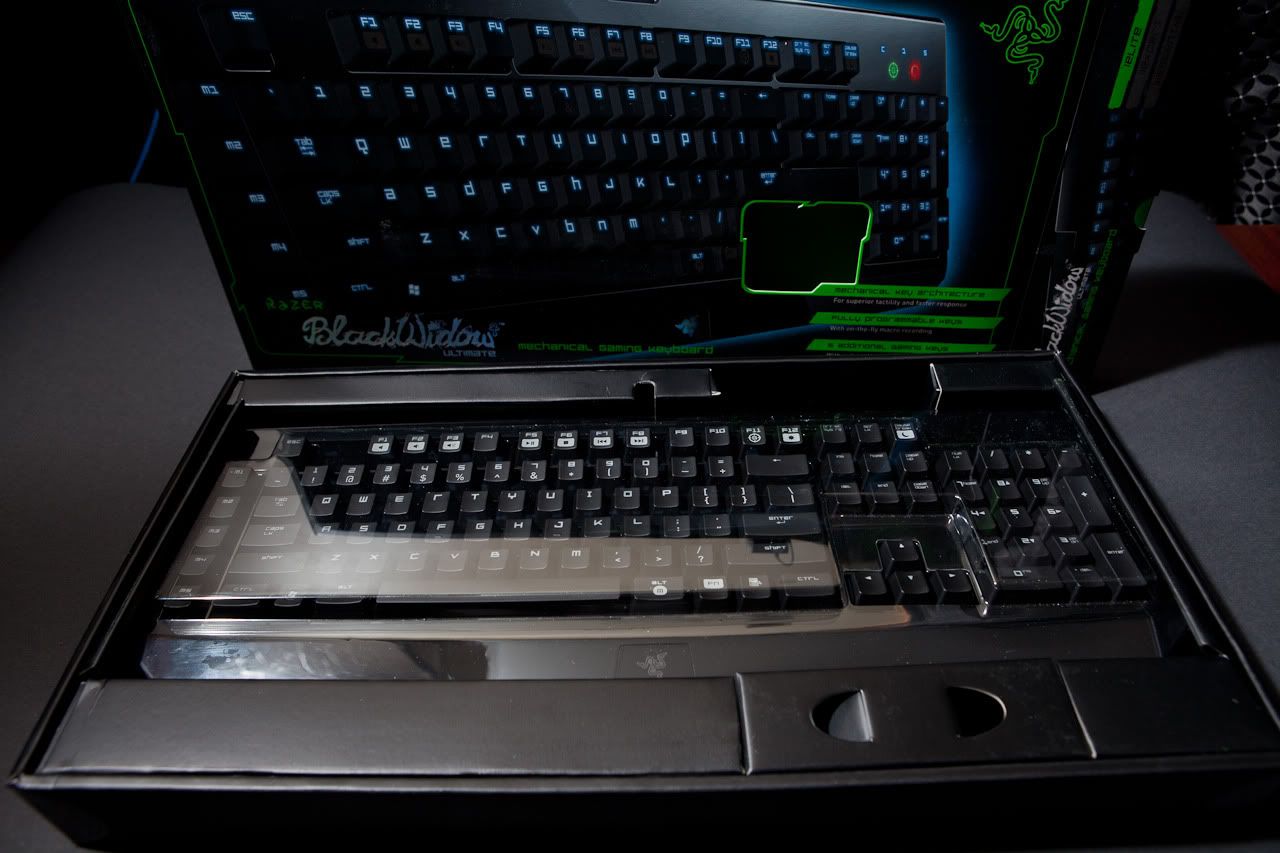 When I received the box, I did the same thing that I'm sure everyone else will when they first see it - play with the arrow keys through the cutout
. At first I kind of wished the plastic cover in there was an keyboard cover to use on your desk instead, like what you get with a Filco. But on the other hand, when these boxes are sitting on shelves in Best Buy, that cutout is all they'll need to get these to sell like hotcakes! So being that this is the first
ever
attempt at making a mechanical board mainstream, I'll have to say that the cutout is more important.
As far as the looks go, you can immediately tell that it's a Razer (did the glowing logo give it away?
). Yet at the same time, it's very clean; and I like clean. A lot of people will disagree with me on this, but all the usual "gaming" keyboards look like toys to me. This one, however, still retains a bit of seriousness that anyone past their teen years will appreciate. It doesn't have a million extra useless buttons, it only deviates slightly from a classic shape, they excluded the usual uncomfortable plastic wrist rest, and the status LEDs (Caps, NumLk, ScrLk) are only subtly lit - they don't flash, bounce, blind you, or bark at you to get your attention (something
every
manufacturer should pay attention to <cough>Diatec<cough>). It's not a classy, professional look, but it's still clean.
The font, I think, is going to be hit and miss with people. It looks like a mix between something out of a sci-fi flick and a UNIX console. On one hand, it is BY FAR nicer than
Deck's crayon scribbling
, but on the other it's not as elegant as something like Helvetica. But I'll tell you this - it does look better in person than it does in pictures.
Extra media keys on a keyboard is nothing but useless clutter, and most of the time does nothing but take away from the looks. The guys at Razer obviously thought the same thing, and used an Fn+Fkey method for their media keys - MUCH cleaner than anything they've done in the past. Das had attempted to do the same thing with the Model S but failed miserably - they replaced the left Windows key with the Fn key, but it turned out that nearly everyone uses that one the most so only a few people bought it. Razer was smart and replaced the one on the right, which not many people care about
.
The only downside to the whole setup is the glossy body. Now, everyone has their own opinion on whether or not glossy looks good, but one thing is undeniable - it's a royal pain to keep it clean. So now we're back to the idea of having a cover of some sort. But instead of removing the cutout in the box, how about including a small microfiber cloth and/or offering an
acrylic roof
separately? I know
I
would certainly buy a roof for it, as this past week I've frequently had to wipe it down from fingerprints and dust. IMO these two things would be a great addition to the keyboard.
Backlighting
Razer is only the third manufacturer to ever offer a backlit mechanical keyboard, after TG3 (Deck) and iOne.
One of the cool things about backlighting with Cherry MX switches is that there's a little spot on the switch for an LED to sit. So just like the Decks and Xarmor, each individual key has it's own LED. For those who didn't know, rubber dome keyboards with backlighting have only about 6-10 LEDs around the perimeter of the board, and use a diffuser sheet to spread the light across the entire thing. Giving each key it's own individual LED results in brighter and more even backlighting.
Here what you see is a Deck Legend on the left and a Razer Blackwidow on the right. Razer used the same blue you'll find on any of their other keyboards or mice, while the Deck's LEDs have a slightly different hue to them - a little bit more towards the turquoise side. But they are identical in brightness.
Now, I don't know whether or not Razer's LEDs are rated for the same lifespan that the Deck's are, but even the cheapest ones last for several thousand hours. So I'm not too worried about their longevity.
Hitting Fn+F12 cycles through the backlight settings, which are as follows:
1 - Off
2 - Low
3 - Medium
4 - High
5 - Pulsing (gradual change from off to high, and then back to off)
That last one is mildly annoying and
very
distracting, and I can't imagine anyone actually using it.
One thing I can't understand is why manufacturers absolutely insist on putting the USB and audio ports on the right side of the keyboard, where
most
people use their mouse (and it's not just Razer I'm talking about here). Having a large USB stick there, or just having headset wires coming down from there, gets in the way of the mouse. I understand it's easier/cheaper just to use the space underneath the status LEDs since the controller goes there anyway, but in this keyboard specifically there
is
enough space in the top left corner to move them there.
One of the most important things is for a keyboard to sit perfectly still on your desk, and not slide around while you use it. The Blackwidow does well in this regard, sitting solidly on both my
giant mousepad
and my desk itself (veneer).
Switches
This keyboard uses plate mounted Cherry MX Blue switches.
Now, Razer has been claiming that they "Cherry Picked" the switches used in this keyboard, but wouldn't divulge what their criteria was. So I took it upon myself to find out what the difference was between these switches and every other Cherry MX board that I own, if there even was one.
Now, remember when I said how I played with the arrow keys through the box? When doing that, the switches felt
lighter
than those on my Filco, which surprised me. When Cherry Blues are brand new they're usually slightly stiffer than usual, as it takes a few days for them to break in. Of course, as soon as I took it out of the packaging and put it on my desk, it was back to being what I expected.
So I tested it with the Rip-O-Meter just to be sure, and it
was
identical to the Filco.
That being said, the sound was quite different. Well the clicky sound of the switches themselves was the same, that's not what I'm talking about. But see, the Filco likes to make a lot of other noise - even the slightest keycap movement translates to a ton of rattling. The Razer board is a lot better in this regard, but I doubt it has anything to do with the switches - the casing and keycaps have a much greater affect on the noise than just picking the best switches on a standard deviation curve, and as you'll see later in the review, their designs do just that.
So either I'm completely missing something here, or the whole "Cherry Picking" thing they're doing isn't very effective.
Keycaps
Keycaps are one of the most important parts of a board, as they play a role in most aspects of a board - the look, sound, feel, and durability. I've already gone over the look and sound, so let's get a bit into the other two.
I don't know what kind of plastic was used for the keycaps <yet>. They are clear, with some kind of black coating applied. The legends are simply where the coating was lasered off. If you closely at the image above you'll be able to see how the black coating is raised above the letters, and even better, you can see the faint line that was the center of the laser beam as it wrote the letter. Then looking at the image below, you can see the pad printing used for the secondary legends, as this part is raised
up
from the base coat.
The coating feels quite nice. It's smooth yet "grippy". Kind of like how rubber is, except it doesn't really feel like rubber. To be quite honest, I like it more than the regular bumpy molded plastic. But at the end of the day it
is
just a coating, and so I can only wonder about how long it will last. These sorts of coatings give some very sharp lettering when lasered (as you can clearly see), but have a history of wearing off relatively quickly (the
Lycosa
and
G15
are just two examples). Dyesub legends, on the other hand, last a lifetime. But it all depends on the actual mixture used, so I guess this is something we'll just have to wait to find out!
Below you can see the lasered ditch a bit better.
The keys are sculpted for each row to have a different height and angle, so that your fingers hit the keys better while typing. Whether or not this is better for you than having them flat is up to you to decide, but I think most people will agree that this layout lends itself to fewer typos and less fatigue.
Here we have a Filco key on the left and a Blackwidow key on the right. The Blackwidow key is only the tiniest bit thicker, but even that little bit makes a difference! The keys are able to absorb a bit more of the switch's vibrations, so the clicky noise isn't as loud or harsh. To make sure this wasn't just becuase of the age of the switch, I moved a few Filco keycaps over - and sure enough the noise became harsher.
Build Quality
Let's open 'er up!
Shown here is the plate, held down to the bottom by 8 screws. Very solid indeed. Metal plates are practically a prerequisite for anyone's board to be taken seriously these days, as there's no better way of eliminating flex - something that everyone hates. Ever had a keyboard (or laptop) where the entire keyboard seemed to bend as you typed? Yeah, well, that isn't going to happen here.
Then when I tried to take the PCB out I was smacked in the face by a nice surprise:
See that?
THAT
is how you hold a cable down!!! First, it's bolted to the frame. Then it's pretty much super-glued to the frame
twice
. Is it excessive? Sure! But excessive is exactly what we're after here
Yes, ladies and gentlemen, the bottom half of body is made of ABS
. This is the same stuff that the Model M's body is made of (although not quite as thick). But there's one small catch - this is
only
the bottom half. I couldn't find any markings on the inside of the top half, but it's very flexible and soft - better for absorbing sound, worse for absorbing a punch. So I deem this keyboard
unpunchable
.
But I'm going off track now. See, the biggest reason a hard plastic like ABS is desirable for the keyboard casing is that it prevents the keyboard from warping and bending (it and the metal plate). Even with only
half
of the casing made of it, it still performs it's duty, and so it's quite acceptable
. Some people might even prefer it this way because of the sound characteristics the soft plastic on top gives you.
The soldering looks perfectly fine, not like some other keyboards I've seen. But I can't help but wonder if they made the PCB black just to make it look cooler in a review
.
Electrical
The cable is very nicely braided, and very thick. The connectors on the end are as follows:
USB for keyboard
USB pass-through to side port
Headphone pass-through
Mic pass-through
So you don't have to use both USB plugs if you don't want to.
And speaking of USB, that brings us to a very important point - the keyboard is
NOT NKRO
. And I don't mean not NKRO as in, because it's USB it can only to 6+4 keys. No. I mean, there are no diodes on the board, so key combos are blocked by the controller instead of by the USB protocol. So you
will
run into combinations that get blocked at only 2 keys, meaning this is just 2-key rollover. One such combination is Z+X+C, which screwed me up because I use those keys for both emulators and music games. Not that I couldn't find a new cluster of keys to use, but it's just something that I wouldn't want to have happen immediately after spending $130 on a keyboard.
Edit: I should note, WASD gaming works perfectly fine. All the common combos like W+D+Shift+Space go through. It's only if you get off the WASD cluster that things can go wrong.
Quote:
Razer: I know your primary market for this keyboard are the gamers who don't currently use a mechanical board and those who are blindly following the mechanical hype. And for them NKRO doesn't really mean anything and "anti-ghosting matrix" can be marketed just as well. But, for everyone else's sake, it would be nice if you spent the $1/keyboard to add switching diodes to your next model. For some people it really is a necessity, and for everyone else it's simply peace of mind. In fact, it would also be nice if you spent another $1 and added PS/2 support. Then you could charge even more for the keyboard, and it would still be a better value.
As for the 1000Hz polling - the lowest delay I could get on Passmark was 2ms between keypresses. For comparison, a Filco gets the same 2ms reading over both PS/2 and USB. Obviously there should be a difference here, but apparently there's another limiting factor besides the interface and so I can't perform a conclusive test on it.
Macro Capability
This right here is one thing that is completely unique to this keyboard, as far as mechanical ones go. Well, not programming it through the driver, there are a bunch of keyboards that can do that. And you can always do it through autohotkey, which is still the best if you want to program something more complex than a sequence of buttons. So yeah, with as many ways as there are to remap and macro your keys no matter what OS you're in, as far as I'm concerned driver programming is useless.
But what
this
keyboard has that's unique is that it has
on-the-fly
macro recording, from the keyboard itself! The last time I saw a keyboard with this capability was the
Gateway Anykey
, which came with my old 486DX2 machine back in around 1990. And I loved it. Why no-one put it on keyboard again until now is beyond me. Either way, this is the first
mechanical
keyboard to offer it, and it's slick. But I would have preferred that it be done completely in the hardware like the Anykey was, completely independent of the drivers, so that it becomes platform agnostic.
Quote:
*Edit: It was brought to my attention that I had forgot that there are other keyboards that offer this capability, such as the G15. But in my defense, I don't consider the G15 or G19 to be real keyboards - more like toys, so they never even crossed my mind
Conclusion
The Blackwidow Ultimate is, without a doubt, a great board. Razer has met or exceeded the standards that make a good keyboard a good keyboard in many areas. The casing is made (mostly) of ABS, the switches are plate mounted, and the cable is practically bolted on and is strong enough to use as a jump rope in an elementary school playground. The layout is perfect with no useless clutter, the board isn't any bigger than it needs to be, and the status LEDs aren't blinding. The backlighting is one of the best on the market, and there's no other keyboard out there with on-the-fly macro capability. The keycap printing is very sharp, and I'll give them the benefit of the doubt on the coating's abrasion resistance until proven otherwise. I'm very impressed with the quality of this board.
And while no keyboard is perfect for everyone, at the end of the day this keyboard has one major flaw, and that's the lack of NKRO and PS/2 support. At $80, the regular Blackwidow not having NKRO isn't a problem. In fact, after trying out this board I think that $80 gets you a LOT of value, especially since it's better built than many mechanical keyboards that are even more expensive and all you miss out on is Backlighting and pass-through ports. Like I said before, I'm impressed with Razer's quality here. But at $130 the lack of NKRO is much harder to accept.
In the end it comes down to this, and this alone: If you want NKRO, there are other boards at this price that are of similar build quality (give or take a bit). But if you'd give up NKRO for on-the-fly macros and the looks/backlighting of
this
board, then it's one hell of a board to get and you won't be disappointed
Quote:
PS: I received this board as a review sample, and some people suddenly think my whole review is worthless because I didn't point this out here (even though I did mention it several times on the forums). So this is me pointing it out.
Edited by Manyak - 12/10/10 at 2:15pm