Quote:
Originally Posted by
McMarcus22
No I haven't tried that yet, but it's now on my to do list.
Also, I lied... I milked it some more lol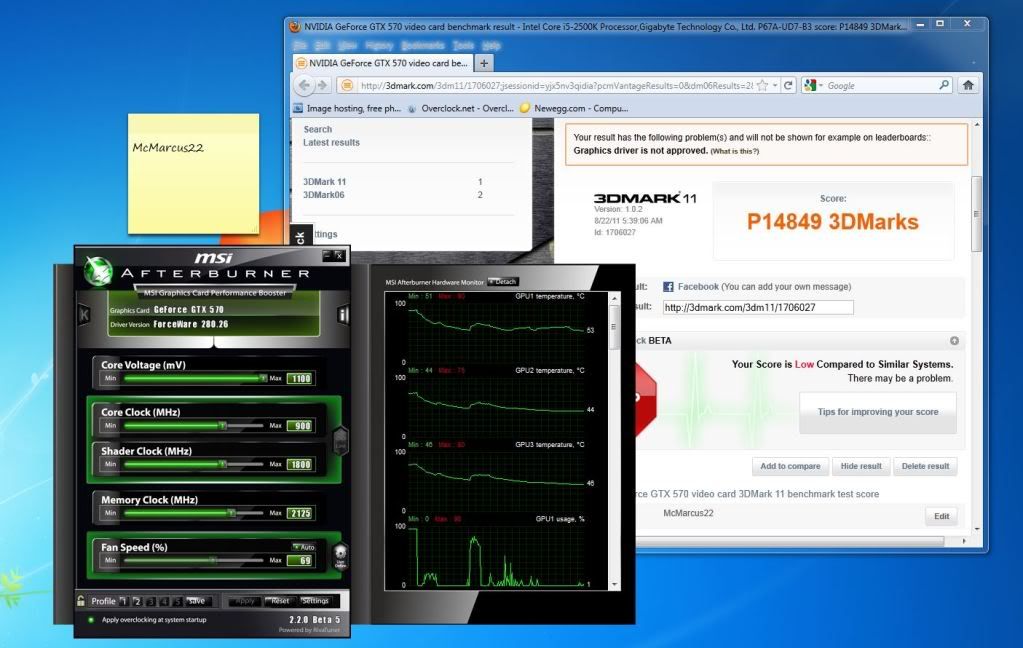 There's a 2500K in my office. I've had it up to 5.6GHz and run benches at 5.1GHz with it. That would boost your score even further because SLI quite likes a lot of GHz........it pushes up the physics and combined scores....
http://3dmark.com/compare/3dm11/1706027/3dm11/1594147
CPU
Motherboard
Graphics
RAM
Intel Core i7 3970X
ASUS X79 ROG Rampage IV Extreme Bios 2105
EVGA KingPin Classified 780 Ti 3GB Tri-SLI
G.Skill Trident X F3-2400C10Q-16GTX 16GB (...
Hard Drive
Hard Drive
Optical Drive
Cooling
OCZ Vertex 4 SSD
Seagate Barracuda 1TB ST31000524AS
Lite-On IHAS124 24X DVDRW
3 x XSPC Rasa 750 RX360 Universal CPU Water Coo...
Cooling
OS
Monitor
Power
3 x EK-FC780 GTX Classy - Nickel
Windows 7 Professional x64
3 x Dell U2412M
SilverStone 1500W V2.2 x 2
Case
Lian Li Pitstop T60 Testbench
View all
CPU
Motherboard
Graphics
RAM
i7 - 5960X
Asus Rampage Extreme V
Gigabyte Titan X 12GB
G.SKILL Ripjaws 4 series 16GB (4 x 4GB) 288-Pin...
Hard Drive
Hard Drive
Hard Drive
Optical Drive
Samsung 850 Pro Series 1TB SSD
3 x Seagate 2TB
Seagate 3TB
LG
Cooling
Cooling
OS
Monitor
Phobya Xtreme 1260 Radiator
XSPC D5 Photon 170 Reservoir/Pump Combo
Microsoft Windows 7 Professional 64bit with SP1
Samsung S34E790C 34in Ultrawide Curved LED Mo...
Keyboard
Power
Case
Mouse
Microsoft Wireless 3000
Silverstone ST1500
Antec Eleven Hundred
Microsoft Wireless 3000
Audio
Audio
Audio
Audioengine D1 Premium 24-Bit DAC
Audioengine 5+ Premium Powered Speakers Black
Audioengine S8 Black
View all
CPU
Motherboard
Graphics
RAM
i7 3960X
Asus Rampage IV Extreme
Gainward "GOOD" GTX 580 x 2
AData x 2
Hard Drive
Cooling
Cooling
OS
Seagate
XSPC Rasa EX 360 crossflow kit x 2, XSPC Rasa E...
EK GW-580 Waterblocks
Win 7 Pro
Power
Case
SilverStone Strider ST1500
InWin D Frame
View all
hide details
CPU
Motherboard
Graphics
RAM
Intel Core i7 3970X
ASUS X79 ROG Rampage IV Extreme Bios 2105
EVGA KingPin Classified 780 Ti 3GB Tri-SLI
G.Skill Trident X F3-2400C10Q-16GTX 16GB (...
Hard Drive
Hard Drive
Optical Drive
Cooling
OCZ Vertex 4 SSD
Seagate Barracuda 1TB ST31000524AS
Lite-On IHAS124 24X DVDRW
3 x XSPC Rasa 750 RX360 Universal CPU Water Coo...
Cooling
OS
Monitor
Power
3 x EK-FC780 GTX Classy - Nickel
Windows 7 Professional x64
3 x Dell U2412M
SilverStone 1500W V2.2 x 2
Case
Lian Li Pitstop T60 Testbench
View all
CPU
Motherboard
Graphics
RAM
i7 - 5960X
Asus Rampage Extreme V
Gigabyte Titan X 12GB
G.SKILL Ripjaws 4 series 16GB (4 x 4GB) 288-Pin...
Hard Drive
Hard Drive
Hard Drive
Optical Drive
Samsung 850 Pro Series 1TB SSD
3 x Seagate 2TB
Seagate 3TB
LG
Cooling
Cooling
OS
Monitor
Phobya Xtreme 1260 Radiator
XSPC D5 Photon 170 Reservoir/Pump Combo
Microsoft Windows 7 Professional 64bit with SP1
Samsung S34E790C 34in Ultrawide Curved LED Mo...
Keyboard
Power
Case
Mouse
Microsoft Wireless 3000
Silverstone ST1500
Antec Eleven Hundred
Microsoft Wireless 3000
Audio
Audio
Audio
Audioengine D1 Premium 24-Bit DAC
Audioengine 5+ Premium Powered Speakers Black
Audioengine S8 Black
View all
CPU
Motherboard
Graphics
RAM
i7 3960X
Asus Rampage IV Extreme
Gainward "GOOD" GTX 580 x 2
AData x 2
Hard Drive
Cooling
Cooling
OS
Seagate
XSPC Rasa EX 360 crossflow kit x 2, XSPC Rasa E...
EK GW-580 Waterblocks
Win 7 Pro
Power
Case
SilverStone Strider ST1500
InWin D Frame
View all
hide details