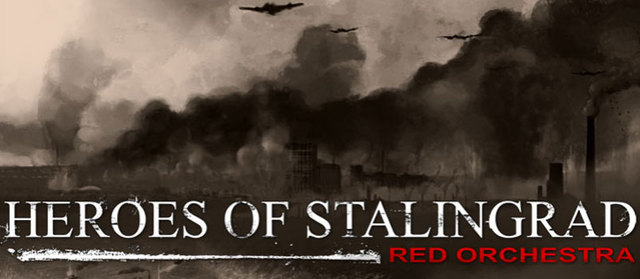 Developed by: Tripwire Interactive | Release Date: Q1 2011
Quote:
Red Orchestra: Heroes of Stalingrad is a WWII themed shooter. It is the sequel to Red Orchestra: Ostfront 41-45, an award winning mod, turned full retail game. Red Orchestra: Heroes of Stalingrad is set to be released in 2011.
Quote:
Heroes of Stalingrad will take the award winning Red Orchestra franchise into the next generation of gaming. Cutting edge graphics and audio built on Unreal Engine 3, inventive features and streamlined realism will deliver an unrivaled WWII experience. Focusing on the Battle of Stalingrad and the surrounding operations, both German and Russian, from July 1942 to February 1943 the game allows the player to experience one of the most brutal battles in all of human history. For the first time ever in a first person shooter gamers will be able to experience WWII from the Axis side in a German single player campaign. As always with the Red Orchestra franchise, Tripwire will aim to deliver unrivaled accuracy and attention to detail, along with gritty, vicious combat in multi-player, co-op and solo modes. Again, Tripwire have listened to the fans and have designed a whole set of new features to make the game more accessible and easy to get into – all while delivering the tactical shooter realism fans of the original game loved
Official Sites
Website -
http://www.heroesofstalingrad.com

Twitter -
http://twitter.com/TripwireYoshiro

Forum -
http://forums.tripwireinteractive.com
Steam -
http://steamcommunity.com/games/RO2
Features
RO multiplayer taken to new heights:
Tripwire's renowned MP already exceeds that of much of the competition – the new game will stretch that lead even further. With highly addictive and fun varieties of game-play online, the game will feature everything from quick, brutal firefights, through to more intricate and challenging simulation modes.
Persistent Stats Tracking and Player Progression:
Persistence constantly gives the gamer something to strive for and keeps them playing. Grow in rank, earn medals, improve your abilities, and become a Hero – all visible to the complete online gaming community and embedded within the game.
Heroes:
Obtain the ultimate goal and become a Hero online. Players with hero status inspire troops around them and cause fear in their enemies. Heroes have access to the best and rarest weapons and equipment, and will stand out visually from the rest of the soldiers.
Stalingrad Campaign:
The Stalingrad campaign will feature the multiplayer maps used in a campaign layout recreating the battle for Stalingrad from both the German and Russian sides. This will be enhanced with story elements through the form of mission introductions and in-game cinematic sequences that begin and end the campaign.
Unique Focus – the Battle of Stalingrad in depth:
takes the familiar WWII genre into a unique direction. Far removed from the well-trodden Normandy setting, gameplay is based on fresh scenarios and actions the player has never experienced before. Follow the German army as they assault the city of Stalingrad, to the banks of the Volga. Follow the Soviet army as it holds the city against all the odds then destroys the Axis forces.
First person cover system:
Experience the ultimate firefights that a cover system allows, from the immersion of a first person view. Peek or blind fire over and around cover and more.
Squad Command:
Command fire teams on the battlefield using an easy to use first person interface. Suppress the enemy, send a fire team to flank them and hit them where it hurts!
WWII weaponry redefined:
true to life ballistics, bullet penetration, breathing, adjustable sights, free aim, weapon bracing, photo-real graphics and more, create WWII weaponry that has no equal.
Co-op:
Players can connect with their friends and battle AI in multiple game types including the Stalingrad Campaign, Skirmish Mode, and more.
Offline Challenges – Online Achievements:
Offline challenges such as the shooting range and assault courses let the player learn and hone their skills to perfection with all of the weapons and features in the game. Training with different challenges to achieve awards, win competitions and improve their skills the player can pit their best times/scores against the rest of the online gaming community.
Morale:
Experience what it is like to be a soldier in one of the bloodiest conflicts in history and the importance of a soldier's state of mind and how it can turn the tide of battle.
Exciting Offline Play:
Offline play against AI featuring the Stalingrad Campaign, Skirmish mode, and more give the player an exciting and fun environment to learn the game before hopping online. Play any level or Campaign offline against AI to gain achievements and train for the online arena.
Competitions & Leader-boards:
Compete to obtain unique awards and achievements with players all over the world. The competitions range from shooting range challenges to unique and fun assault courses.
Enhanced Unreal Engine 3:
Built on an enhanced version of Unreal Engine 3 the game features cutting edge visuals and features.
Must Read Articles
RO2:HOS Fact Thread
PAX2010 Community Interview
GDC 2010: Tripwire Talks Stalingrad
Previews/Interviews
E3 2010: We learn more from Tripwire about RO2
Red Orchestra 2 delivers multiplayer campaign
Shooting for a broader audience
StrategyInformer RO:HOS Preview
GC 09: Heroes of Stalingrad Preview
Nerdiest Kids - RO2 Pax Coverage
RPS: Vehicles in Red Orchestra 2.
HookedGamer's Heroes of Stalingrad preview
As always, more info to come..
Edited by Radiix - 12/11/10 at 11:38am