After a month of building, tweaking, and dialing in overclocks, I thought I would share a screenshot or two of my Sandy Bridge "Beast" Rig...TRI SLI EVGA GTX 580 SC cards @ 1.15V core 960/1920/2150! Core i7-2600K @ 5100mhz
Very pleased so far, but still more tweaking to do..
One amazing/scary thing I saw when running 3D Mark11...the system at one point was pulling over 1400 watts!!!
The Toughpower 1200W took it in stride though...
Hope this gets me in the club? Enjoy!
-M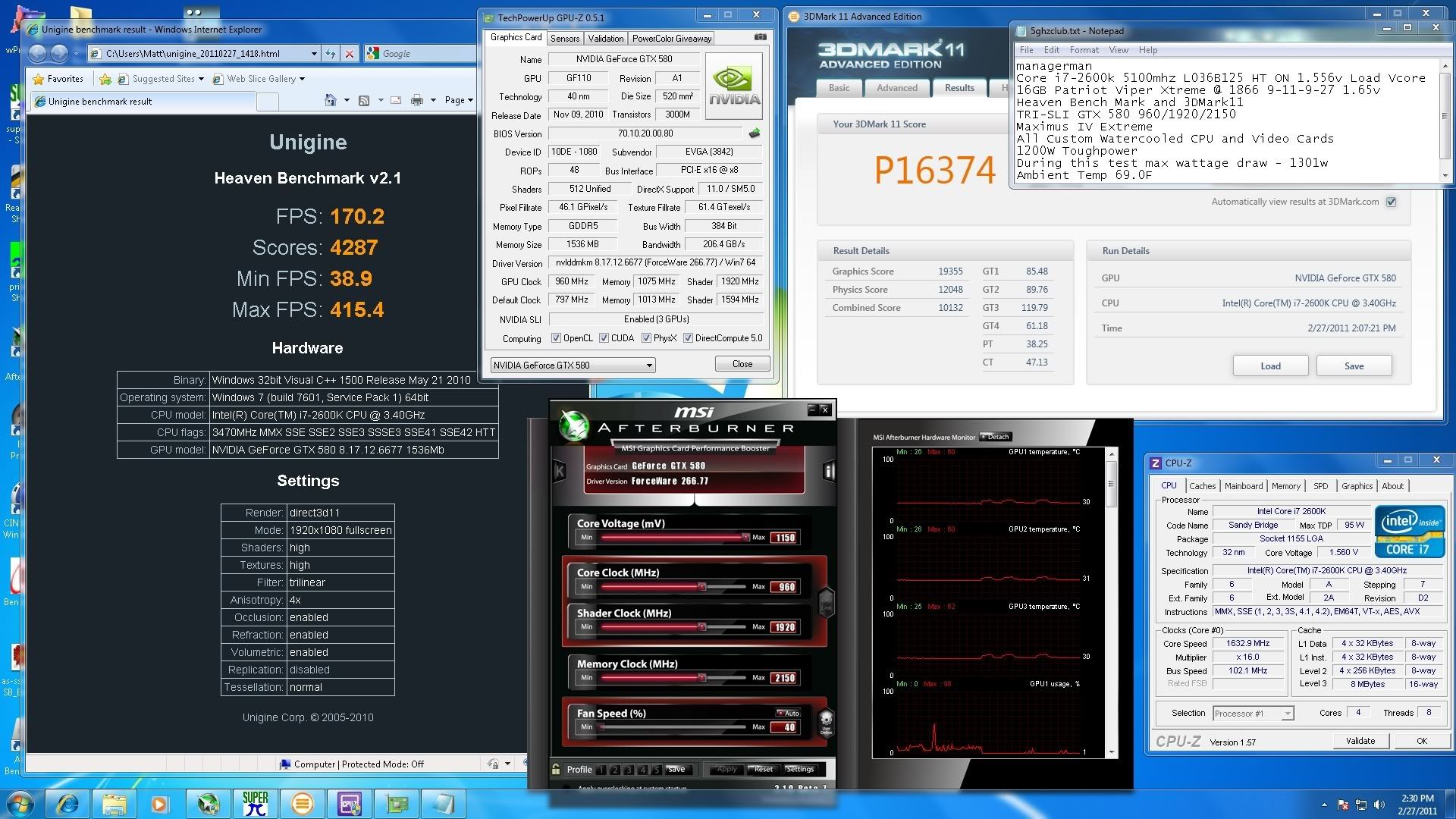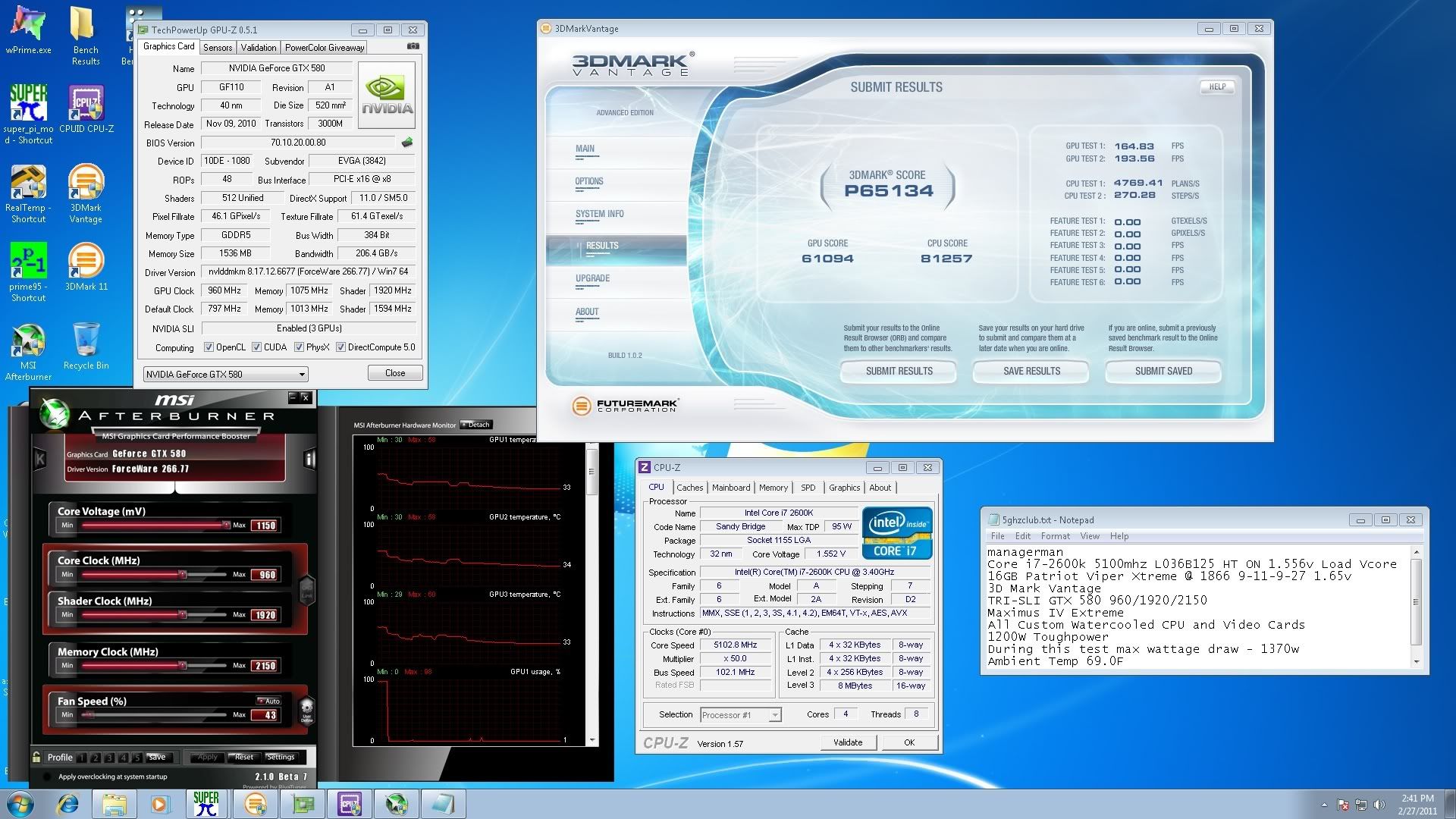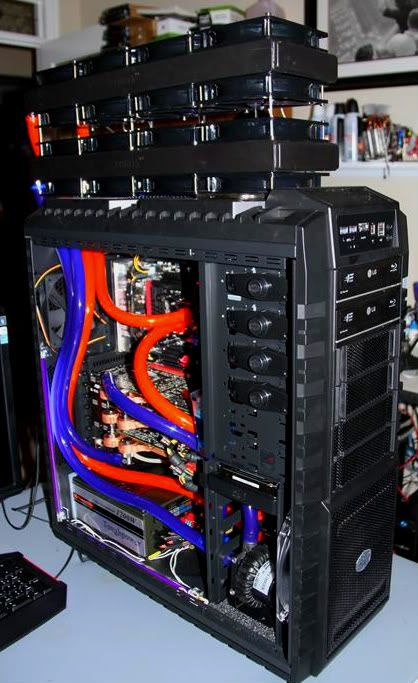 Edited by managerman - 2/28/11 at 7:05am
CPU
Motherboard
Graphics
RAM
Core i7-2600K
Asus Maximus IV Extreme
(3) EVGA GTX 580 SC
16GB Patriot Viper Xtreme 1866
Hard Drive
Optical Drive
Cooling
Cooling
2x Raid-0 Vertex 3 Max IOPS 120GB
(2) LG Blu-Ray 10x Writers
(2) Swiftech 120.4 Radiators
(2) Dangerden D5 Pumps
Cooling
Cooling
OS
Monitor
(3) Danger Den GTX580 Waterblocks
Swiftech Apogee GT CPU block
Windows 7 x64 SP1
(3) Samsung 24" Monitors in Nvidia Surround - 1...
Power
Case
Thermaltake 1200W Toughpower
Coolermaster HAF X 942
View all
hide details
CPU
Motherboard
Graphics
RAM
Core i7-2600K
Asus Maximus IV Extreme
(3) EVGA GTX 580 SC
16GB Patriot Viper Xtreme 1866
Hard Drive
Optical Drive
Cooling
Cooling
2x Raid-0 Vertex 3 Max IOPS 120GB
(2) LG Blu-Ray 10x Writers
(2) Swiftech 120.4 Radiators
(2) Dangerden D5 Pumps
Cooling
Cooling
OS
Monitor
(3) Danger Den GTX580 Waterblocks
Swiftech Apogee GT CPU block
Windows 7 x64 SP1
(3) Samsung 24" Monitors in Nvidia Surround - 1...
Power
Case
Thermaltake 1200W Toughpower
Coolermaster HAF X 942
View all
hide details