Quote:
Originally Posted by
blackbalt89
Well the temps under IBT were about 6c higher on a few cores but it wasn't anything too drastic.
All I did was download a new copy of IBT from a site that claimed it had AVX binaries (Gigaflopd.net I think). So I'm not even sure it was using AVX, other than the temps jumped 6c on core 2 & 3 and that Gflops went from 61 to 110.
Maybe I'm not using AVX? Idk.
What I downloaded said that you need to leave the .exe in the same folder as the LinData, otherwise it doesn't load it.
Got it
here
.
Was your memory max'd?
Here's mine with a .45mhz higher but standard mem vs max.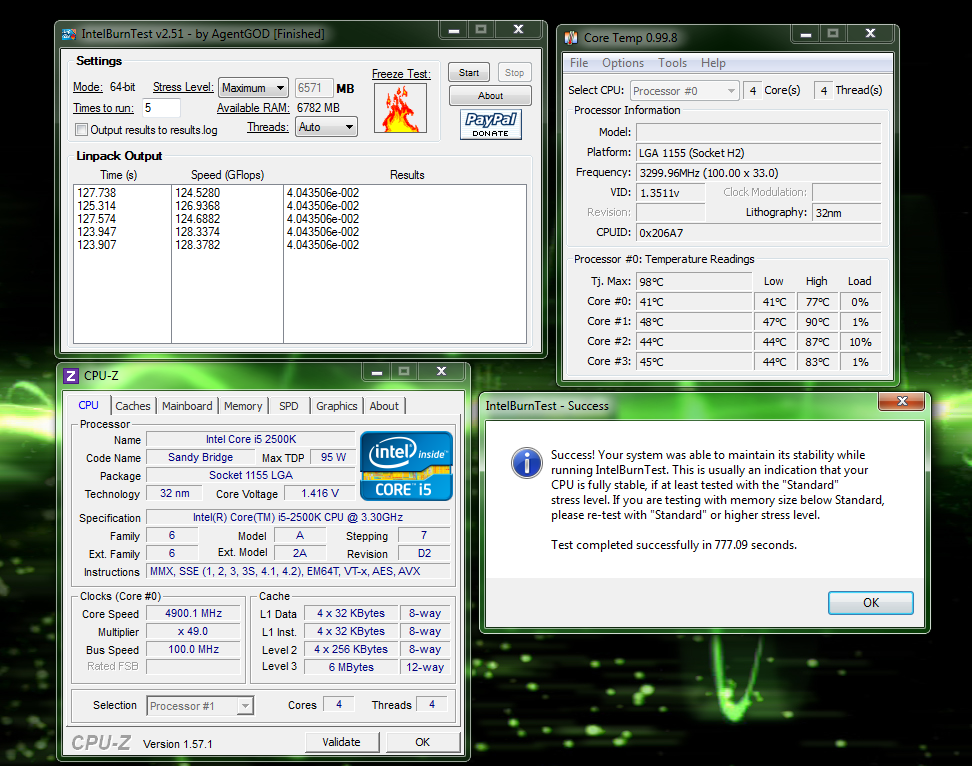 CPU
Motherboard
Graphics
RAM
2500K
ASUS P8P67 EVO
Calibre GTX 480
Corsair Vengence
Hard Drive
Optical Drive
Cooling
OS
Vertex 2
LG DVD
What ever is being tested
Windows 7 professional 64bit
Monitor
Keyboard
Power
Case
Acer 23"
Generic
High Power Astro PT 700w
Antec 900/TBD
Mouse
Mouse Pad
ooold Microsoft POS
Wood
View all
hide details
CPU
Motherboard
Graphics
RAM
2500K
ASUS P8P67 EVO
Calibre GTX 480
Corsair Vengence
Hard Drive
Optical Drive
Cooling
OS
Vertex 2
LG DVD
What ever is being tested
Windows 7 professional 64bit
Monitor
Keyboard
Power
Case
Acer 23"
Generic
High Power Astro PT 700w
Antec 900/TBD
Mouse
Mouse Pad
ooold Microsoft POS
Wood
View all
hide details