Quote:
Originally Posted by
.Griff.
My Gigabyte GTX570 SOC arrived earlier this morning and I'm having somewhat of a nightmare trying to overclock it.
Out of the box settings -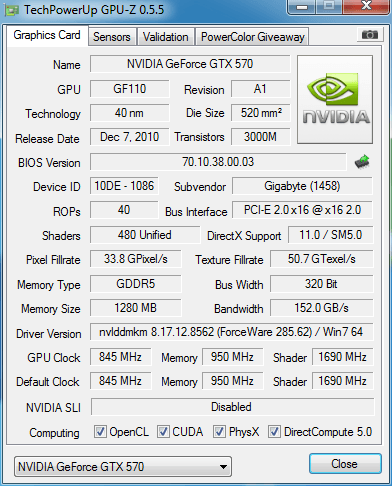 Even if I change the Memory clock from 950 (1900) to 1000 (2000) it results in Windows telling me the display driver stopped responding and has recovered. If I change the core clock of shader clock even slightly then 3DMark11 crashes and reports an error. On a few occasions the PC has restarted.
The rest of my system spec is in my sig and I'm using an Enermax Galaxy 850w PSU. The GPU temps seem perfectly fine, 28c idle and 58c under full load.
I just can't work out why the slightest increase in clocks results in failure.
Any tips and/or advice?
Hi man, are you doing it with msi afterburner or maybe with the oc guru from gigabyte? With the guru oc i got so many problems. I used afterburner and no problems with my card. Look at my oc with the 570 soc
http://hwbot.org/image/666533.jpg
Edit: Don´t forget to increase the voltage as you increase the clocks on the vcard.
Edited by Ant4res - 11/3/11 at 9:36am