Quote:
Originally Posted by
Miki
The iPhone 4 is far from a midrange phone, I don't even get how you can conclude that. It's screen has a sick resolution of 640 x 960 pixels, at 3.5 inches.

That alone beats each phone you posted.

Not only that, it features a 1 GHz processor and 512mb of RAM. Hardware alone, it is on par with each phone you listed, apart from having a much better screen resolution.
Its only 800MHz, and the GPU is slower than the one found in Hummingbird processors, which I'd say puts it roughly on par with the second gen Snapdragon and slightly ahead of the OMAP 3620.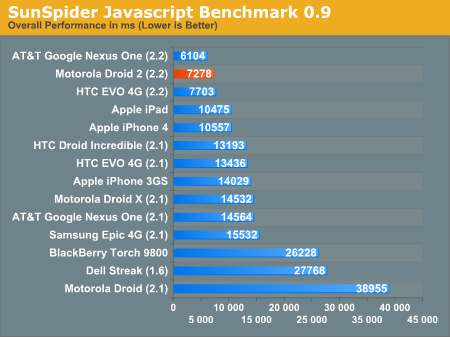 Looking at this image you'd think that the iPhone 4 is a fast phone, but notice how most of the Android phones are running 2.1 at that time. Look at the difference between the EVO 4G running 2.2 and 2.1. Its running the same hardware as the Nexus One (although its hindered by Sense)
The Incredible is almost identical to the Nexus One, and the Droid X should be slightly behind the Droid 2, and on par with the Droid. The Dell Streak is using the same hardware as the Nexus One, so when it finally gets 2.2+ it will be faster as well.
That means that the only phone on that list that the iPhone 4 is actually faster than is the Blackberry. Congratulations.
But of course, it doesn't stop there. This is Overclock.net after all, and all of the aforementioned easily overclock into the 1.3GHz+ range, furthering the gap.
And as far as the screen goes, it doesn't beat it. The extra resolution means nothing if you can't see the pixels at your normal viewing distance. If I have to hold the phones 0.5" from my face to tell the difference is it really an advantage? For the larger screens... well they are larger screens. Even if the resolution is noticeably different you're getting a larger screen, something the iPhone doesn't have.