I was just wanting to see what I could get for these.
They are both in awesome shape and both reference cards. I have to admit, they have been overclocked, but never made it over 68c. They are only OC'd when gaming, so only 20% of their life. They haven't ever been taken apart, or messed with. I keep them clean, never let dust build up. I'm picky about that.
The only reason I am looking at selling them is because I may move to a single card solution.
The first card is made by XFX and carries the Lifetime warranty. I can transfer that over. I have everything that came with it new. It will be shipped in the original box with all CD's and documents.
The second card is made by Sapphire. It is in just as great shape as the XFX. I am the second owner of the card, but have all documents necessary. The card was fresh from RMA when I purchased it. I haven't had any issues with it. It just works.
Never had any problems with either card. They seem to just work.
Here is a picture of them in the computer. I can get more pictures if needed.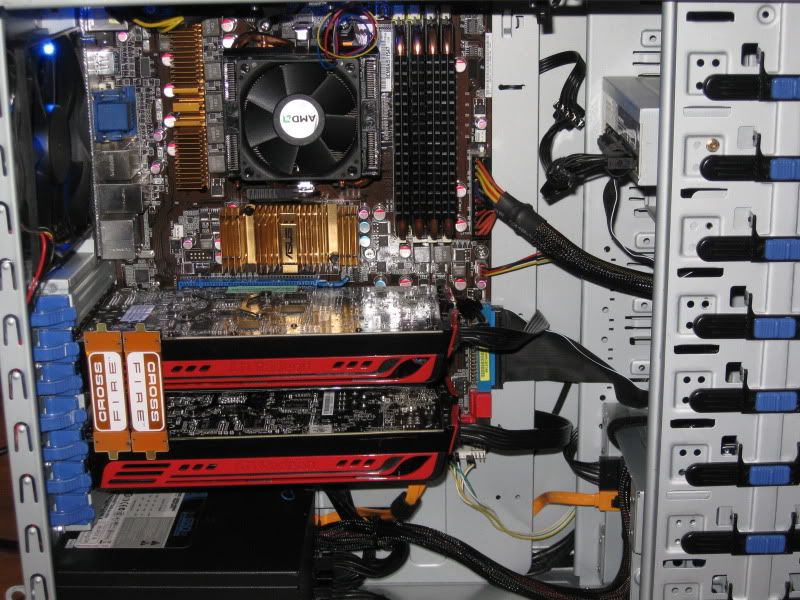 I mainly want to ship only to US48, but can ship anywhere if the extra shipping cost is covered.
Thanks guys!
CPU
Motherboard
Graphics
RAM
Intel 2500K @ 4.8GHz 1.36v
ASRock P67 Extreme4 Gen3
Sapphire Radeon HD 6970
8GB Corsair Vengeance 1600MHz
Hard Drive
Hard Drive
Optical Drive
Cooling
Kingston HyperX 3K 120GB x2
Samsung Spinpoint f3 1TB
Donkey with Laser Pointer
CoolerMaster Hyper 212+
OS
Monitor
Monitor
Keyboard
Windows 8.1 Pro with Media Center
2008 Apple Cinema HD Display 23"
Samsung 2443BWX
Logitec K750 Solar & Steelseries Zboard
Power
Case
Mouse
Mouse Pad
Corsair hx650w
Corsair Graphite 600t
Logitec M705 & Razer DeathAdder
IAMS pet food Vet Clinic pad
Audio
M-Audio Studio LX-4 5.1
View all
CPU
Motherboard
Graphics
RAM
AMD FX 8320 Stock
ASRock Extreme 3 970 ATX
Radeon HD 2400
32GB Corsair Vengeance Black CL9
Hard Drive
Hard Drive
Hard Drive
Cooling
Seagate 2TB 64MB 7200RPM
Seagate 320GB 16MB 7200RPM
Seagate 500GB 16MB 7200RPM
CoolerMaster GeminII S524
OS
Power
Case
Other
VMWare ESXi 5.1
Corsair CX500 80 Plus
CoolerMaster Elite 361
Intel PRO/1000 PT Dual Port Server
Other
Intel PRO/1000 PT Dual Port Server
View all
CPU
Motherboard
Graphics
RAM
Intel Core i7 "Sandy Bridge" @ 2.7GHz
Apple Logic Board
Intel 3000
8GB Crucial 1600MHz
Hard Drive
Optical Drive
Cooling
OS
Crucial M4 - 128GB
Apple Super Drive
Stock
OSX Mountain Lion
OS
Monitor
Keyboard
Windows 7 Ultimate 64bit
13" Apple IPS
Backlit Chiclet
View all
hide details
CPU
Motherboard
Graphics
RAM
Intel 2500K @ 4.8GHz 1.36v
ASRock P67 Extreme4 Gen3
Sapphire Radeon HD 6970
8GB Corsair Vengeance 1600MHz
Hard Drive
Hard Drive
Optical Drive
Cooling
Kingston HyperX 3K 120GB x2
Samsung Spinpoint f3 1TB
Donkey with Laser Pointer
CoolerMaster Hyper 212+
OS
Monitor
Monitor
Keyboard
Windows 8.1 Pro with Media Center
2008 Apple Cinema HD Display 23"
Samsung 2443BWX
Logitec K750 Solar & Steelseries Zboard
Power
Case
Mouse
Mouse Pad
Corsair hx650w
Corsair Graphite 600t
Logitec M705 & Razer DeathAdder
IAMS pet food Vet Clinic pad
Audio
M-Audio Studio LX-4 5.1
View all
CPU
Motherboard
Graphics
RAM
AMD FX 8320 Stock
ASRock Extreme 3 970 ATX
Radeon HD 2400
32GB Corsair Vengeance Black CL9
Hard Drive
Hard Drive
Hard Drive
Cooling
Seagate 2TB 64MB 7200RPM
Seagate 320GB 16MB 7200RPM
Seagate 500GB 16MB 7200RPM
CoolerMaster GeminII S524
OS
Power
Case
Other
VMWare ESXi 5.1
Corsair CX500 80 Plus
CoolerMaster Elite 361
Intel PRO/1000 PT Dual Port Server
Other
Intel PRO/1000 PT Dual Port Server
View all
CPU
Motherboard
Graphics
RAM
Intel Core i7 "Sandy Bridge" @ 2.7GHz
Apple Logic Board
Intel 3000
8GB Crucial 1600MHz
Hard Drive
Optical Drive
Cooling
OS
Crucial M4 - 128GB
Apple Super Drive
Stock
OSX Mountain Lion
OS
Monitor
Keyboard
Windows 7 Ultimate 64bit
13" Apple IPS
Backlit Chiclet
View all
hide details