A new game is coming out, Battle of Britain: Storm of War that calls for a modernization of pc components and I know for sure that my GPU is lacking, as I ran into this problem trying to run GTA IV on anything higher than low settings.
Im thinking at the very minimum I may need a new GPU, and at worst, a new build, which Im kinda low on funds for at the moment.
I have a saying when I build PC's, build it once, build it right.
Current specs were plenty for 3 1/2-4 years ago when I originally built this PC, but I think the time is coming for either a new build or Im hoping I can get by with just a new GPU.
28" Hanns-G LCD Widescreen
Q6700@3.16 GHZ
Zalman 110mm CNPS CPU Cooling fan
DS3R-EP35 MoBo
700 watt Extreme cooling P/S
7200 rpm seagate 320gb HD
4gigs of 1000 gskill ram DDR2 (Although it says 3582 mb of ram under properties)
8800 GTS 512mb GPU
Dual Partition Windows7/Vista O/S
Ok, new graphix card is a given, I understand that this is one of the first game to use Windows 7 abilities to its fullest extent, as much as 8gigs of ram and what not, but all I have is 4. I Might be able to get by on the Q6700 without having to upgrade to an i7 950 and MoBo which would call for a whole rebuild.
Not sure if 700watts is good enough for a much more demanding GPU, could someone let me know?
As for the GPU, Im thinking of getting a GTX 480 with 1536mb of RAM, I do not have SLI MoBo, so will this be one of those dual card/fits into one slot GPUs?
Please help me, as I have not really done any research on todays computer technology, and whether it might be time for a new build, or if I could buy a GPU and hold out a little longer when more discretionary money for PC building becomes available.
Im willing to spend $350-$500 on a new GPU as Im thinkin of not settling on less than 1536 mb of GPU ram (If it can fit into a single GPU slot MoBo), but would prefer a lot of bang for the buck rather than latest and greatest at a high price.
I also have $1500 in flight simulator equipment in wait for the new game to come out. Heres a pic of my flight simulation setup that Im very proud of.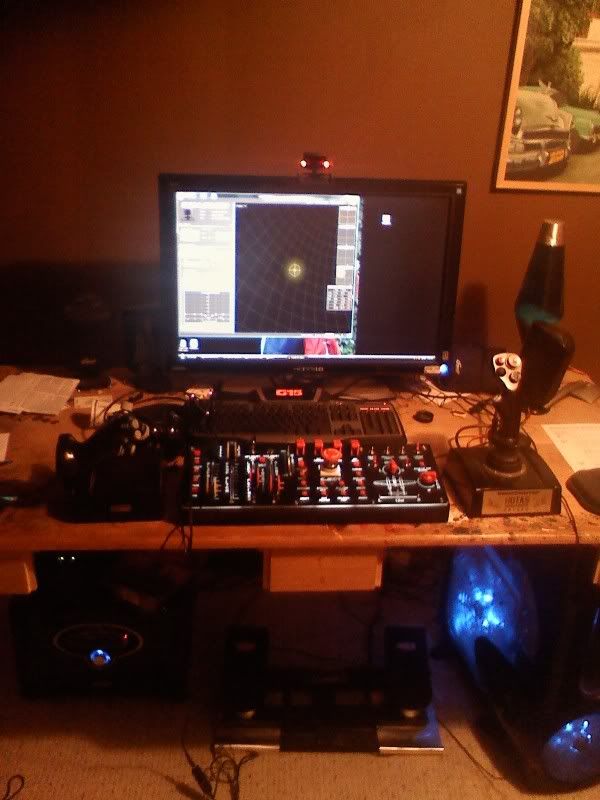 Edited by Lezbianseagull - 12/23/10 at 9:45am