I'm excited. Just placed my order for a Lensrental.com Lens lotto!! Not sure what i'm going to get.
Should've done it last night so i didn't have to pay more for overnight shipping.
Here is what i told them.
Quote:
I will be going to NYC for a trip 12/26 to 12/31.

I would like a good all around lens for NYC type shots.

I currently shoot with a Canon 5D Mark II, i will most likely be bringing my 24-70L, 135L, and Sigma 50 f/1.4 EX DG along. I think my tripod will be staying at home due to dodgy run-ins with cops.

Hope whatever you guys choose for me will be a great experience!
I could be getting anything from this list that fits my 5d mark II.. lets hope i get a 24 ts-e or 35L LOL
http://www.lensrentals.com/rent/canon/lenses/wide-angle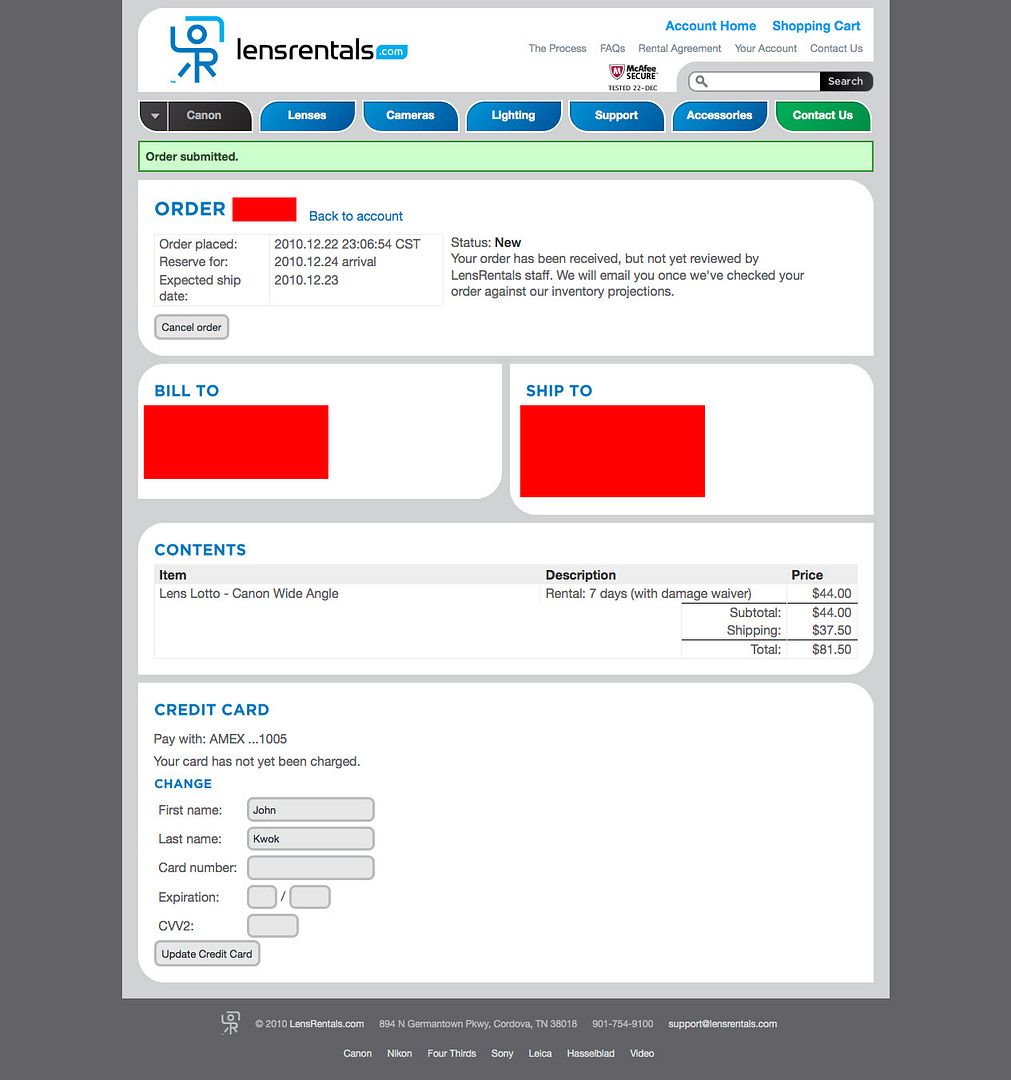 Edited by Eek - 12/22/10 at 9:19pm
CPU
Motherboard
Graphics
RAM
i7 920 D0/ PhII 965 c3/ p4 641/ celly 347 and more
e759 Classified/ Gig 790fxt-UD5P/ Asus Commando
EVGA GTX480/ vmod 8800gt/ vmod 4670/ 9600GSO
Elpida BBSE ddr3/ D9 base PNY ddr2
Hard Drive
Optical Drive
OS
Monitor
Ocz Vertex SSD/ Raid AALS/ 1.5tb 7200.12 and more
S2223F
Windows 7 Pro
Dell U2410 H-IPS Panel + ColorMunki Photo
Keyboard
Power
Case
Mouse
Realforce 86UB Variable
Enermax 1250w Galaxy and Corairs HX1000
Custom Monotone Tech station.
Deathadder 3.5g
Mouse Pad
Steelpad 5L
View all
hide details
CPU
Motherboard
Graphics
RAM
i7 920 D0/ PhII 965 c3/ p4 641/ celly 347 and more
e759 Classified/ Gig 790fxt-UD5P/ Asus Commando
EVGA GTX480/ vmod 8800gt/ vmod 4670/ 9600GSO
Elpida BBSE ddr3/ D9 base PNY ddr2
Hard Drive
Optical Drive
OS
Monitor
Ocz Vertex SSD/ Raid AALS/ 1.5tb 7200.12 and more
S2223F
Windows 7 Pro
Dell U2410 H-IPS Panel + ColorMunki Photo
Keyboard
Power
Case
Mouse
Realforce 86UB Variable
Enermax 1250w Galaxy and Corairs HX1000
Custom Monotone Tech station.
Deathadder 3.5g
Mouse Pad
Steelpad 5L
View all
hide details