So Newegg had a ridiculous Black Friday deal, selling a factory overclocked PNY GTX 460 1 GB for about $150 (765 MHz). I got the card and loaded it in. Recently, I saw an article on Tom's Hardware about a factory overclocked EVGA model that had performance comparable to a GTX 470. Intrigued, I loaded up some NVIDIA overclocking tools and got to work to match the FTW edition. Success!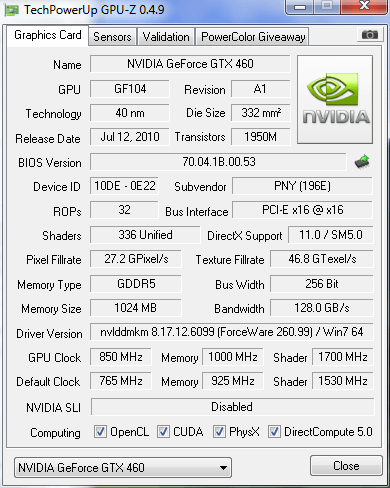 Tested it in FurMark and Half-Life 2 so far (I know, old game). Next up will likely be Metro 2033. I have a few questions:
1. I read a few posts on here about overclocking but didn't really see any images on what artifacts will look like. I assumed it would be strange lines going across the screen. Are they any more subtle?
2. Right now I'm running on an OCZ ModXStream Pro 500W PSU. It's not really a top-of-the line model, and the wattage is a little low. I'm considering getting the SeaSonic 80 Plus Gold 650W model at some point. In the meantime, I'm wondering: would the lesser power supply affect my overclock that much? Should I bump it up to keep things nice?
3. I'll probably want PhysX when I run Metro 2033. Will I need a dedicated PhysX card or could the overclocked GTX 460 handle the load? 1920x1080 resolution.