Project Fire Sail
Update 3/24/11: So I've come to the point where i can start the build up again but now I have completely changed my mind on this kind of rig. I have hit complications with the cost vs. output. I just switched electric companies after moving into my new place and they are a bit more expensive than where I was at. The GPU farm would take up too much power for me to afford to run basically, unless I went without AC in south Texas *you're crazy if you say I should*. As such, I will be canceling the build altogether. I know a lot of people have been wanting to see this happen, but the cost is just too high. Not only will it take up a lot of power but it will heat up my place considerably more than a -bigadv rig would *6 GPU's at 80c vs. 1 cpu at 65C is a HUGE difference*
I'm sorry again for people who followed this thread and were really wanting to see the build. I will however start a different build and I promise not to disappoint. Once I have all my materials together *I'm 99% there* and a very solid understanding of what I'm looking to do, I'll post a new thread. The only thing I will give you about that build is: Sandy Bridge
Update 3/5/11: So I started doin some testing with 5 gpu's all on the PCI-E connections and am having a hard time getting the 5th GPU folding. I had to use version 160 drivers to get the gpu's folding, so I'm trying to figure it out. Just note that I'm working hard on this and hopefully I can get this going soon. I'm still looking to start building the case in April and running. If I can't get all 5 or 6 of the GPU's running, then I'll just shove 2 systems in one case. ether way, it's gonna be awesome.
Update 1-19-2011: So I've done my finances and it looks like this build is going to be delayed. I have some unexpected repairs that need to be handled and it's pretty much going to drain me for the next month or two. I'll try to pick up items if I can to help the build along, but don't expect much in the way of progress on this thing till April. Sorry everybody
Update 1/8/2011: so I finally got settled into my new place of residence. I started measuring and noticed I ran into an issue with my network. I couldn't figure out how to set up everything. I don't want wifi on computers. so i decided to make a terminal for my network next to my farms.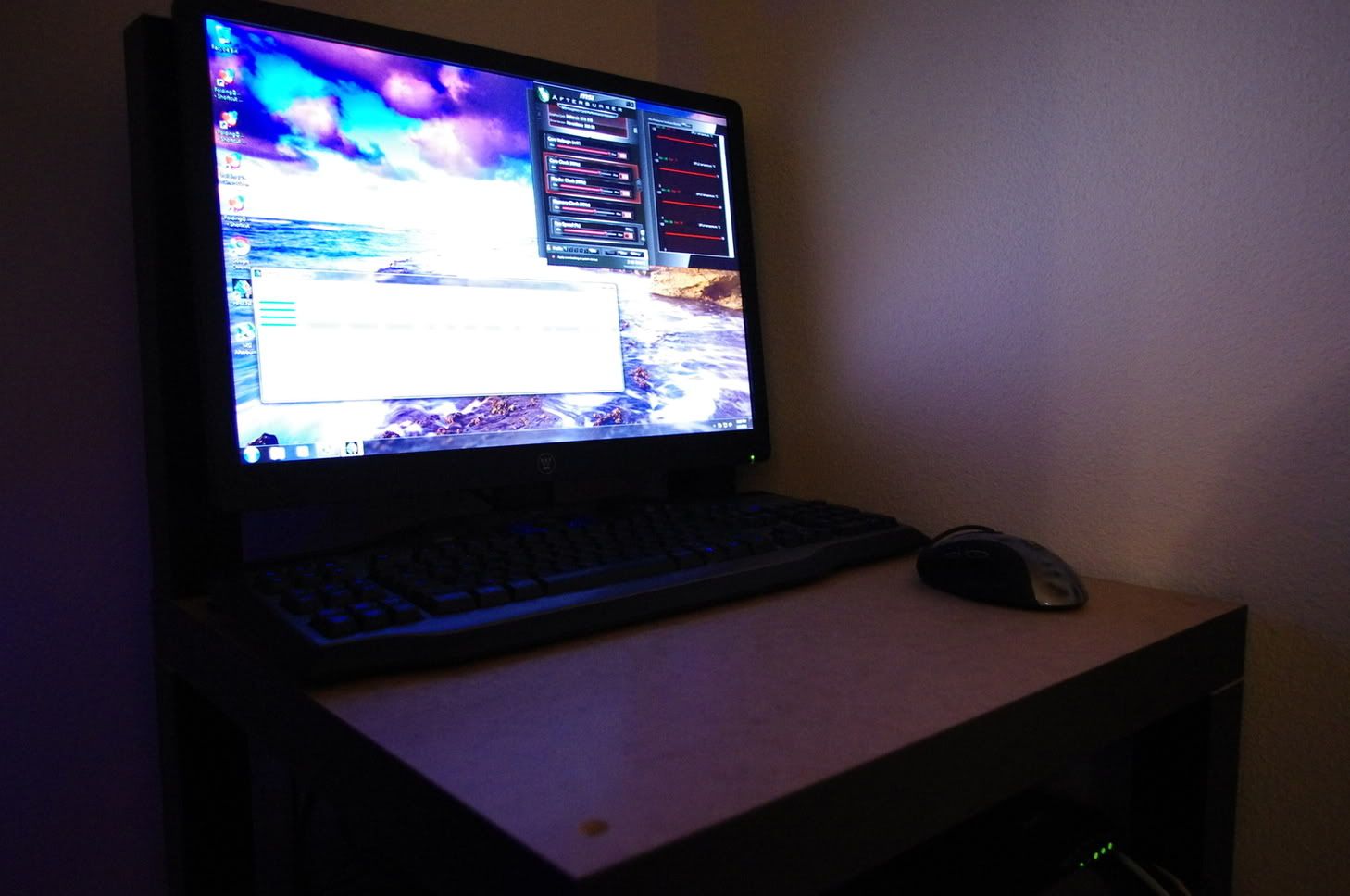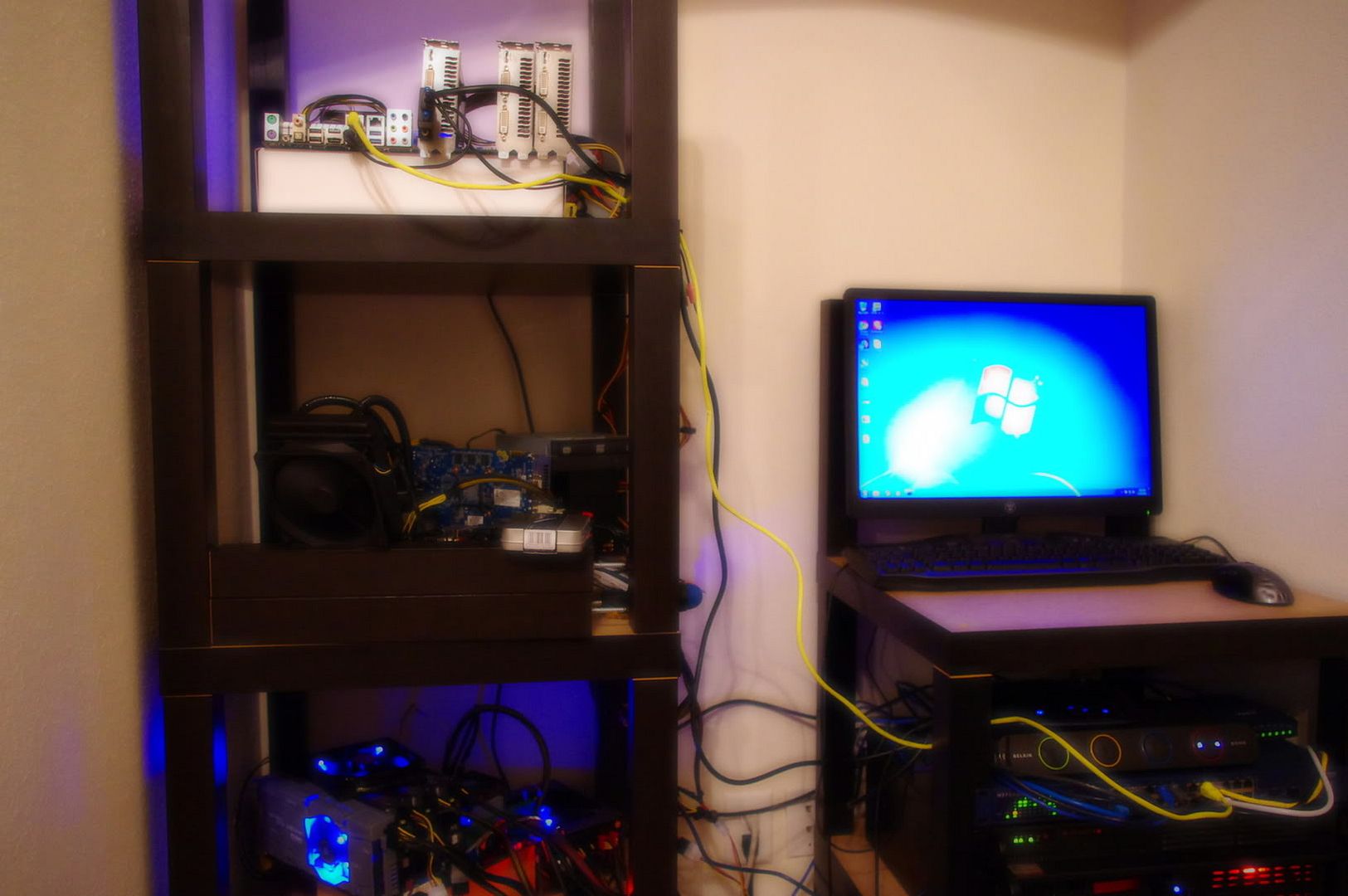 Here's how incognito it is when you enter my place!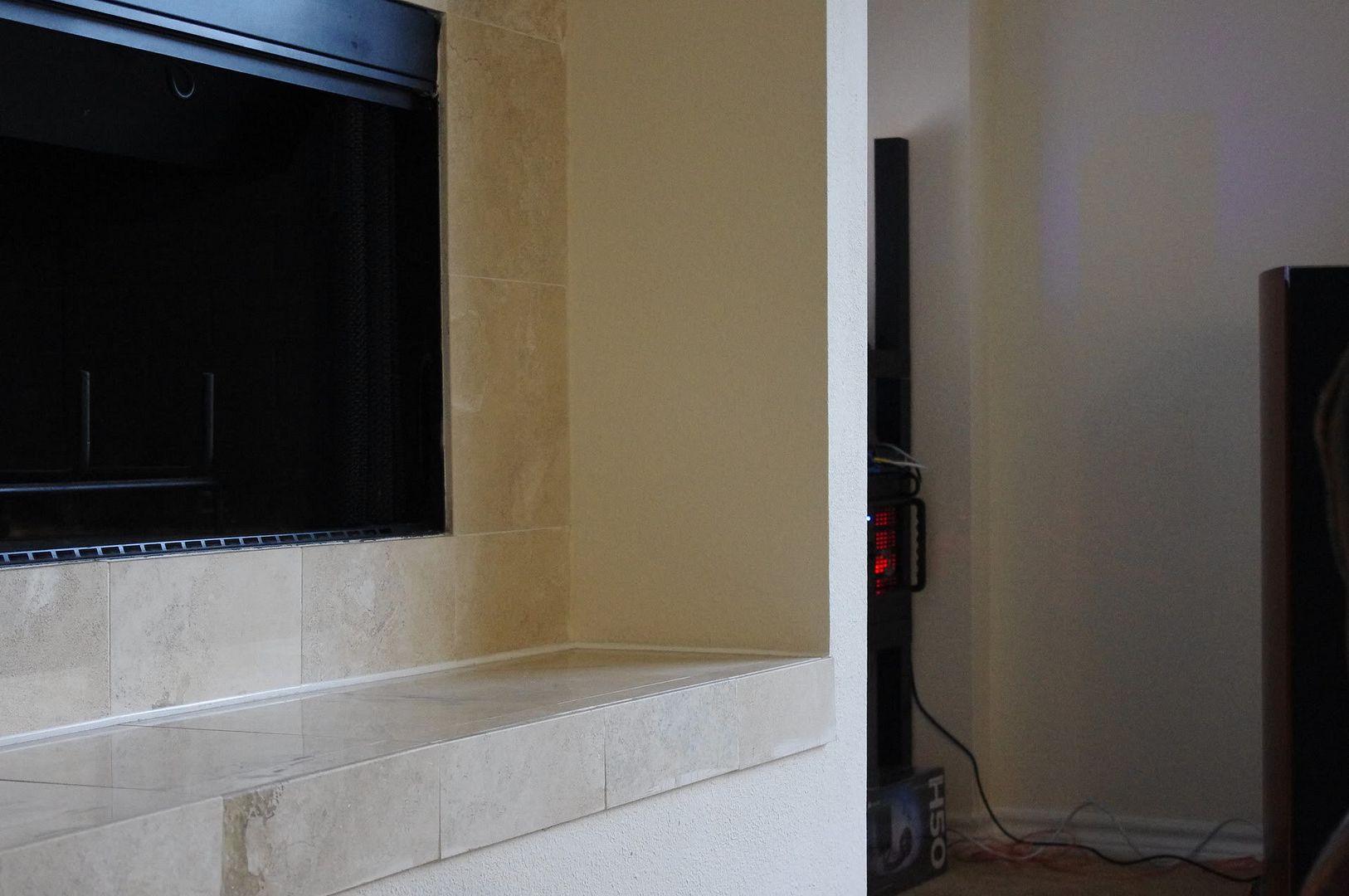 well hello! Welcome to my build for OCN F@H project. This build is going to go through a lot of the process of building a Farm that is manageable in an apartment / townhouse with limited room.
Now this build will be housing some serious horsepower. I'm looking at 50k-55k PPD per setup. It will be the following hardware:
1)
MSI 890FXA-GD70
2)
EVGA 01G-P3-1452-TR GeForce GTS 450
I'll be using 6 of these... yes 6 of them.... SIX!!!!!
3)
AMD Athlon II X2 255
4)
Thermaltake 850watt Modular PSU
5)
PCI-E 1x riser with ribbon cable
6)
PCI-E 16x riser card with Ribbon Cable
Now this is going to be a very different kind of build from a lot of builds I have seen here on OCN. The idea is to do the three key things:
1) Air Flow- This build must have the airflow to cool off 6 GPU's using stock cooling.
2) Noise- This will be near my living room which means that it MUST be at a noise level that wont be disruptive if I'm watching a movie with the girlfriend.
3)Power Usage- Now this was the most difficult part. I have spent the past 2 months testing and monitoring various cards and even though the 15000 Point Per Day for the GTS450 are gone, they still are a great deal for the $$$$.
Now there are another few things I would like to nip-pick at but for right now, these standards will do very well. They can change if other parameters become more important.
Now what am I going to use to build the case out of. well, I had an idea after I saw
this
When I saw it, the light bulb came on and BAM! I had the idea of stacking. The basic idea would be to to make something nice outa some junky $7.00 Ikea tables. The plan is to do this:
Now this build will be using all Smoked Black Plexiglass. The thicknesses will be 1/4 and 3/8 inch cuts. The best part is I will start from the top down. I will build the first rig on the top table and then box in the middle table and replicate the top build with the same components on the middle table. It will be easy, stable, and able to fold under above normal ambient temps *here in Texas, summers are brutal*
Q and A
Quote:
Originally Posted by
cdolphin
Seems this is slightly more expensive than going the i7 farm route? Unless you got epic deals on the GTS450?
On that note, care to explain your budget?
I thought about going with the i7 build *that's what project Ba'al is in my sig*. The problem I have with i7 is that with -bigadv, you MUST have it overclocked to +4ghz and the time it takes to finish one WU is way to long. Also you have to consider that bigadv also demands a lot from a system which means you're going to need to spend more $$$$ on better cooling and components. Also, notice if you have an i7 system that crashes, you've pretty much lost all the work you've done that that WU.
The reason i went with GPU's was because the time it takes one -bigadv to complete *which the ppd changes* I would have done +100K on just one GPU farm. They are also less prone to crashing randomly or locking up. The i7 is great for dumping massive PPD at once, but during a week of folding, the GPU farm will beat it.
My budget was about... i would say $1,000 for hardware. Most of the Budget when to getting the GTS450's, which I have picked up over time. retail, I've spent almost $130 per card, but with deals on newegg, Frys, and black friday sales, I spent $89 bucks on each card. I also got the open box deals on the motherboard at Newegg which, before they raised the price was $120. I believe I've stayed within the budget for the hardware. Outside that, is the case cost. As of right now, it's only cost me $23 for 3 tables at Ikea.
The smoked Acrylic will cost me almost $180.00 for a 4x8 sheet. other than that, then you get to the little stuff like screws and bolts and all that good stuff. i think I've reserved about $400 for the case build, which will give me enough materials to do 2 or 3 of these builds. So the initial cost might be a bit more, but in the long run, I'll save significant amounts of $$$$ over buying PC cases.
More to come once I finish my testing and finalize the build diagram. It should come along much more quickly once I move next week and when I get payed.
Fire Sail =A computer attack in which communications, power, and utilities are all disabled. Shown in the movie Live Free or Die Hard.
Edited by AMD SLI guru - 3/24/11 at 1:09pm