Right now my case fan setup is as follows...
1 Intake at the bottom front 140mm 1000rpm
1 intake at the front of the top 140mm 1000rpm
1 exhaust at the back of the top 140mm 1000rpm
1 exhaust at the rear of case 120mm 1500rpm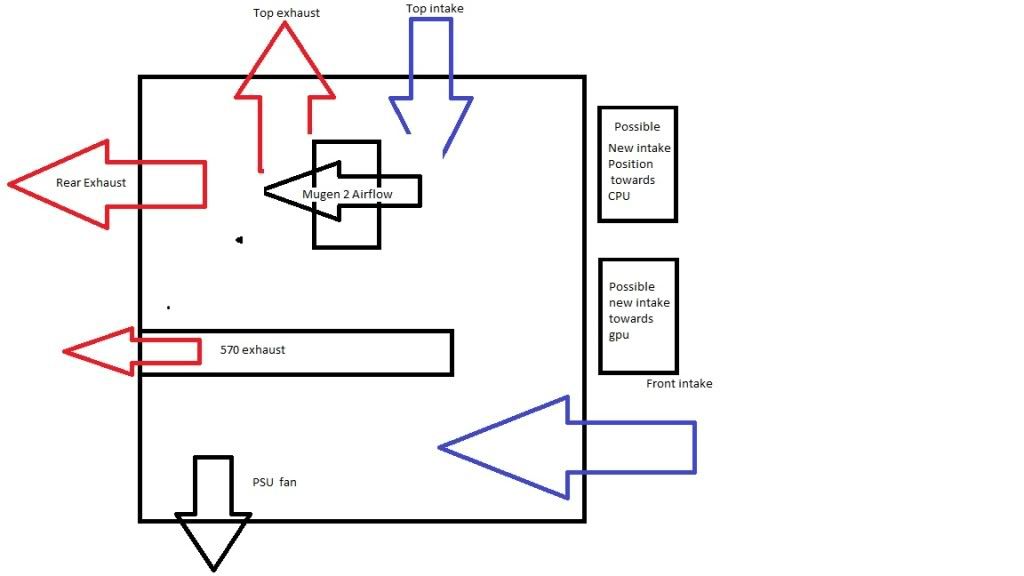 I have a $50 newegg gift card to spend and I don't have any money to put with it atm. I am looking at
this
front intake fan mount + fan
My question is this....I could run it in line with my mugen 2, or in line with my 570. Would either of these make a big enough difference to justify the extra fan? I plan on replacing the fan that comes with the kit with a more powerful fan if I decide to make the purchase.
Right now my cpu at load at 4.2 is running in the mid to high 40's, in prime it hits 54*C at max. My 570 at the overclocks in sig runs at 75*C max (when running at 100% usage for a couple hours, or around 65-70 when under a normal load of most games for a couple hours.
My temps are good right now, but I want to be prepared for summer when temps jump about 15*C from where they are right now in my room.
Is it worth it to add the fan to either of the positions? If so, what fan do you suggest I buy to replace the stock fan?
If not, what should I spend $50 on at newegg that will help my performance in some way....
Edited by CRosko42 - 12/28/10 at 7:04pm
CPU
Motherboard
Graphics
RAM
i5 2500k
Asus P8P67 Deluxe
EVGA GTX 680 @ 1290 Boost clock
8gb GSkill Sniper 1600 8-8-8-24
Hard Drive
Cooling
Cooling
OS
Crucial M4 64GB + 1.5TB Seagate 7200rpm
EK HF Supreme +Koolance VID-NX680
RX240 + 655 + Bitspower top + ek 250 adv res
Windows 7 Ultimate 64 Bit
Monitor
Power
Case
Yamakasi Catleap Q270 1440p
Seasonic X750
Corsair 800D
View all
hide details
CPU
Motherboard
Graphics
RAM
i5 2500k
Asus P8P67 Deluxe
EVGA GTX 680 @ 1290 Boost clock
8gb GSkill Sniper 1600 8-8-8-24
Hard Drive
Cooling
Cooling
OS
Crucial M4 64GB + 1.5TB Seagate 7200rpm
EK HF Supreme +Koolance VID-NX680
RX240 + 655 + Bitspower top + ek 250 adv res
Windows 7 Ultimate 64 Bit
Monitor
Power
Case
Yamakasi Catleap Q270 1440p
Seasonic X750
Corsair 800D
View all
hide details