Hey, Well I recently got a new computer, (sig rig) and I'm looking to watercool it.
I was wondering which kit I should get? The RASA DC 750
http://www.gammods.com.au/store/inde...oducts_id=3050
Total - $174.50
All I need -
-Tubing
-Distilled water
OR
.
This setup I've made up at my local pc shop, it's almost double the price and most of those components were the cheapest on the site
Total- $ 348.50
All I need-
-Distilled Water
-Fittings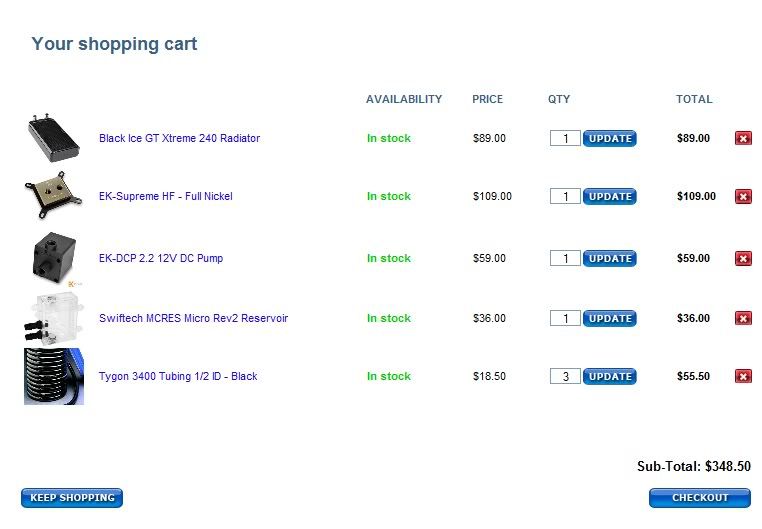 So which one you guys reckon? Or have I tottaly messed up and there both ****? I really have no idea about watercooling lol.
This is the pc it will be going into -
The rad MUST be a 240
Cheers.
CPU
Motherboard
Graphics
RAM
i5 760
P55
ASUS GeForce GTX 460 Direct CU 1GB @ 900mhz
8GB G-Skill 1600MHZ DDR3
Hard Drive
Optical Drive
OS
Monitor
1TB WD BLACK & OCZ Vertex 2 40GB SSD
Samsung Multi Drive
WIN 7 ULT 64bit
BENQ 27" 1920x1080
Power
Case
Corsair AX-850
Corsair 600T
View all
hide details
CPU
Motherboard
Graphics
RAM
i5 760
P55
ASUS GeForce GTX 460 Direct CU 1GB @ 900mhz
8GB G-Skill 1600MHZ DDR3
Hard Drive
Optical Drive
OS
Monitor
1TB WD BLACK & OCZ Vertex 2 40GB SSD
Samsung Multi Drive
WIN 7 ULT 64bit
BENQ 27" 1920x1080
Power
Case
Corsair AX-850
Corsair 600T
View all
hide details