Quote:
Originally Posted by
danglersaurus;11852897
New year, new thread!
It seemed appropriate to start one of these for 2011. Screenshot or image is fine. However, try to be generous if someone thinks your wallpaper is too good to pass up.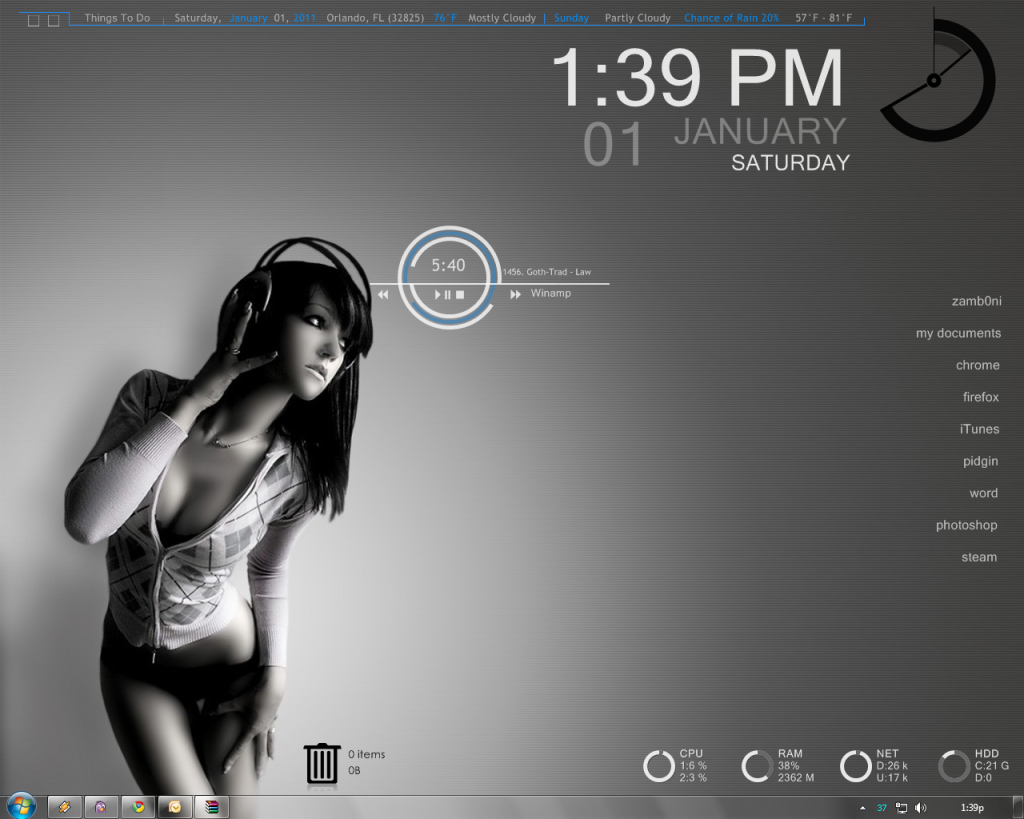 lol i was running that wallpaper last year for about 6 months.. good stuff.... deviant art ftw. vision hud for rainmeter goes well with it.
Laptop:
Desktop:
Edited by rmp459 - 1/7/11 at 2:18pm
CPU
Motherboard
Graphics
RAM
5960x @ 4.4ghz (1.19v)
evga x99 micro2
(2) evga gtx 980 ti hybrid
32gb hyperx 2666mhz
Hard Drive
Cooling
OS
Monitor
samsung 950 pro 512gb NVMe M.2 ssd
ek everything
win 10
xl2430t / u2515h (x2) / u2913wm
Keyboard
Power
Case
Mouse
cm novatouch w/ pbt caps.
evga 1200 p2
lian li pc-9f
nixeus revel
Mouse Pad
Audio
Other
steelseries qck heavy
gustard U12/X12 -> H10/Lyr
presonus 22vsl > mxl770 (mic)
View all
hide details
CPU
Motherboard
Graphics
RAM
5960x @ 4.4ghz (1.19v)
evga x99 micro2
(2) evga gtx 980 ti hybrid
32gb hyperx 2666mhz
Hard Drive
Cooling
OS
Monitor
samsung 950 pro 512gb NVMe M.2 ssd
ek everything
win 10
xl2430t / u2515h (x2) / u2913wm
Keyboard
Power
Case
Mouse
cm novatouch w/ pbt caps.
evga 1200 p2
lian li pc-9f
nixeus revel
Mouse Pad
Audio
Other
steelseries qck heavy
gustard U12/X12 -> H10/Lyr
presonus 22vsl > mxl770 (mic)
View all
hide details