I decided to run some tests with my new GTX 570 but it turned into cpu overclock scaling tests. Enjoy.
Test System: *also see sig
i7-930 @ (2.8, 3.36, 3.8, 4.2) with and without hyperthreading
Gigabyte x58A-UD3R
EVGA GTX 570 SC
6GB G.Skill @ 1600
500gb WD black
Methodology: I tried to keep everything as consistent as possible. Every time I would dial in a new processor clock I would load up windows and let it sit a few minutes until it seemed all start-up processes had stopped. I then opened my usual monitoring software ie: realtemp, Fraps, etc. Some of the tests gathered their own min/max/avg data and I used that while other programs I used fraps to gather my own data. I ran each test three times and took the average of that data.
*I've also included a spreadsheet of all the data I gathered including min/max/avg fps scores. I will only show the total average scores here.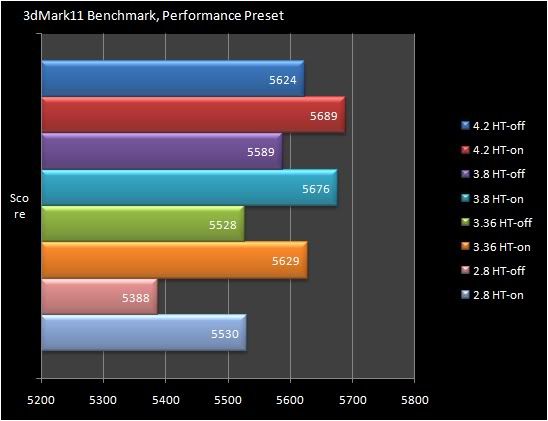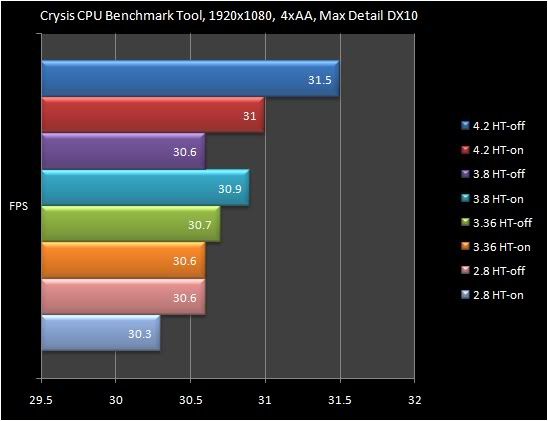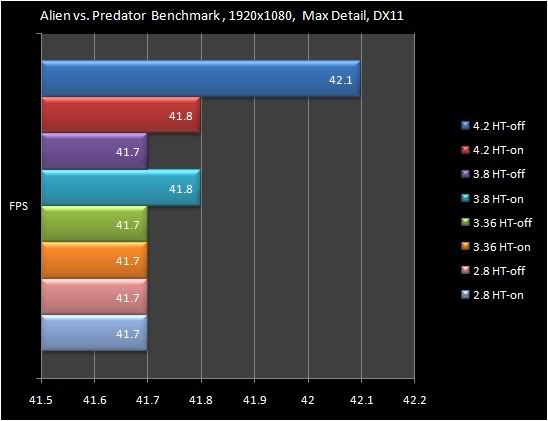 Edited by DBEAU - 1/1/11 at 4:20pm
CPU
Motherboard
Graphics
RAM
i7-2600k @ 4.6ghz
Gigabyte Z77X-UD5H
Zotac GTX 970 w/ Heatkiller
16GB G.Skill Ares (2133)
Hard Drive
Hard Drive
Cooling
OS
Samsung 830 256GB
Samsung 840 500GB
XSPC Raystorm / RX240 / UT60 / D5
W7 Home Premium 64
Monitor
Keyboard
Power
Case
X-Star DP2710 1440p
CM Quickfire TK (browns)
Seasonic X-660
NZXT Switch 810
Mouse
Audio
Audio
Zowie ec1 evo
Creative Soundblaster Z
Sennheiser HD558
View all
hide details
CPU
Motherboard
Graphics
RAM
i7-2600k @ 4.6ghz
Gigabyte Z77X-UD5H
Zotac GTX 970 w/ Heatkiller
16GB G.Skill Ares (2133)
Hard Drive
Hard Drive
Cooling
OS
Samsung 830 256GB
Samsung 840 500GB
XSPC Raystorm / RX240 / UT60 / D5
W7 Home Premium 64
Monitor
Keyboard
Power
Case
X-Star DP2710 1440p
CM Quickfire TK (browns)
Seasonic X-660
NZXT Switch 810
Mouse
Audio
Audio
Zowie ec1 evo
Creative Soundblaster Z
Sennheiser HD558
View all
hide details