New switches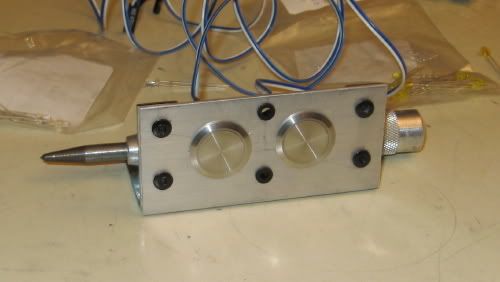 What's shown here is what Navig made? Simple cheap feeling button switches (every time I hit the button it felt like something is going to break inside), some tailed LEDs one for power and other for HDD, a self made mount for it all, and all attached with plastic rivets.
TO Hell with that! It has to change!
First off you all know I ordered powder coat for all the metal pieces and especially the same plate Navig made himself (Thanks again CyberDruid)
I also bought some Lamptron switches from P-PC in RED led.
Now it's going to be put all together. I soon learned that the plastic rivets were not the same size as the stainless steel ones I bought. To remedy this, I decided to use my left over Stainless button cap screws I have and then use a nut behind it to help keep it in place. The problem was I didn't have the nuts but I did have those brass knurl knobs that I won't be using anymore and next thing you know, it was a perfect substitute. There was a problem, it was brass, not stainless so I thought about it and remember a read on OCN on a type of spray-paint.
PLASTIC Dip! I had the spray in the garage!
I did not hesitate to use it and I say it came out nice!
Next was easy, slide the darn screw and knob it behind. I'm amazed that only an 1hr past since I sprayed it and the rubber is stuck on good.
Done!
Edited by IKIKUINTHENUTZ - 1/3/11 at 2:06am
CPU
Motherboard
Graphics
RAM
i7 860
EVGA P55 FTW
MSI Lighting 5870 1gb
4gb GEILD black dragon
Hard Drive
Optical Drive
OS
Power
3 X 60gb SSDs
DVD-RW
Windows 7 Pro x64
Enermax 1050w
Case
Navig TechStation (heavily modded)
View all
hide details
CPU
Motherboard
Graphics
RAM
i7 860
EVGA P55 FTW
MSI Lighting 5870 1gb
4gb GEILD black dragon
Hard Drive
Optical Drive
OS
Power
3 X 60gb SSDs
DVD-RW
Windows 7 Pro x64
Enermax 1050w
Case
Navig TechStation (heavily modded)
View all
hide details