got this on new year day for $90 after MIR. 700/1400/924 clocks factory oc
yes 768 MB version. but i never go over 754 MB even with crysis and antialiasing at 1440x900 so no worries there.
i haven't send the rebate yet as i'm just making sure it won't die on me after a few gaming session overclocked.
opened it up and changed TIM. that caused a few degrees increase in temp not sure wise. suppose to drop the temp. going to look into that later when i have time.
currently folding away
at
1.087 volt
900 Mhz core
1800 MHz shader
stock factory overclock 924 MHz memory. when i games i increase this to 1050 Mhz
temperature is at 68-69 C folding. it never breaks 73 while gaming. room ambient is at 67 F and case ambient is at 22 C. fan speed is on a custom profile and is running at less than 50% since 50% is for 70 C and i'm not at 70. the stock fan profile is the same thing i believe.
the overclock gets unstable with OCCT error checking when temps breach 80 C. fan gets pretty loud too. i set it to ramp up a lot when it go nears 80 as that's the point of instability. but it never gets that hot when playing games so it doesn't matter.
overal pretty good in terms of performance
crysis GPU benchmark
average 50 fps for crysis on very high no AA
average 44 fps for crysis on very high 2x AA
haven't tried 4x AA yet as i think i'll run out of VRAM and fps will go awry.
i think i'm safe for crysis 2
now come the pictures
ignore dates on pictures please.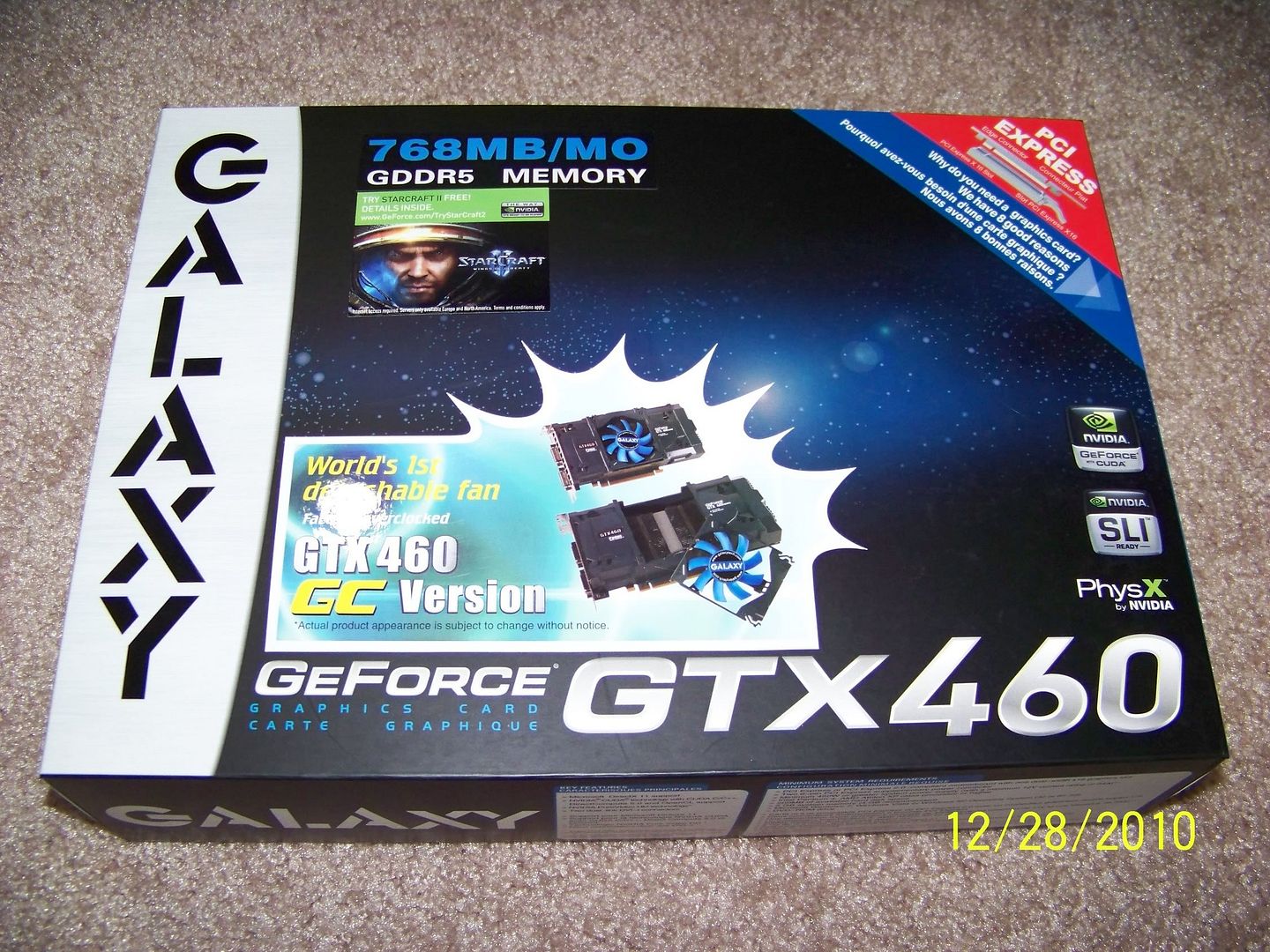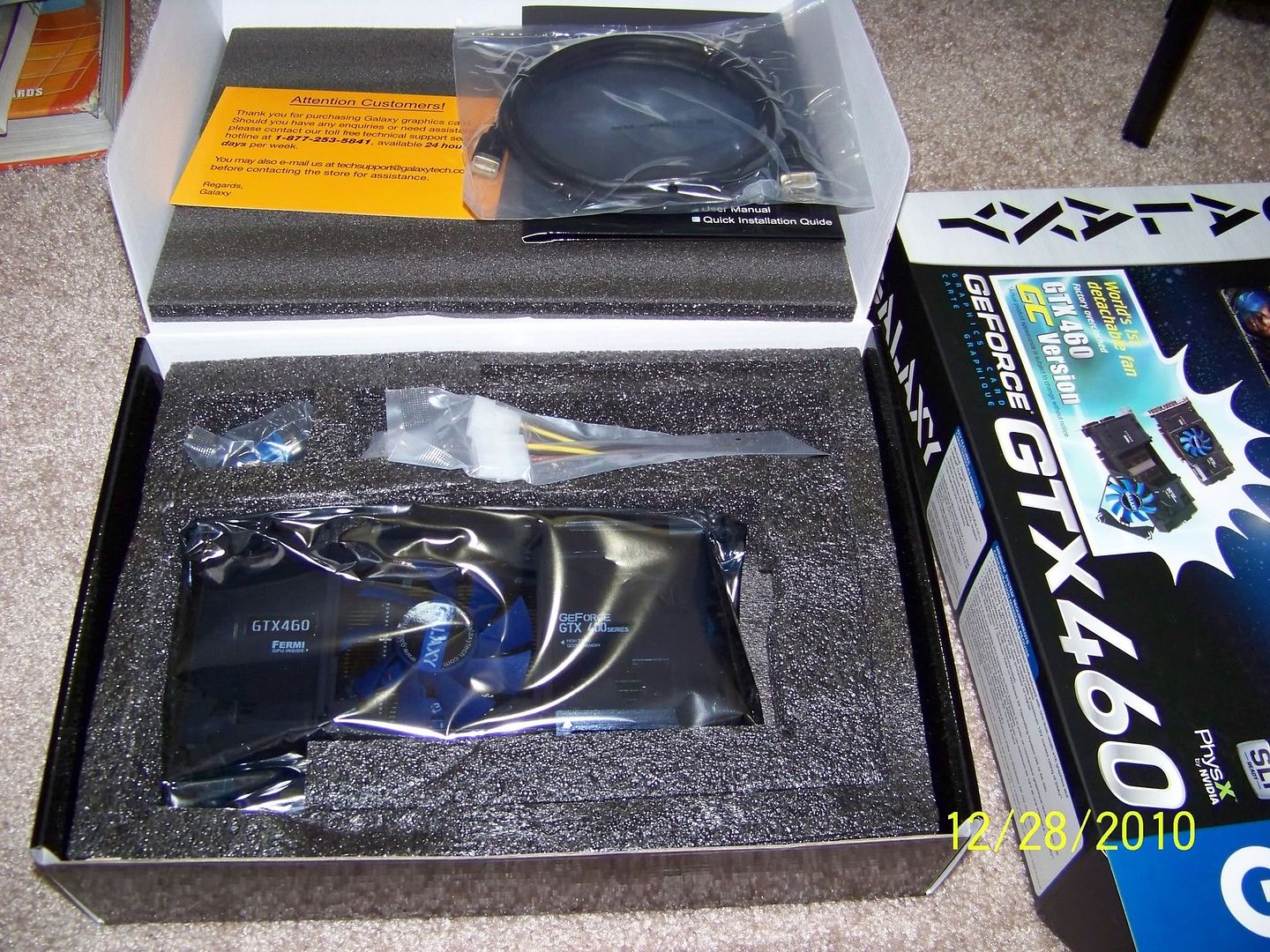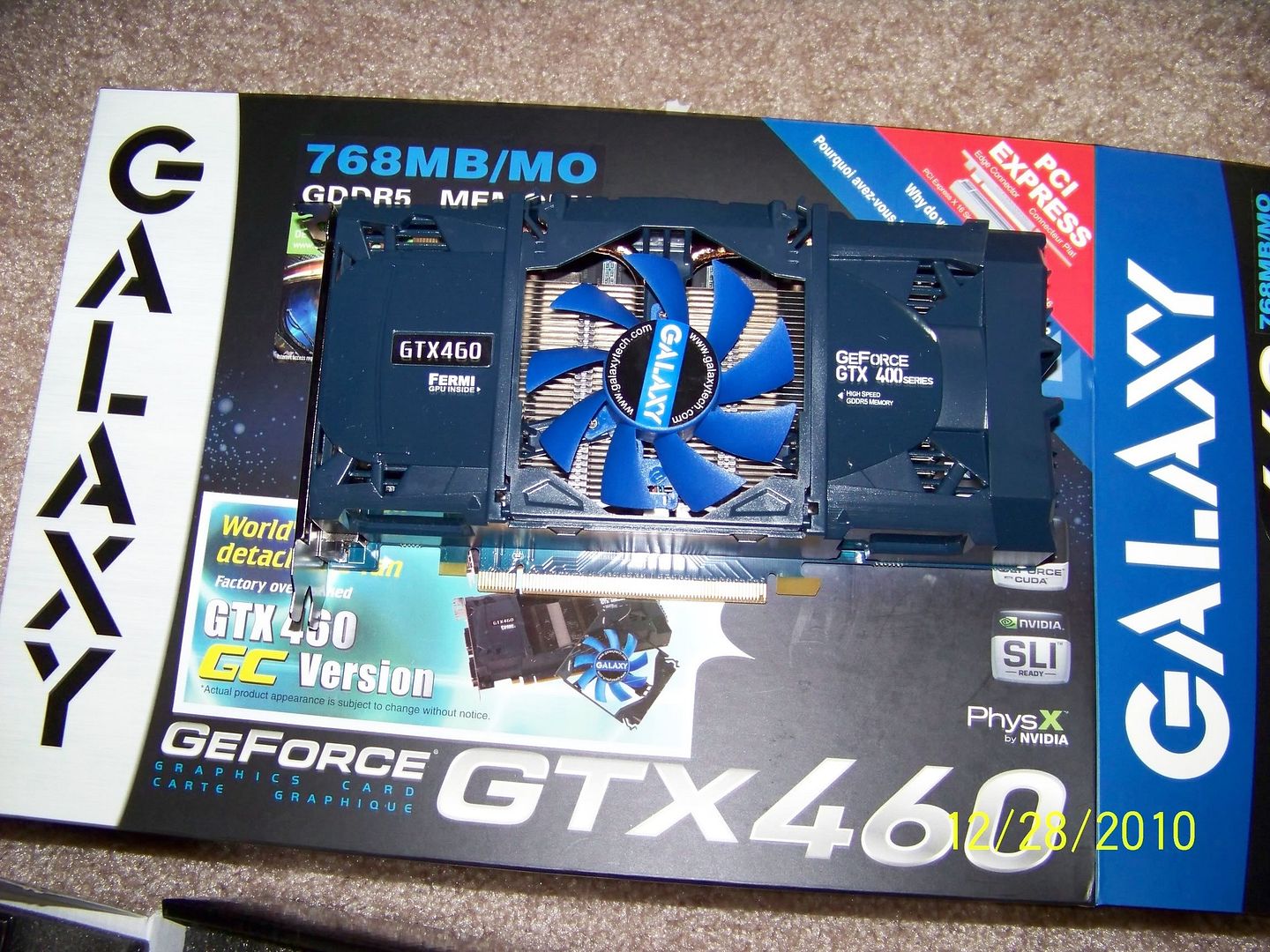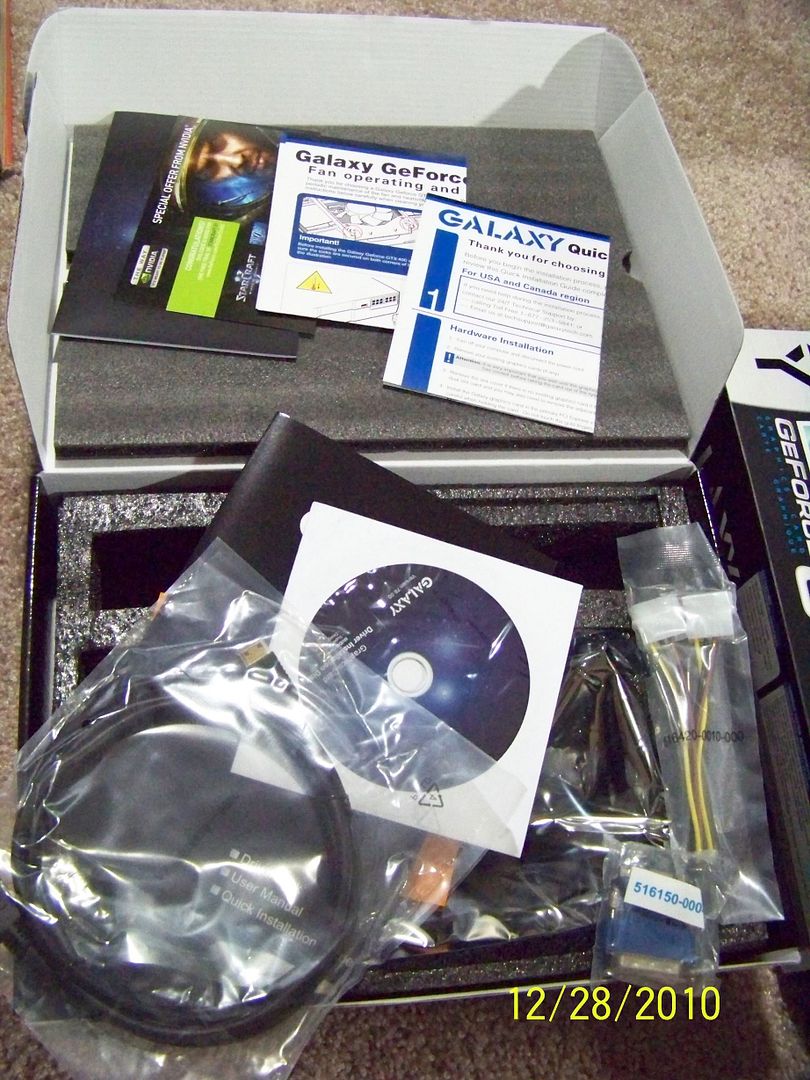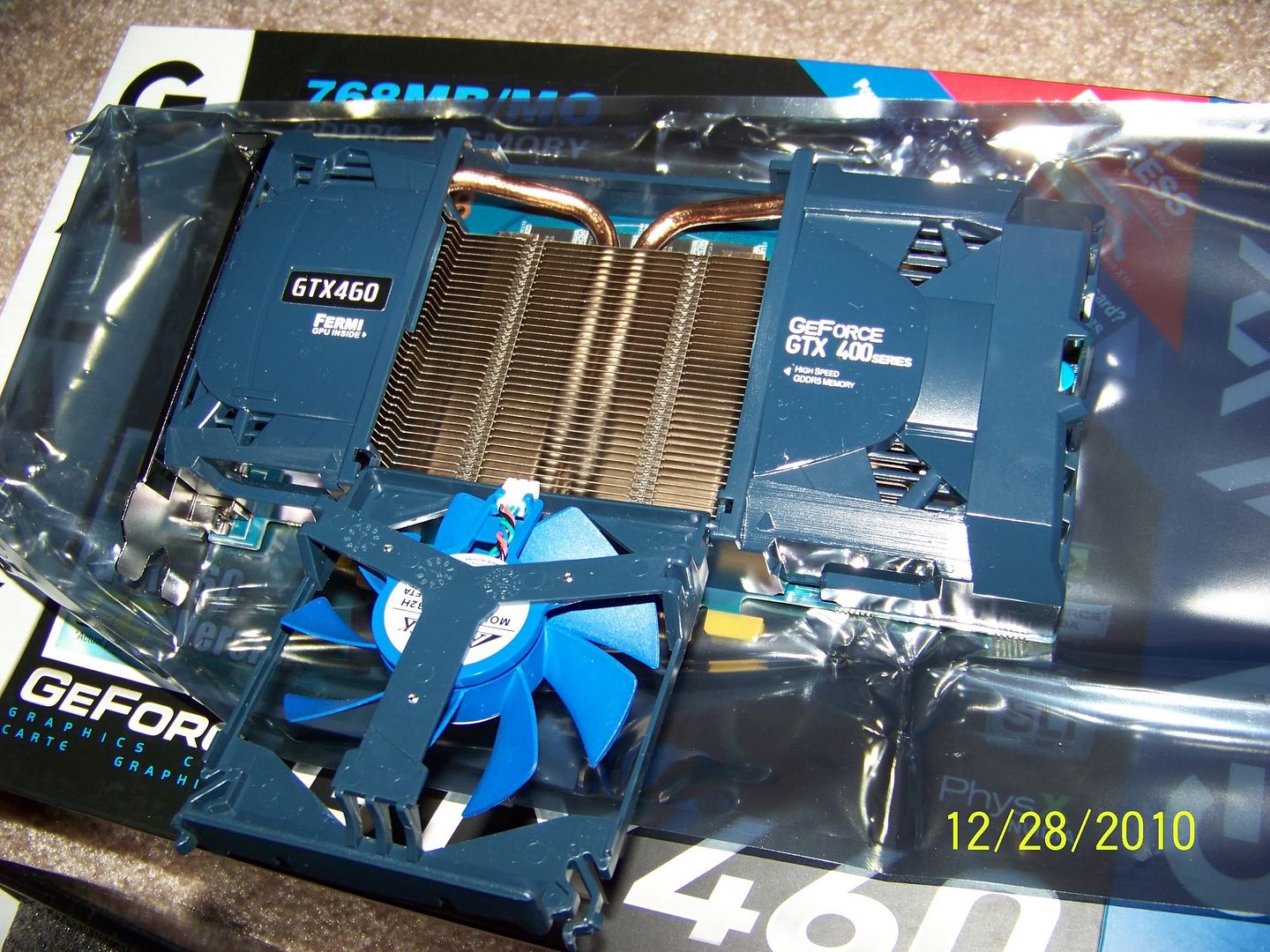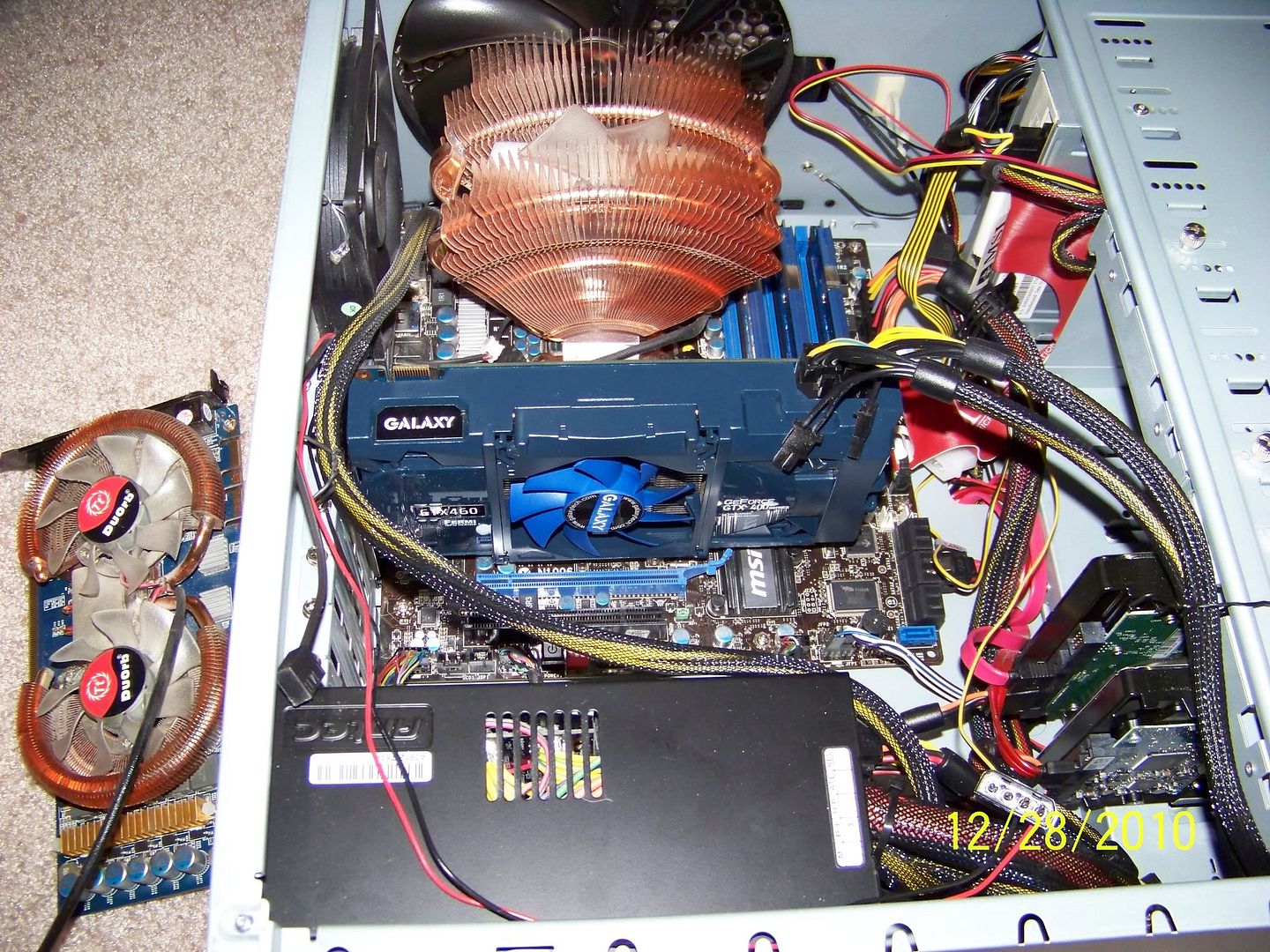 excuse the messy and dusty case. i just cleaned it today.
oh yea and that's my old GTS 250 right there. it's longer and it's slower. time to put it into storage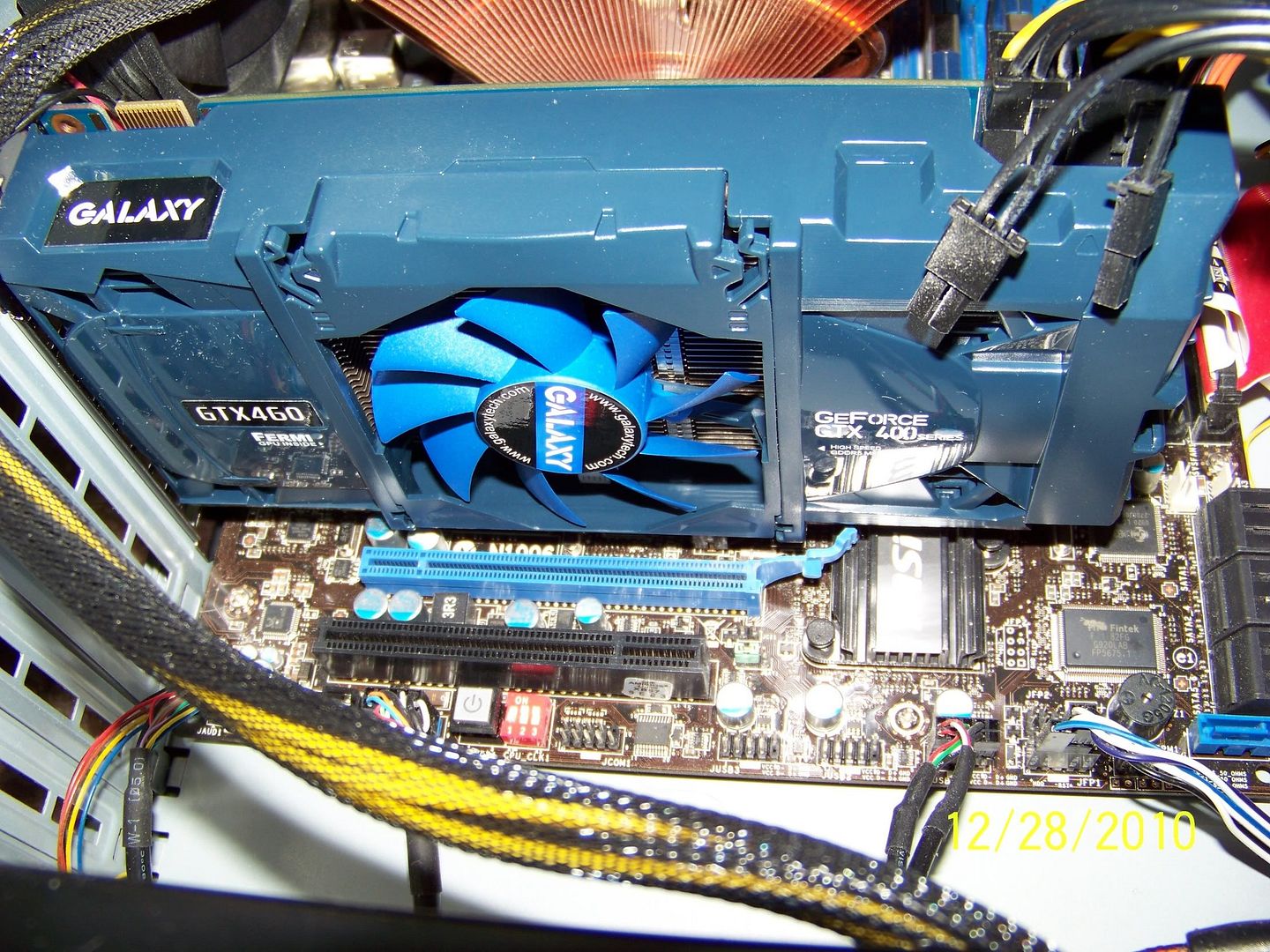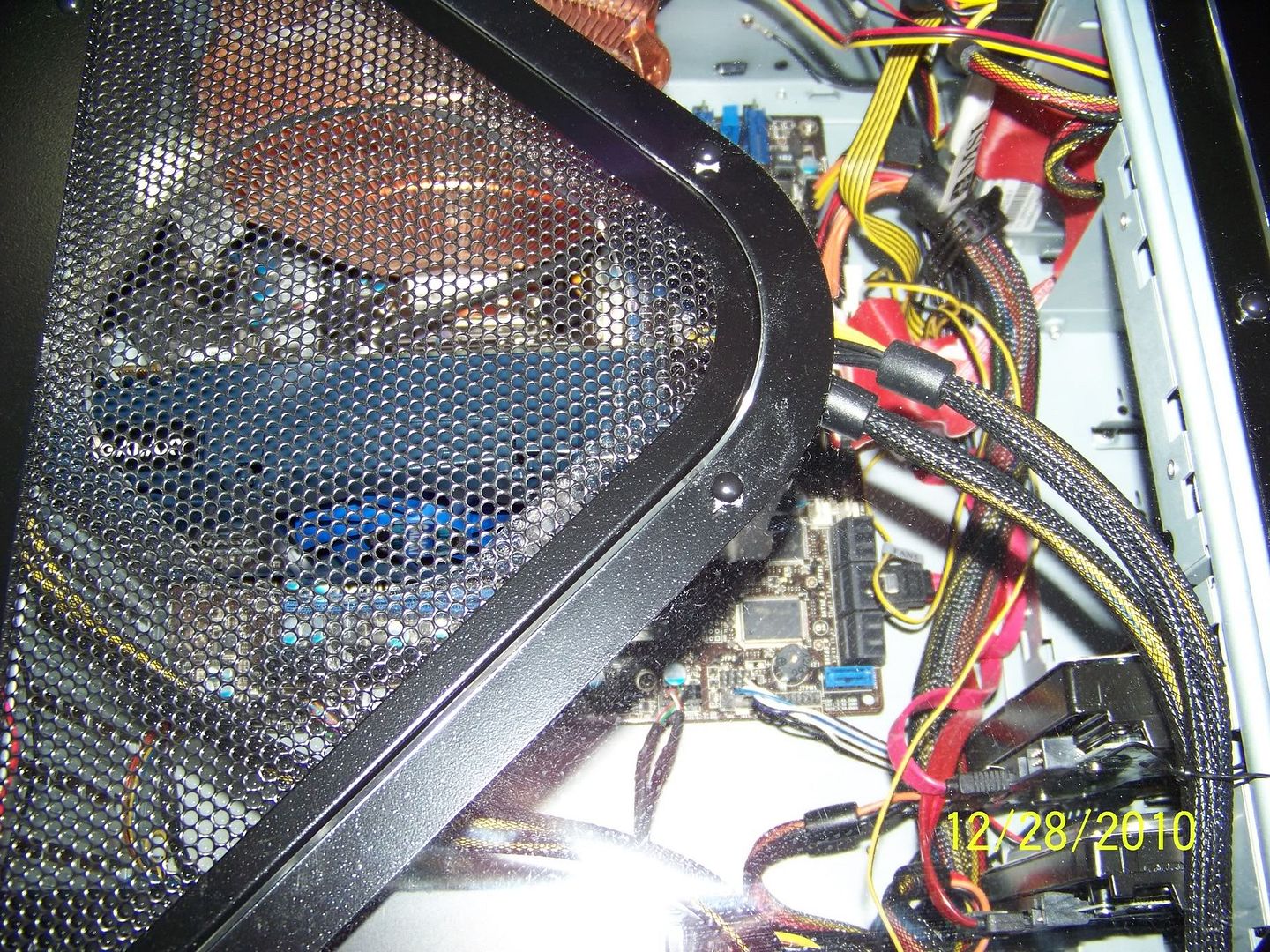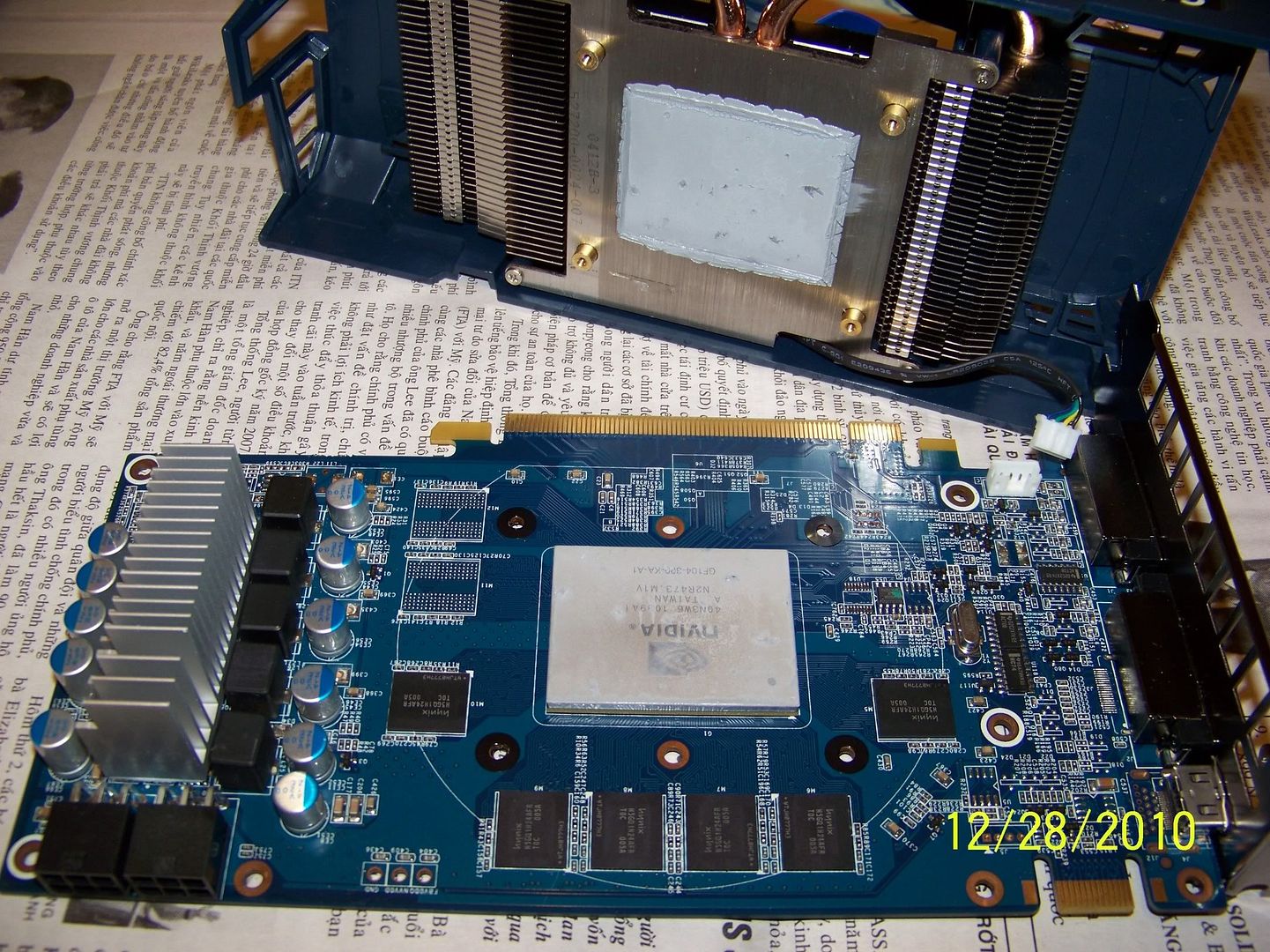 yucky TIM application! completely dried up.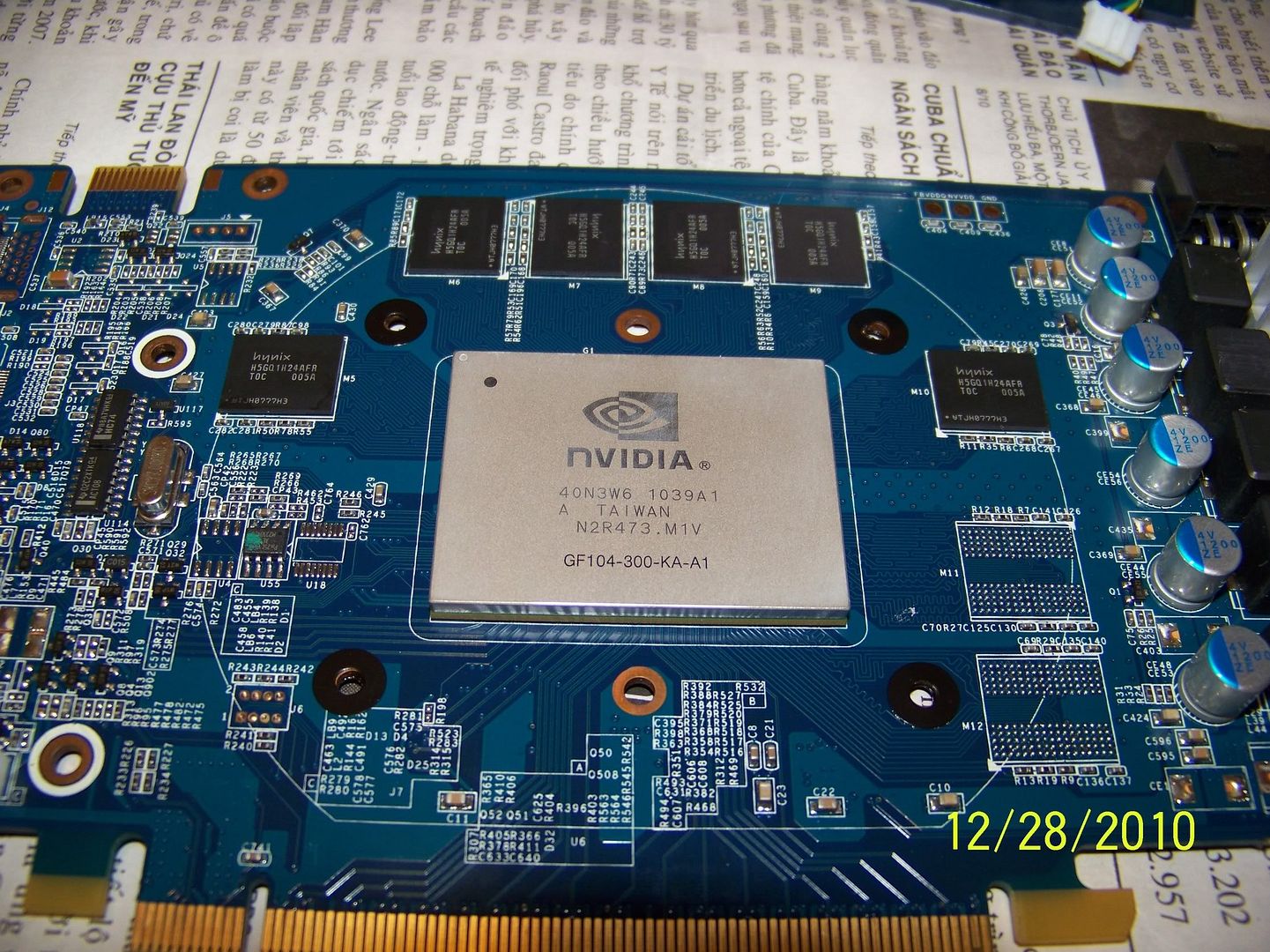 the beauty with her six servants
(ok someone tell me how to solder 2 RAM chips into those empty spaces
unlockable to GTX 560 in the future maybe?
is that the similar GPU that ya'll got?
anyway i did an X application of TIM for the GPU. worked really well for my CPU not sure why the temp increase. maybe that's gone away i haven't really noticed
any opinion on TIM application?
CPU
Motherboard
Graphics
RAM
INTEL Core i7 6700K
ASUS Maximus VIII Hero Z170
MSI Geforce GTX 980 Ti Gaming 6G
G.SKILL Ripjaws 4 series 16GB DDR4 3000
Hard Drive
Hard Drive
Cooling
OS
SAMSUNG SM951 NVMe 512GB
SAMSUNG 850 EVO 1TB
COOLER MASTER Nepton 280L
MICROSOFT Windows 10 Pro x64
Monitor
Monitor
Keyboard
Power
BENQ XL2420TE
DELL UltraSharp U2415
WASD V2 custom
CORSAIR HX850i
Case
Mouse
Audio
Other
NZXT H440 white
CORSAIR Vengeance M95
CREATIVE Sound Blaster Z
CPU Delid
Other
LED Lighting
View all
CPU
Motherboard
Graphics
RAM
Intel Core i5 4300U
Microsoft Surface
Intel HD Graphics 4400
8 GB DDR3L
Hard Drive
OS
Keyboard
Mouse
256 GB SSD
Windows 10 Pro x64
Surface Pro 4 Type Cover with Fingerprint ID
Microsoft Arc Mouse Surface Edition
View all
hide details
CPU
Motherboard
Graphics
RAM
INTEL Core i7 6700K
ASUS Maximus VIII Hero Z170
MSI Geforce GTX 980 Ti Gaming 6G
G.SKILL Ripjaws 4 series 16GB DDR4 3000
Hard Drive
Hard Drive
Cooling
OS
SAMSUNG SM951 NVMe 512GB
SAMSUNG 850 EVO 1TB
COOLER MASTER Nepton 280L
MICROSOFT Windows 10 Pro x64
Monitor
Monitor
Keyboard
Power
BENQ XL2420TE
DELL UltraSharp U2415
WASD V2 custom
CORSAIR HX850i
Case
Mouse
Audio
Other
NZXT H440 white
CORSAIR Vengeance M95
CREATIVE Sound Blaster Z
CPU Delid
Other
LED Lighting
View all
CPU
Motherboard
Graphics
RAM
Intel Core i5 4300U
Microsoft Surface
Intel HD Graphics 4400
8 GB DDR3L
Hard Drive
OS
Keyboard
Mouse
256 GB SSD
Windows 10 Pro x64
Surface Pro 4 Type Cover with Fingerprint ID
Microsoft Arc Mouse Surface Edition
View all
hide details