So...yes lots will hate me for this...you should see the read speeds in AS SSD Benchmark but writes are slow because its random since ATTO uses 0fill by default and CrystalDiskMark is clever as the test file don't get compressed when it writes it.
If you want to test just right click on your SSD in computer > properties and check "Compress this drive to save disk space" and apply.
Note: you can click cancel before its done so it doesn't do the whole drive which will allow you to test ATTO right away.
So this is what happens with three Intel SSD's in RAID 5 but would like to see what a single SSD gets up to with NTFS compression.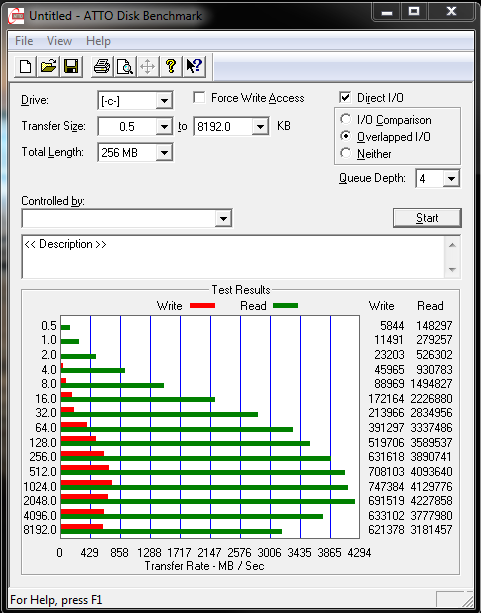 CPU
Motherboard
Graphics
RAM
i7 860
Gigabyte GA-P55-UD4
Gainward GTX 295 V2 1792MB
8GB (4x2GB) Corsair XMS3 DDR3 1600MHz XMP
Hard Drive
OS
Power
Case
3x 80GB Intel SSD M25-M G2---3x 320GB Seagate 7200
Windows 7 professional 64-bit
Thermaltake Toughpower 650W
Cooler Master WaveMaster
View all
hide details
CPU
Motherboard
Graphics
RAM
i7 860
Gigabyte GA-P55-UD4
Gainward GTX 295 V2 1792MB
8GB (4x2GB) Corsair XMS3 DDR3 1600MHz XMP
Hard Drive
OS
Power
Case
3x 80GB Intel SSD M25-M G2---3x 320GB Seagate 7200
Windows 7 professional 64-bit
Thermaltake Toughpower 650W
Cooler Master WaveMaster
View all
hide details