Results: After a lot of testing with all of the ideas thrown around in this thread I determined that having my current configuration without the top rear exhaust yields the best temperatures for my case.
I am maxing out at 52*C on prime after 5 hours with the usual temp at 50-51. I haven't done much game testing but I am happy with the 3-4*C drop from the new fans I've used. I'm currently working on lowering my voltage bit by bit until I am no longer stable. Currently 12hr prime blend stable at 4.2 with only 1.51 and my nb at 2800.
Would like to give a quick recommendation for the Coolermaster R4 fans. Only ~$7, look sharp, nice and quiet at max speed. Just replacing my two heatsink fans and my front intake with these fans lowered my temps from stock fans by 3-4*C which is a great return on ~$21 considering the cost of some of the high end fans.
Thanks again for all the help everyone!
__________________________________________________ _____________
Ok everyone, I recently posted here about adding an additional front intake to my case. I went ahead and purchased that intake fan and adapter and installed it.
I am waiting on some new fans to arrive to replace the crappy stock fans I am currently using, I just want to get some ideas about intake/exhaust for each with my current setup.
Heres a diagram with how I have it set up right now: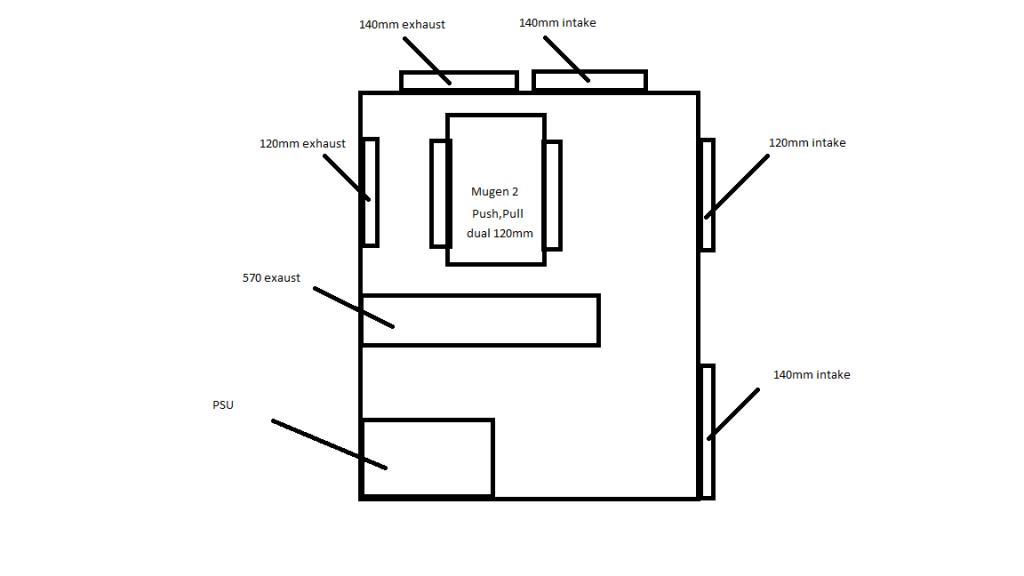 Edited by CRosko42 - 1/10/11 at 6:08pm
CPU
Motherboard
Graphics
RAM
i5 2500k
Asus P8P67 Deluxe
EVGA GTX 680 @ 1290 Boost clock
8gb GSkill Sniper 1600 8-8-8-24
Hard Drive
Cooling
Cooling
OS
Crucial M4 64GB + 1.5TB Seagate 7200rpm
EK HF Supreme +Koolance VID-NX680
RX240 + 655 + Bitspower top + ek 250 adv res
Windows 7 Ultimate 64 Bit
Monitor
Power
Case
Yamakasi Catleap Q270 1440p
Seasonic X750
Corsair 800D
View all
hide details
CPU
Motherboard
Graphics
RAM
i5 2500k
Asus P8P67 Deluxe
EVGA GTX 680 @ 1290 Boost clock
8gb GSkill Sniper 1600 8-8-8-24
Hard Drive
Cooling
Cooling
OS
Crucial M4 64GB + 1.5TB Seagate 7200rpm
EK HF Supreme +Koolance VID-NX680
RX240 + 655 + Bitspower top + ek 250 adv res
Windows 7 Ultimate 64 Bit
Monitor
Power
Case
Yamakasi Catleap Q270 1440p
Seasonic X750
Corsair 800D
View all
hide details