I am finishing my first W/C adventure. Its duel loop, as you can see. Upon completion last night I looked at it and realised the GFX loop could be alot cleaner by returning the used water directly back to the rad (shown in red) rather than the messy path it takes now (in yellow)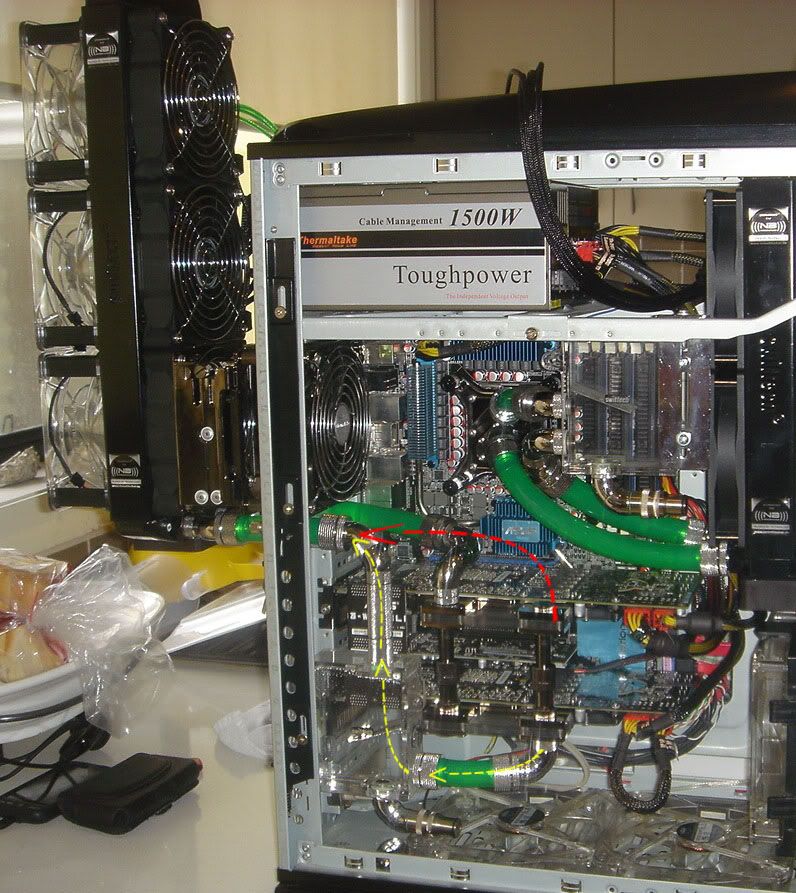 CASE- Thermaltake Armour, i7 940 on Asus P6T6 MB, 2 x 140 intake fans on bottom, 2 x 140 HDD case fans in push/pull, front---> back, 220 side case intake fan, rear 120 exhaust fan
GFX- Koolance blocks on reference MSI GTX480's, primochill 1/2 id, 3/4od tubing (green), CCH5 fittings + various G1/4 rotary and extension fittings. Swiftech 320 with pump, 3 x fesser + 3 noisblocker fans on koolance external mount, powered with bitspower power board (other side of rad)
CPU-Apogee XT block, same fittings and hose, Swiftech 220 rad with 4 x noisblocker silent fans, bitspower powerboard
My questions are,
1/ using sli joiners x2 like I have is there any loss in cooling the cards by routing the enrty/exit of water through the same card ?
I could still fit the no spill + 90 degree rotary adaptor (which is on the bottom of the res now) to the bottom/underneath of the lower card with it being the bottom of the loop and be able to bleed my radiator, as its a Swiftech 320, which has a fill port and small plenum at the very top of the radiator.
It would clean up the loop, remove the micro res, and not give me visual indication that the pump is working though. Is this really necessary though?
2/ The blocks come with two types of thermal pads, I have used the thicker (white) ones and applied thermal paste (artic silver) to the GFX'x CPU in the same thickness you should to a normal CPU. Could anyone advise me if this is the correct pad and TIM for Koolance blocks please.. It worries me that the block might not be touching the GFX's CPU, and there seems to be no other visual inspection available, other than take it off and check.... not really accurate when you are a noob like me... LOL
Advice, thoughts, suggestions, OMG you idiot !, comments all appriciated. (on any aspect of the build)
Thanks
Mike